Industry Insights
The global construction equipment rental market size was valued at over USD 34 billion in 2014. Rising construction activities across key verticals such as commercial, industrial and residential sectors are expected to drive demand. Additionally, ongoing developments in the infrastructure sector along with increased government investment in developing countries are anticipated to fuel demand.
U.S. construction equipment rental market by product, 2012 - 2022 (USD Million)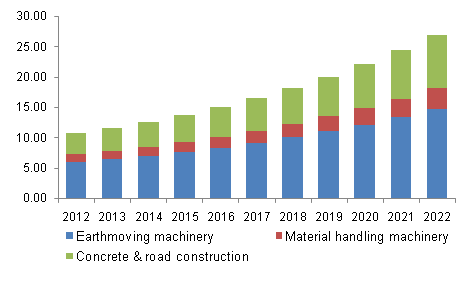 Rental companies offer machinery with the latest and advanced technology with updated EPA emissions standards. Technological advancements from new multi-functional technology to mobile-based applications for tracking the fuel consumption are considered to be the main factors driving growth.
The introduction of remote access devices, air-conditioning cabin for the operator, more efficient engines (Tier III) and automatic controls to manoeuvre machines have driven the product demand. Advanced features such as availability of data regarding fuel consumption, engine, expected life of critical components and capability of sending problem logs by text messages to nearest service point have also contributed in enhancing the demand.
The introduction of fleet management software service by OEMs is considered to be the upcoming trend followed by the industry which provides machinery related information to end-users. This software provides information which involves preventive maintenance forecasting, product wears out, accident tracking and commercial repair tracking.
Rising financial and operational advantages associated with the renting have led to an overall rise in the global demand. Although, the fluctuating fuel prices and other expenses associated with picking and delivering of machinery are anticipated to hamper the demand.
Internet of Things (IoT) is expected to positively impact the consumption as it helps in reducing the cost, by enabling machinery to a self-detect mode which can identify the imminent need for repair.
Product Insights
On the basis of product, the industry is categorized into earthmoving, material handling and concrete & road construction machinery. The material handling rental machinery market is expected to grow at a CAGR of over 12% from 2015 to 2022 owing to growing emphasis on production automation. Increasing need of automation of manufacturing process for optimized use of resource; raw material and energy consumption are anticipated to be the key factors fuelling the adoption. In addition, implementation of technologies which include data analytics, cloud computing, and IoT are anticipated to further surge the demand.
Earthmoving rental machinery market is anticipated to have a substantial share of over 55% in terms of revenue in 2014 and is expected to increase at a CAGR of over 10% by 2022. Rental equipment are mainly restricted to low to medium value for general purpose products such as cranes, dozers, and excavators, etc. Increasing consumer disposable income has also resulted in growing adoption of rental products. Increasing preference by end-users to obtain earthmoving machinery on lease or rent is anticipated to escalate volume sales.
Regional Insights
Middle East construction equipment rental industry is expected to witness a significant growth of over CAGR of 15% over the forecast period owing to infrastructure developments and extensive focus on sustainable development practices such as green building construction. Expansion of metal and mining sector and increasing investments in banking, agriculture, retail, hospitality, infrastructure & transportation sector and energy programmes in the region are assumed to be the key factors driving growth.
Asia Pacific construction equipment rental industry is expected to have a substantial share of over 25% in terms of revenue in 2014. Rapid urbanization, an expanding population, increasing government initiatives and robust economic growth are anticipated to be the key reasons for growth.
Competitive Market Share Insights
The construction equipment rental industry is capital-intensive, companies need to maintain and acquire fleets and secure facilities to operate the business. Major participants include Hertz, Loxam Group, Neff Rental., Sunbelt, United Rentals. Frequent acquisitions, strategic alliances, and joint ventures are few strategies implemented by key players to increase their presence.
The suppliers are focussing on emerging countries with the potential of industrial development in the next few years. Other players include Finning, American Equip Company (Ameco), Ahern Rental, Maxim Crane Works, Quippo, Sunstate Equip Company, and Gemini Equip and Rentals.