Industry Insights
The construction equipment market size was estimated to exceed USD 150 billion in 2014. Technological advancements on account of modernization have migrated the need for advanced equipment from traditional purposes such as agriculture to military and railway applications. Rapid urbanization and infrastructural growth have fueled construction equipment industry demand over the past few years.
Asia Pacific construction equipment market, by product, 2012-2020, (USD Billion)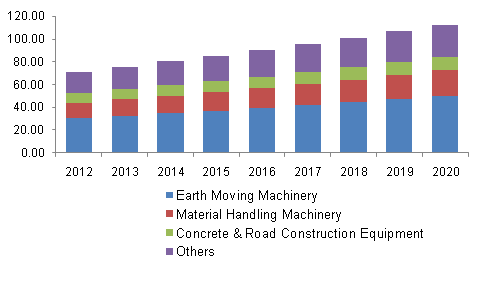 However, this is a cyclical industry with revenue booming according to the economic growth prospects. To maintain profitability, market vendors need to take various factors into consideration such as low cost seizes preference over the energy-efficiency in the price-sensitive markets. Development across non-residential and residential sectors is expected to be the key driving force for the market.
Various factors including operating expenditure and capital to manage these products are sizeable. Further, handling this gear is a complex task, which requires complete compliance with safety regulations and needs for the skilled workforce.
The increased impetus to develop infrastructure has increased the demand for rental equipment in the medium term. Key opportunities in design offshoring and exports are expected to rise in future. Cost-competitive OEMs in emerging markets of Asia Pacific are expected to boost construction equipment market growth over the next six years. Stringent regulatory mandates to reduce pollution levels and ensure emission control are a vital consideration for industry participants.
Product Insights
The market can be categorized on the basis of products into earth-moving machinery, material handling machinery, concrete & road machinery. Material handling machinery mainly comprises truck-mounted cranes, trailer-mounted cranes, crawlers, and others. The segment is expected to grow at the fastest CAGR of 5.7% by 2020. This growth can be attributed to increasing automation coupled with growth in application areas.
Earth-moving equipment was the largest segment holding a market share of over 40% in 2014. The segment further includes excavators, loaders, etc. Excavators are extensively used in heavy lifting, general grading/landscaping, demolition, digging trenches, brush cutting with hydraulic attachments, and river dredging.
Heavy duty excavators are used in mining and heavy construction industries. Increasing privatization of capacity augmentation in cement industry is expected to propel excavator market growth.
Loaders are mainly used for uploading materials into trucks, digging, clearing rubble, and laying pipes. These products are used as complementary products for material re-handling. Loader equipment was valued at USD 30.8 billion in 2014 and is expected to witness significant growth over the next six years.
Concrete and road construction equipment primarily include batching plants, pumps, and concrete mixers. These types of machinery are mainly used in industrial, residential structures, bridges, and power plants. Other applications include power projects and irrigation systems. Growing demand from the mining industry, increasing the number of upcoming highway construction projects, and advanced vehicles equipped with emission control systems are some of the factors anticipated to drive the construction equipment market growth over the forecast period.
Regional Insights
Asia Pacific construction equipment market accounted for over 50% of the overall revenue in 2014. China constituted the largest share of the Asia-Pacific market with over 80% of share in 2014, followed by Japan, Australia, Indonesia, and South Korea. Government policies around tax benefits for infrastructure ventures have boosted usage in developing countries such as India.
Growing focus on infrastructure and increasing mechanization of manufacturing processes are the key factors driving the market. Increased penetration of Chinese construction machinery into the premium products market has challenged existing manufacturers such as Komatsu and Caterpillar.
Global recession hampered the industries, especially in Europe and North America. However, demand for heavy machines such as earth-moving machinery due to increasing urban population has provided growth opportunities for the industry.
Competitive Insights
Companies dominating construction equipment market share include Doosan, Hitachi, Volvo, Komatsu, John Deere, and Caterpillar. Vendors in North America and Europe aim to meet emission regulations set forth by regulatory bodies and aim to lower production cost by increasing investment in R&D activities for strengthening their distribution network to ensure global presence. Large-scale infrastructure development, project investments, innovation, and strategic alliances remain to be the key growth strategies.