Industry Insights
The global cresol market size was USD 580 million in 2015. Growing vitamin E demand in food & dietary supplements owing to rising consumer concerns regarding healthy diet intake is anticipated to drive the product demand over the next eight years.
Cresol derivatives have gained significance in the production of vitamin E and electronic encapsulation products. Surging demand for computers, tablets, smartphones, and display devices is expected to drive electronic industry over the forecast period. Although these segments are niche applications for the product isomers, the electronics and the food industries are anticipated to offer a high potential for cresol market growth in various regions of Asia Pacific and Europe.
Compounds such as meta, para, and ortho isomers are manufactured from coal tar and petroleum or toluene. Choice of raw material is majorly governed by the production efficiency and waste disposal costs associated with the manufacturing process.
Global cresol market revenue by product, 2014 - 2024 (USD Million)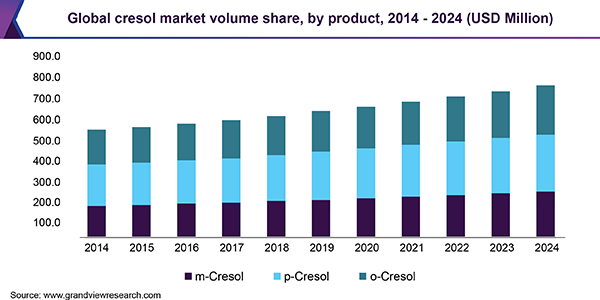 Toluene forms a significant source in product manufacturing process. Hence, pricing of toluene has a direct impact on the cresol market. Major para and ortho isomer producers are dependent on toluene supply. Growing toluene demand in other applications such as xylene and TDI has urged the industry participants to establish long-term contracts with suppliers.
Another major raw material used in meta and para isomers production includes cymene, a bio-based material. Apart from raw material prices, other factors influencing the prices of these products include production site location, separation techniques, and specific grade. Owing to the close boiling points of meta and para isomers, additional costs incurred in the separation of these products from raw material has contributed to its high pricing globally.
Derivatives of ortho and meta isomers form an essential ingredient in agrochemicals and pesticides. However, the stringent health and safety regulations regarding cresol content in consumer goods such as cosmetic, disinfectants, and other personal care products are expected to hamper product demand over the long term.
The global cresol market has witnessed the implementation of stringent regulations regarding the adverse impact of its manufacturing process. The waste generated in the toluene based cresol production is toxic to the aquatic environment. Hence, the industry participants have focused on waste management before its discharge. Atul Ltd. in collaboration with Degussa has utilized automated waste recovery plant that minimizes waste disposal cost and enhances the waste recovery efficiency.
Product Insights
p-Cresol emerged as the leading product segment in 2015 and is estimated to grow at a moderate CAGR of 3.0% from 2016 to 2024. It is majorly consumed in the production of BHT, an antioxidant which is used in the food, cosmetics, and pharmaceuticals sector. Product demand in butylated hydroxytoluene application segment accounted for over 50.0% in 2015.
m-Cresol acts as a chemical intermediate for producing resoles that are used in brake and clutch linings. Another important product, thymol, obtained from this isomer is used as flavoring agent in pharmaceutical and food products. Owing to its anti-microbial characteristic Meta isomer has witnessed significant growth in antiseptic and disinfectant applications. Growing demand for efficient stabilizers in chemical intermediates and pesticides production is expected to drive product demand over the forecast period.
Regional Insights
Asia Pacific dominated the global demand in 2015 and is expected to sustain its market share over the next eight years on account of growing product demand in the agrochemicals, vitamin E, and electronics sector in the region. Despite the economic downturn in China, the presence of various manufacturing industries in the country has played a dominant role in high market penetration for cresol derivatives in the region. The China cresol demand is expected to exceed a net volume of 45 kilo tons by 2024.
In terms of revenue, Europe cresol market was valued at USD 205.3 million in 2015 and is expected to witness moderate growth rate on account of continued demand for aroma chemicals and pharmaceuticals. Cresols have witnessed a significant increase in regional demand owing to the chemical properties of its derivatives that are used as a precursor for vitamin E, fragrance, dyes, and pharmaceutical sectors. However, sluggish economic growth in the region is expected to hamper market penetration in the region.
Competitive Insights
The global cresol industry is highly fragmented with the presence of prominent manufacturers such as Lanxess, Sasol, Atul, and SABIC. Other major companies operating in the industry include Anhui Haihua Chemical Technology Co., Ltd., Konan Chemical Manufacturing Co., Ltd., Mitsui Chemicals, and RÜTGERS. These companies have established a strong market presence in their respective domestic markets and play a major role in the product pricing.
Major producers such as Sasol Phenolics, RÜTGERS Chemicals, and Dakota Gasification have integrated their raw material production with meta, ortho, and para isomer manufacturing process and are focused on isolating these isomers from cresylics and coal tar. Companies such as SABIC, Lanxess, and Mitsui Chemicals are focused on synthesis route for cresol production.