Increasing adoption of minimally invasive procedures to drive the cryotherapy market growth over the forecast period
The global cryotherapy market accounted for USD 2.5 billion in 2015 and is projected to grow at a CAGR of 9.7 % during the forecast period. Adoption of minimally invasive procedures and the surging prevalence of cancer have led to increased use of cryotherapy for various applications including treatment of cancer, cardiac conditions, and pain management.
This therapy incorporates various methods including cryosurgery, ice pack therapy, and chamber therapy for the treatment of different conditions such as malignant and benign tissue damage and pain management. Liquid nitrogen, carbon dioxide, argon, and dimethyl ether- propane are mainly employed in cryotherapy. These gases are used externally with the help of a spray or cotton swab and through cryo probes in internal surgeries wherein gas is applied to the targeted cells. An MRI or ultrasound is used to trace the tumor and monitor the procedure.
Global cryotherapy market, by regions, 2014 - 2024 (USD Million)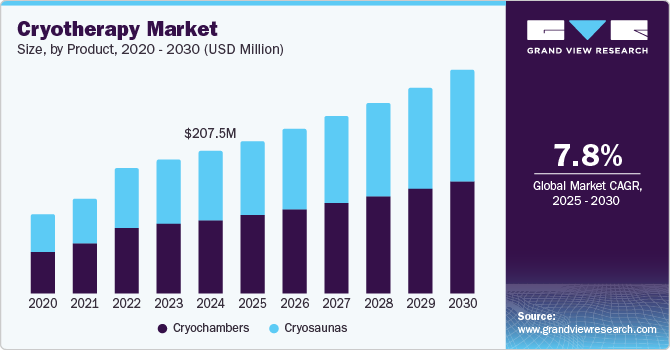 Growing popularity of cryotherapy in treating various types of cancer and musculoskeletal conditions, such as rheumatic conditions, arthritis, and fibromyalgia, is another major factor anticipated to support market growth. In addition, increasing application of this procedure in dermatology for beauty treatments is expected to boost the sector growth.
Cryosurgery was the largest revenue generating segment in 2015
Cryosurgery segment held the largest share in 2015 due to increasing adoption of minimally invasive procedures in treatments. This procedure enables the destruction of abnormal cells or tissues, while healthy tissue is protected. In comparison with conventional procedures this procedure carries limited side effects and thus facilitates faster recovery. In addition, it can be used as an adjunct therapy with other therapies such as radiation, chemotherapy, and hormone therapy.
Oncology was the highest revenue generating segment in 2015
Oncology held the highest revenue share of over 25.0% in the cryotherapy market due to the rising prevalence of cancer and the growing awareness of alternative cryotherapy-based treatment approaches. Cryogenic gases are employed to treat various types of cancer such as prostate, cervical, skin, and lung. According to the WHO, cancer is amongst the leading causes of mortality worldwide, with around 8.2 million cancer associated deaths and 14 million new cases reported in 2012. The number of new cancer cases is estimated to increase by about 70% over the next 2 decades. This upward trend in the incidence and prevalence of cancer is expected to propel the demand for cryotherapy in the near future.
North America was the largest regional market
North America is projected to be the predominant regional sector accounting for the largest market primarily due to its advanced healthcare infrastructure. In 2014, total national healthcare expenditure of the U.S. was USD 3.0 trillion and it is expected to remain high in the near future. Presence of well established healthcare infrastructure and high per capita healthcare expenditure in the U.S is expected to drive the application of cryogenic gases for therapeutic purposes. Also, availability of advanced products such as cryo probes, cryoguns, and other devices are expected to drive the demand.
Asia Pacific is expected to exhibit the highest growth rate due to untapped opportunities in this region and high patient cognizance of cryosurgery in cancer and skin treatments coupled with the rapidly developing healthcare infrastructure in the emerging Asian countries. In addition, reduced cost of the procedures, fewer adverse effects, and increasing accessibility of the treatment in this region is expected to contribute toward the growth of the sector.
The cryotherapy market is highly competitive and product advancement is the key strategy adopted by major companies
The major players catering to the cryotherapy market are CryoConcepts LP, Brymill Cryogenic Systems, Metrum Cryoflex, Medtronic, CooperSurgical, Inc., Cortex Technology, Mectronic Medicale S.r.l., Cryoalfa, Erbe Elektromedizin GmbH, Special Medical Technology Co., Ltd., Galil Medical, Inc., Physiomed Elektromedizin AG, Wallach Surgical Devices, Sanarus, and Zimmer MedizinSystems. There are various small and large manufacturers, offering products for cryosurgery and other cold therapies, resulting in intense competition among vendors.
The vendors are increasingly focused on advanced product designing and development. This supports the companies in strengthening their product repertoire and in earning maximum revenue share for long-term growth in this sector. For instance, in October 2015, Galil Medical, launched its latest cryoablation products, IcePearl 2.1 CX Cryoablation Needle and IceFORCE 2.1 CX Cryoablation Needle.
Frequently Asked Questions About This Report