Industry Insights
The global dehumidifier market size was valued at USD 2.13 billion in 2014. Increasing demand in the commercial and residential sectors is anticipated to boost industry growth over the next seven years. Growing energy consumption awareness is expected to drive low cost energy efficient product demand.
Dehumidifiers are used to remove excess moisture, and improve air quality to create a better living environment. Changing climate conditions, increasing industrial development, and growing urbanization is anticipated to be a key growth driver.
North America dehumidifier market share by application, 2012 – 2022 (USD Million)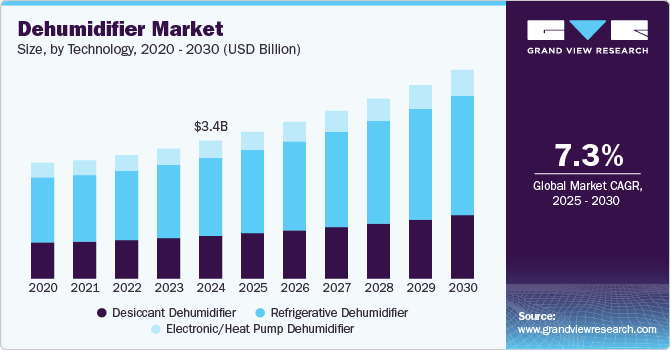 Rising construction activities worldwide and technology developments are expected to favorably impact revenue growth. Additionally, increasing popularity across restaurants for maintaining food quality by keeping the inventory moisture-free is also anticipated to contribute to demand. Growing awareness about the benefits of maintaining indoor air quality in the commercial sector is anticipated to drive the dehumidifier industry over the forecast period.
Major players are increasingly focusing on products that can be integrated into existing HVAC systems. For instance, Honeywell Inc. has introduced TrueDRY Dehumidification Systems that can be integrated with HVAC system and therefore are less expensive.
Intense competition owing to the presence of large number of companies has lead to price wars. This is expected to continue over the forecast period with new market entrants. Government regulations such as Improved Indoor Air Quality (IAQ) and ventilation guidelines are anticipated to favor industry growth over the next seven years.
Product Insights
The industry can be segmented into ventilating (refrigerant/mechanical/compressor), chemical absorbent (desiccant), and heat pumps (electronic). Heat pumps demand is anticipated to increase owing to requirement of energy efficient dehumidification products.
Chemical absorbent dehumidifier market is expected to be the key product segment over the forecast period, and is expected to grow at a CAGR of over 6.5% from 2015 to 2022, owing to increasing demand in restaurants, hotels, office buildings, food and beverage industry, and medical centers. Desiccants are water absorbers used for removing excess humidity; liquid desiccants offer benefits such as energy efficiency and low operating cost. However, frequent maintenance and technical glitches are expected to negatively impact segment revenue.
Application Insights
Industry can be segmented based on application into commercial, industrial, and residential. Industrial application segment includes its usage in cold storage, food and beverages, construction, pharmaceutical, ice rinks, and maritime applications. The segment accounted for over 50% of the overall revenue in 2014.
Growing number of commercial buildings such as schools, hospitals, and departmental stores are anticipated to drive the growth of the commercial dehumidifier market. Additionally, awareness about health and changing weather conditions are some of the factors anticipated to drive demand in the residential segment over the next seven years.
Power plants and military arms depots are expected to offer future growth opportunities. Heavy industries such as the polymer, automobile, and ceramic have started adopting these technologies to prevent products or tools from rusting.
Regional Insights
The North American industry is expected to benefit from rising construction activities and increasing demand in industrial and commercial applications. The region accounted for over 35% of the overall revenue share in 2014. Europe dehumidifier market is anticipated to be driven by rising demand in the food and beverage industry.
Growing demand in the cold storage and food industry is expected to fuel the Asia Pacific dehumidifier market; it is expected to grow at CAGR of over 7% over the forecast period.
Competitive Market Share Insights
Key market players include De'Longhi Appliances S.r.I, Electrolux (Frigidaire), General Filters, Inc., Haier Group, Heat Controller, Inc. (Comfort Aire), and Honeywell International Inc. Other prominent vendors include LG Electronics, Inc., Sunpentown International Inc., Therma-Stor LLC, and Whirlpool Corporation.
In February, 2014, General Filters, Inc. acquired Air & Energy Products, LLC to enhance its product portfolio of residential segment. In July 2014, Heat Controller launched a new low-price portable product, Bhd 50g, under the brand name Comfort Aire. In May 2015, Electrolux lunched new CompactDry product range for residential applications.