Industry Insights
Global distributed energy generation market size was estimated at USD 113.53 billion in 2013. Rising concerns regarding expenditure incurred during installation of transmission lines for power generation of large scale power plants is expected to augment industry growth. Over the past few years, several initiatives have been introduced to reduce green house gas emissions in the atmosphere as it leads to global warming. Rising awareness to reduce pollution in air, water and soil has promoted the role of alternate sources of energy including solar, wind and tide.
DEG has the ability to generate electricity from different sources from conventional to unconventional sources of energy. As a result, they have emerged as an eco-friendly alternative for power generation and the trend is likely to continue over the next few years.
Regulatory support to promote power generation output through alternate sources of energy such as solar, wind and tide in numerous countries of Europe and North America is expected to drive growth. Rising production of shale gas and tight oil in the U.S. coupled with increasing implementation of hydraulic fracturing is expected to open new distributed energy generation market avenues over the forecast period.
High installation cost of DEG is expected to be a critical factor adversely impacting growth. Power generation through long distance transmission lines is predominantly implemented in developing economies of SAARC and South East Asia is likely to constraint demand.
North America distributed energy generation market capacity, by technology, 2012-2020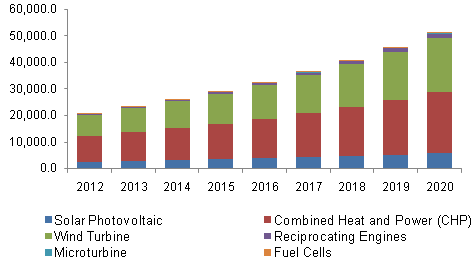 Technology Insights
Combined heat and power (CHP) technology dominated the global industry, accounting for over 40% of the overall DEG capacity 2013. CHP generates power or electricity with low green house emissions, which is expected to have a positive impact on the industry.
Fuel cell market is expected to witness significant gains in terms of capacity, growing at a CAGR of 19.4% from 2014 to 2020. Increasing expenditure on development of fuel cell as a medium for power generation and its eco-friendly nature is likely to augment growth.
Solar photovoltaic (PV) and wind turbine together accounted for over half the global DEG capacity in 2013. Supportive initiatives undertaken by governments of China, Japan and Germany towards development of solar PV and wind generation plants is expected to augment industry growth in the near future.
Application Insights
On-grid application dominated the market, accounting for over 90% of global capacity in 2013. Low installation cost along with easy access to utility areas is expected to promote importance of on grid systems. Off-grid system is expected to witness above average growth at a CAGR of 12.7% in terms of capacity, from 2014 to 2020 on account of its ability for stock the generated energy with a use of battery.
End-Use Insights
Commercial & industrial dominated the global industry, accounting for over 70% of the volume in 2013. Reusability of available sources such as heat energy and industrial waste is expected to result in high industry penetration for DEG in commercial and industrial end-use over the next six years. Buildings & institution is expected to witness fastest growth in terms of capacity, growing at a CAGR of 13.5% from 2014 to 2020.
Regional Insights
Europe distributed energy generation market accounted for over 30% of global capacity in 2013. Announcement of The Energy Efficiency Directive (2012/27/EU), aiming for achieving 20% efficiency target by 2020, is expected to compel power generation companies at domestic level to use these generators in the near future.
The European Commission framed Horizon 2020 Strategy in 2007, aiming to reduce green house emissions and utilize sustainable methods. In addition, Clean Development Mechanism has been introduced adhering to the manufacturing sector of Europe for reducing global warming potential. Together, these factors are expected to favor market growth.
Asia Pacific is expected to remain the fastest growing market, growing at a CAGR of 12.7% in terms of capacity from 2014 to 2020. Infrastructure development in India and China on account of favorable regulatory policies is likely to augment demand in the near future. In May 2015, the government of India announced a solar power generation target of 100,000 MW by 2022. This regulatory move is expected to open new opportunities for DEG manufacturers in the near future.
Competitive Insights
Companies dominating DEG market share include Ingersoll-Rand plc, First Solar, General Electric Energy LLC, Sharp Corporation, JA Solar Holdings Co. Ltd., Suntech Power Holdings Co. Ltd., Siemens AG, UTC Power LLC, and Yingli Green Energy.
In May 2015, Georgia Power launched the 2015/2016 Advanced Solar Initiative (ASI) Distributed Generation (DG) program offering products of varying sizes amounting to 100 MW. General Electric (GE) launched a new distributed generation business in March 2014. The venture combines three product lines, viz., Aeroderivative Gas Turbines, Jenbacher Gas Engines and Waukesha Gas Engines. Furthermore, the company is investing USD 1.4 billion distributed over the next four years to address the growing demand for on-site power systems.