Industry Insights
Global electroactive polymers market size was 234.7 kilo tons in 2014. Rising importance of piezoelectric and ferromagnetic materials for electronic applications along with increasing expenditure for the development of new conductive technologies is expected to have a positive impact on market expansion.
Electroactive polymers are incorporated in sensors and actuators on account of their conductive and piezoelectric properties. Increasing production of electronics in China, Japan, South Korea, and Taiwan on account of favorable regulatory support coupled with increasing use of nanotechnology is expected to remain a driving force.
Rising importance of biomimetics and artificial muscles for solving complex health problems is likely to increase the usage of electroactive polymers on account of their lightness and high energy density. In March 2012, researchers at North Carolina University developed lightweight and affordable Braille computer display. This display is manufactured from electroactive actuators and is meant for helping blind people to scan web pages.
In January 2014, the government of South Korea announced plans to develop their healthcare industry by increasing R&D expenditure for the introduction of new medical devices, which in turn is expected to augment industry growth over the forecast period.
U.S. electroactive polymers market, by product, 2012-2022, (Kilo Tons)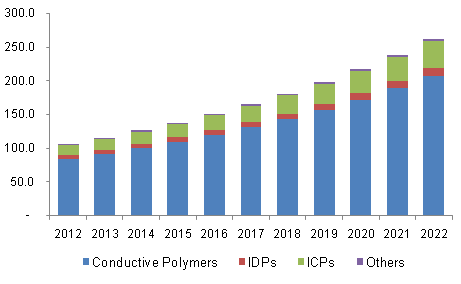 Product Insights
Conductive polymers including ESD/EMI compounds, antistatic additives, carbon nanotubes and metal fibers dominated the global industry and held a volume of over 80% in 2014. These products are used as antistatic materials and find applications in commercial displays, transparent displays, actuators, bio-sensors, and organic solar cells.
ICP is expected to witness significant gains at a CAGR of over 10% from 2015 to 2022. ICPs are expected to find new potential uses owing to the presence of macromolecules in their structure, which induce bulk conductivity.
IDP demand exceeded 10.5 kilo tons in 2014. It is majorly used as an antistatic additive for packaging of sensitive electronics and plastic parts owing to their ability to prevent dust attraction and electrostatic discharge.
Other product types include ferroelectric, piezoelectric, and dielectric elastomers. The increasing use of piezoelectric materials for obtaining SONAR signals in submarines, sound system speakers, and robotics industry is likely to have a positive impact.
Application Insights
Electrostatic dissipation (ESD) & electromagnetic interference (EMI) protection dominated the global market generating revenues over USD 950.0 million in 2014. Polyaniline and carbon black filled polymers are majorly used for ESD protection in electronics devices.
Antistatic packaging is expected to witness significant volume gains at a CAGR of 10.1% from 2015 to 2022. Increasing use of polyethylene, polypropylene, and polyethersulfone as antistatic packaging materials in medical devices and electronic components is expected to drive growth.
Other applications include coatings, inks, batteries, capacitors, solar cells, and photovoltaic modules. Shifting consumer preference towards renewable energy generation on account of increasing awareness towards environmental protection is expected to increase the application of solar cells and photovoltaic modules, and thus, have a favorable impact on the market.
Regional Insights
North America accounted for over 60% of the global demand in 2014. Rising expenditure for development of advanced implant devices and minimally invasive surgeries in the U.S. is expected to propel demand.
Europe electroactive polymers market exceeded 45.0 kilo tons of the global volume in 2014. Robust automobile manufacturing base in Germany, France, and Italy is expected to increase the application of conductive polymers in fuel engines.
Asia Pacific is expected to witness the fastest growth at a CAGR of over 11% from 2015 to 2022. Regulatory support for increasing investments in India and China for enhancing manufacturing output is expected to augment electronics sector at domestic level, and thus likely to have a positive impact.
Competitive Insights
Bayer AG, 3M, Parker-Hannifin Corporation, RTP Co., Piezotech S.A, The Lubrizol Corporation, Kenner Material & System Co., Ltd., Celanese Corporation, and Agfa-Gevaert NV dominated the global electroactive polymers market share in 2014. New product developments along with the launch of novel patents are expected to remain critical success factors for manufacturers to increase their presence in the industry.
In April 2013, RasLabs launched Synthetic muscles for making better prosthetic limbs. In June 2014, Apple Inc. published a patent titled with Apple's ID technology and a new camera incorporating electroactive polymer actuator.