Industry Insights
The Europe, Middle East, and Africa (EMEA) Point-of-Care (PoC) diagnostics market size was valued at USD 4,567.2 million in 2014. Growing base of geriatric population coupled with high incidence rates of chronic diseases is one of the major factors fostering the growth of EMEA PoC diagnostics market. Moreover, government initiatives in an attempt to shorten hospital stays, the establishment of outpatient care models, and improvement of healthcare infrastructure along with beneficial insurance policies are expected to boost the demand for PoC diagnostics.
Germany PoC diagnostics market share, by product, 2014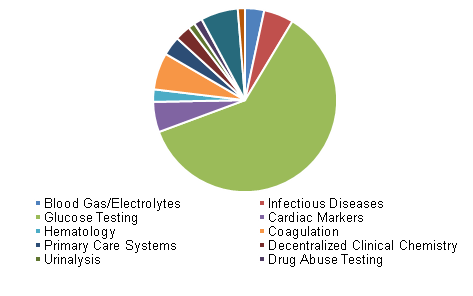 The ability of PoC diagnostic tests to render immediate results in an attempt to improve patient care and increasing market penetration of technologically advanced platforms such as Electronic Medical Records (EMR) and Picture Archiving and Communication Systems (PACS) as point-of-care IT support systems are the potential drivers of PoC diagnostics market.
Healthcare centers are now decentralizing their facilities in an attempt to provide remote access to the medical providers. This has triggered the establishment of remote and standalone diagnostic facilities in the market.Germany PoC diagnostics market share, by product, 2014
Product Insights
The key products analyzed and estimated in this study include PoC devices for infectious diseases, urinalysis, cardiac markers, blood gas/electrolytes, glucose testing, hematology, primary care systems, decentralized clinical chemistry, drug abuse testing, fertility, and coagulation.
Glucose testing PoC was the largest product segment with a market share of over 60% in 2014. High prevalence of diabetes has led to a rise in demand for home healthcare in the form of Self Blood Glucose Monitoring (SBGM), which contributes towards the growth of OTC-based glucose testing market.
Cardiac markers are associated with high accuracy rates and are used in the management of chronic cardiac diseases. However, the infectious disease testing segment is anticipated to grow at the fastest CAGR of around 8.0% over the next six years.
Rising prevalence of infectious disease in low-and-middle-income level countries and growing need for effective and rapid diagnostic procedures in an attempt to timely curb the incidence rates of infectious diseases such as HPV-based infections, and hepatitis are the high-impact rendering drivers for this market.
End-use Insights
End-use segments analyzed in this study include hospitals, laboratory, assisted living healthcare facilities, home healthcare facilities, clinics, and other facilities.
Growing demand for home healthcare coupled with the need for continuous monitoring in the treatment of chronic diseases and rising patient awareness levels lead to the growth of the home care end-use segment over the forecast period.
Clinics were the largest end-use segment accounting for over 37% of the market in 2014. High procedure volumes associated with these establishments is one of the primary reasons attributing to its huge share. Moreover, this segment is expected to maintain its market position throughout the forecast period. The emergence of rapid clinics will expedite growth. Rapid clinics facilitate primary healthcare at low costs and have an extensive (24/7) duration of the operation.
Regional Insights
Increasing demand for rapid diagnostic procedures coupled with rising prevalence of chronic diseases in the European region is the major driver supporting the growth of EMEA PoC diagnostics market.
Government contracts contributing towards the development of point-of-care diagnostic devices are expected to fuel the future market growth. For instance, in May 2014, the European Space Agency (ESA) funded "Radisens Diagnostics" for the development of an innovative blood-testing device for astronauts.
Germany was the largest European market with revenue valued at over USD 740 million in 2014, majorly due to favorable government regulations and well developed healthcare infrastructure coupled with huge geriatric population base in the country.
The Middle East and African countries such as Saudi Arabia and the UAE are expected to provide easy market access and growth during the forecast period. Additionally, the breakout of the Middle East Respiratory Syndrome (MERS) in 2015 was one of the key factors for PoC diagnosis market growth in this region.
Competitive Market Share Insights
Key players of the EMEA PoC diagnostics market include Beckman Coulter Inc., Roche Diagnostics, Siemens Healthcare, and Abbott Laboratories which together account for significant point-of-care diagnostic market share. Other market players include Danaher Corporation, Becton Dickinson and Company, bioMerieux S.A., Abaxis, Inc., Alere, Inc., Qiagen NV, Spectral Diagnostic Inc., HemoCue AB, Nova Biomedical, and Quidel Corporation.
These companies are involved in strategic alliances with biotechnology-based companies and diagnostics laboratories to enhance the usage of PoC diagnostic tests. For instance, in April 2014, Roche acquired IQuum, a biotech company, with an objective to strengthen company's PoC segment in molecular diagnostics.
Furthermore, huge R&D investments by companies for the development of novel tests coupled with new product launches are also expected to fuel market growth over the forecast period. For instance, in November 2015, Roche Diagnostics launched CoaguChek Pro II point-of-care system with an objective to check the blood coagulation level.
Analyst Perspective
The scope of the study encompasses different products used as PoC diagnostics and various applications of the same. Forecasts are based on the accumulation of data analyzed on the basis of more than two models including variable analysis and commodity flow approach.
The below illustration represents the major trends observed in the Europe Middle East and Africa (EMEA) PoC diagnostics industry. This displays a shift in usage of point-of-care devices from professional to non-professional along with varying ease of operation over the period of 2000 to 2022.
EMEA Point-of-Care (PoC) Diagnostics Market Trend
Prolonged management of chronic diseases leads to increase in the demand for self-testing PoC diagnostics. The PoC diagnostics provide quick and reliable results to the patients as a part of home healthcare. The diagnostic test complexity is reduced drastically over the period of time. Currently available point-of-care testing kits can be easily used by the patients for self-testing such as glucose monitoring kits and pregnancy kits.