Industry Insights
The global emulsion polymer market size was 33.30 billion in 2015. Increasing emulsion polymer use in paints, coating and adhesives are expected to remain key driving factors for global emulsion polymer market over the forecast period. Increasing construction projects in Asia Pacific and the Middle East has also been driving the need for high-quality paints and the coating which in turn is anticipated to augment industry volumes.
In addition, enhancing adhesive use in automotive coating industry is expected to significantly contribute towards market growth in near future. Increasing environmental concerns are forcing regulatory bodies including EPA and REACH to frame strict rules to increase bio-based product use and minimize noxious impacts on the environment.
These bodies have framed standards under the Clean Air Act to control toxic chemical emissions including methyl chloride, styrene, acrylonitrile, and toluene. Such initiatives are promoting water-based emulsion polymer use over synthetic products.
Water and bio-based polymer emulsions are anticipated to provide huge opportunities for development. Expanding consumer awareness regarding green building is anticipated to drive global market volume over the forecast period.
U.S. emulsion polymer market volume by product, 2014-2024, (Kilo Tons)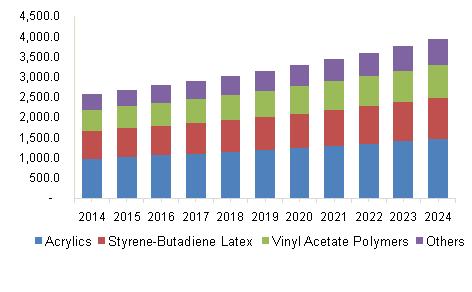 The product is derived from crude oil and natural gas. In recent year, fall in crude oil prices have negatively impacted the overall revenues and acted as the major restraint for the industry growth. The product manufacturing process involves VOC emission. Such factor is anticipated to challenge market growth in near future.
Product Insights
Acrylics accounted for maximum volume share in the overall market. The product offers water resistance features and quick drying ability which are expanding usage in superabsorbent polymers and personal care items and is expected to positively impact industry demand.
In addition, expanding acrylics polymer application in water treatment is further anticipated to boost industry enhancement. Vinyl acetate polymers are also anticipated to develop at a significant rate from 2016 to 2024 on account of expanding application base in adhesives, paper, fabric, and wood manufacturing.
Application Insights
Paint and coating application sector dominated the overall industry. Consumers are becoming more focused towards quality and appearance. Increasing demand for enhanced quality paints and technology driven coatings is expected to extremely drive product demand over the forecast period.
Adhesives are expected to grow at a CAGR of 5.3% from 2016 to 2024. Growing high-performance adhesive need is anticipated to augment emulsion polymer demand in near future. Other applications include leather polishes, textile & nonwoven, carpet and gloves which accounted for a smaller portion in the global industry.
Regional Insights
Asia Pacific emulsion polymer market led the global industry and accounted for 40% of global demand in 2015. The major reason for dominance includes increasing construction activities coupled with developing paint and coating industry.
China and India were the major growth contributors in the regional market. Further, Asia Pacific is expected to drive at highest CAGR from 2016 to 2024. The regional demand was followed by Europe.
Stringent environmental regulations are expected to significantly contribute towards regional market demand. The Middle East & Africa is also anticipated to grow at a significant growth of 6.3% from 2016 to 2024 on account of increasing construction projects.
Competitive Insights
The global emulsion polymer market is fragmented in nature and comprises of multinationals as well as a huge number of mid-sized players in the market. Key companies include BASF, The Lubrizol Corporation, Arkema, Wacker Chemie AG, DIC Corporation, Trinseo, Momentive Performance Materials Holdings LLC, Omnova Solutions Inc., Nuplex Industries Ltd, The DOW Chemical Company.
In order to cater increasing Asia Pacific demand, manufacturers are expected to invest in facilities expansion as well as product portfolio expansion. Market participants have adopted the low-cost strategy to attract consumers.
Over the forecast period, companies are expected to focus on innovation to differentiate their product from competitors. They are also anticipated to shift their focus towards bio-based and invest on research and development initiatives to meet industry standards coupled with increasing competition levels.