Industry Insights
The global engineering adhesives market size was 4,549.6 kilo tons in 2014. Increasing demand on account of growing end-use industries in the emerging markets of Mexico, China, and India is expected to drive the global engineering adhesives market.
Engineering adhesives demand has been witnessed at greater levels in Asia Pacific, mainly owing to the rapid industrialization in emerging economies such as China and India. Adhesives are increasingly replacing conventional materials such as bolts and joints in fastenings for the transportation, construction, and other industries.
Development of polyurethane adhesives from microbial processes and fermentation is expected to create new avenues for industry participants. This factor is essential in driving industry competition regarding product differentiation and specialized products pertaining to end-user specifications.
They have been gaining wide popularity owing to properties such as high strength, rigid bonds, and high viscosity. These are formulated based on varied chemistries with either natural or synthetic nature. Natural raw materials include organic sources such as natural resins, vegetable starch or dextrin, animal hides and other materials.
Rising demand for high quality and performance adhesives has boosted demand for functional additives that include adhesion promoters, hydrophobizing, wetting, dispersing agents and others to improve overall mechanical properties.
Lack of VOC (volatile organic compounds) in hot melts and water-based adhesives is also anticipated to boost demand for processed polymers which offer advantageous product characteristics such as low or high viscosity, high peel, tack, blush resistance, stability to cations, shear enhancement, and other benefits.
U.S. engineering adhesives market revenue by product, 2012-2022, (USD Million)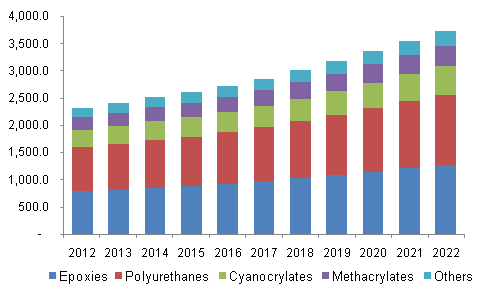 The shifting trend towards intermittent adhesive application to conserve resources has also created high demand for polymers to create adhesives for specific application equipment, mainly in the packaging industry. Environmental sustainability is another major driving force in the industry development considering increasing regulatory intervention by agencies such as EPA and ECHA.
Product Insights
Epoxies were the leading product segment and accounted for over 36% of the overall volume in 2014. Epoxy adhesives are widely used in aircraft and automotive manufacturing processes to bond components together. Additionally, they are used for bonding wood, glass, stone and plastics other than metals. Increasing application in transportation, construction and furniture industries is expected to drive the product segment growth over the forecast period.
Polyurethane adhesives are widely used to bond different materials such as plastics-metals, metal-wood, and wood-plastic. They are finding headways in marine applications that require faster setting time and curing.
Other product segments analyzed in the report include epoxies, cyanoacrylates, and methacrylates among niche segments such as anaerobic and silicone adhesives. The market for these products collectively was valued at USD 947.5 million in 2014.
Application Insights
Construction was the largest application segment and accounted for 32.5% of the global volume in 2014. Increasing construction spending in emerging economies of Asia Pacific and Middle East such as China, India, Qatar and UAE owing to strong demand from residential and non-residential applications is expected to remain a key driving factor for market growth.
Increasing plastic demand for automotive component fabrication along with the high necessity for superior metal-plastic bonding is anticipated to drive transportation segment growth. Adhesion products are used in wide variety of specialty vehicles such as cargo, horse trailers, truck boxes and emergency vehicles.
Increasing application scope such as glass bonding, wire tacking, dome coating and magnet bonding is expected to drive growth in consumer appliances application over the next seven years. Consumer goods segment accounted for over 14% of the overall volume in 2014.
Regional Insights
Regional markets analyzed in the report include North America, Asia Pacific, Europe, Central and South America and the Middle East. Asia Pacific was the leading region and accounted for 41.9% of the overall volume in 2014.
Increasing industrial output, high economic and population growth in emerging economies of China, India, and Southeast Asia have driven manufacturing and construction industries' growth in the region. This led to high demand for adhesion products with application specific properties.
Consumer preference for flame retardancy, high impact strength, corrosion resistance, and UV resistance is also expected to impact demand trends in the region, particularly due to rising awareness regarding specialty products.
North America market accounted for over 22% of the overall volume in 2014. High demand from automotive & packaging industries is a major factor driving growth in the region. Stringent food, environment and medical regulations by agencies such as EPA and FDA play a vital role in shaping the industry future in North America.
Competitive Insights
The industry value chain consists of raw material manufacturers, engineering adhesives manufacturers and distributors/suppliers along with industrial end-users. Major companies involved in the production include Henkel, Permabond Engineering Adhesives, 3M Company, Dymax, Toray Fine Chemicals, Huntsman Corporation and W.I Polymers Ltd.
The global engineering adhesives market share is dominated by multinational integrated companies. Companies such as BASF and Eastman Chemicals have integrated their operations along the value chain. This enables companies to reduce raw material procurement costs and diversify their operations into other industries served by polymers and additives such as industrial plastics, aerospace, electronics, building and construction, and medical and pharmaceutical.