Industry Insights
The global erectile dysfunction drugs market size was valued at over USD 4.39 billion in 2014. Key drivers of the market include an increase in patient awareness and education levels and growing base of geriatric population. Rising adoption of a sedentary lifestyle and increasing incidence of lifestyle diseases are further anticipated to fuel growth.
However, the industry is estimated to witness a decline in revenue over the forecast period owing to the patent expiration of key drugs in 2019. Moreover, reported side effects from the existing drugs are negatively affecting the industry growth. Availability of cost-effective counterfeit drugs is further expected to decrease the valuation of the branded erectile dysfunction drugs.
North America erectile dysfunction drugs market, by product, 2012 - 2022, (USD Million)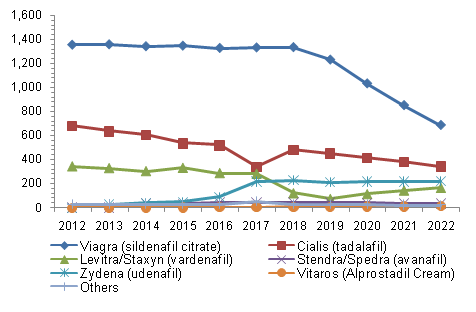 Government reforms and public awareness initiatives in developing regions of Asia Pacific and Latin America are expected to drive market growth during the forecast period. Economic development, healthcare infrastructure establishment, and increasing target population are estimated to provide potential growth platforms for this industry in these regions.
Novel molecule combinations and drug delivery techniques such as the use of creams and pellets that show better efficacy and performance are expected to become an opportunity for the erectile dysfunction drugs industry.
Product Insights
The industry is likely to experience a decline in revenue mainly due to the expiration of patents of key drug molecules around 2019. The main line of drugs for erectile dysfunction treatment includes Vitaros, Zydena, Stendra, Levitra, Cialis, and Viagra. Viagra (sildenafil citrate) is one of the most widely distributed products worldwide. Viagra's primary competitors are estimated to be Cialis (tadalafil) by Eli Lilly & Co. and Levitra (vardenafil) by Bayer AG.
However, Zydena containing udenafil, which is also a PDE-5 inhibitor manufactured and sold by Dong-A Pharmaceutical Co. Ltd. is expected to witness lucrative growth over the forecast period. It is distinguished from other PDE 5 inhibitors for its longer duration of action and lesser incidences of side effects such as vision disturbances and muscle pain.
Viagra dominated the overall industry in terms of revenue and was valued at over USD 2,400 million in 2014. Despite its patent expiration by 2019 in the U.S., it is estimated to account for over 29% of the market share by 2022 due to the brand loyalty it enjoyed worldwide.
Regional Insights
The market is segmented on the basis of the region into North America, Europe, Asia-Pacific, and Rest of World. Brand loyalty and high acceptance levels of well-recognized brands, namely Viagra (sildenafil citrate), Cialis (tadalafil), and Levitra/Staxyn (vardenafil) are estimated to be the factors responsible for the wide establishment of erectile dysfunction drugs market in this region. However, the drug demand is expected to witness a decline by 2022 owing to the emergence of numerous cheap and similar acting generic versions of blockbuster drugs after their patent expirations.
The global industry is dominated by North America owing to the presence of an established healthcare infrastructure, high demand for erectile dysfunction drugs, and growing R&D initiatives pertaining to the development of novel drug molecules. North America held the largest market share with 39% followed by Europe in 2014.
Asia Pacific is estimated to witness relatively faster growth over the forecast with CAGR of 2.4%. Rising prevalence of erectile dysfunction causing infections, growing base of geriatric population, flourishing generic drugs industry, and social stigma are the main factors accounting for the fastest growth of this region.
Competitive Insights
Key players of this market include Apricus Biosciences Inc., Bayer AG, Cristalia Dong-A Pharmaceutical Co. Ltd., Produtos Quimicos Farmaceuticos Ltd., Eli Lilly and Company, Pfizer, Inc., S.K. Chemicals Co. Ltd., Meda Pharmaceuticals, Inc., and Vivus, Inc. The industry for branded erectile dysfunction drugs is consolidated with key players involved in intense competition and rivalry.
Pfizer, Inc. accounted for the largest share at over 40.0% in 2012. However, the company's market share is likely to decline over the forecast period owing to the patent expiry of Viagra in 2019. Generics are expected to boost industrial growth. In addition, post-patent expiration, mergers, acquisitions and collaborations activities, and geographic expansion are expected to keep industry rivalry at higher levels over the forecast period.