Industry Insights
The global ethylene glycols market demand was 16,511.0 kilo tons in 2013. It is projected to expand at a CAGR of 4.7% from 2014 to 2020. When ethylene oxide is processed further, it forms a sweet-tasting colorless liquid called ethylene glycol/ monoethylene glycol (MEG). MEG is the most widely used glycol in the global market.
Manufacture of MEG from ethylene oxide coproduces diethylene glycol (DEG) and triethylene glycol (TEG). MEG, DEG, and TEG are used as chemical intermediates in many products. Ethylene oxide is mostly used for the manufacturing of ethylene glycols, thus prices changes of the former have an effect on the latter's pricing.

MEG is used as feedstock in many processes. It is majorly used in the production of PET bottle resins, polyester fiber, and films. Other uses include ethylene glycol as dewatering agent, antifreeze, coolant and heat transfer agent, hydrate inhibition, runway de-icing fluids, and precursor to polymers. Niche applications include presence in very small amounts in pesticides, aircraft components, automobile parts, inks, dyes, shoe polish, cleaners, biological preserving agent, and wood treating coats. DEG is used in the production of unsaturated polyester resins and polyurethanes. Most of TEG is consumed for dehydration of natural gas. However, this market is very sluggish, reasons being the high cost involved in manufacturing and refining processes with lower glycol byproducts.
The global bulk chemicals market has been experiencing significant growth due to its increased use in the downstream market applications, especially the booming textile industry and PET resin products industry. Its applications include consumer goods oriented or purely industrial in nature owing to the harmful properties of these chemicals. With its fast-growing textile markets, Asia Pacific has been rapidly emerging as a major consumer market for ethylene glycols (polyester fibers and fabrics).
Optimized processes, equipment, and catalysts are essential to overcome the price volatility caused by crude oil and its resultant upward trend of prices of ethylene glycol-based products. This increase in prices for buyers is expected to be a hurdle in market growth. Apart from this, guidelines for safe handling, production, transportation, use, storage, and disposal of ethylene glycols need to be adhered to considering the major health and environment threats posed by glycols.
Product Insights
The ethylene glycol market was dominated by monoethylene glycol (MEG) with about 90% of the volume share in 2013 and is expected to be the fastest-growing segment with an estimated CAGR of 4.8% for the forecasted period of 2014 to 2020.
MEG is also expected to be the highest revenue grossing segment with a CAGR of 5.1% for the period of 2014 to 2020. Since DEG and TEG are minor co-products of the manufacturing process, their volumes account for lesser shares than that of MEG. Among them, TEG is expected to be the slowest growing segment with an estimated CAGR of 3.6% in terms of volume for the forecasted period.
Monoethylene glycol emerged as the dominating product segment and accounted for over 89.9% of the overall market volume share in 2013. In addition, it is also anticipated to be the fastest-growing product at a CAGR of 4.8% over the forecast period. Monoethylene glycol is primarily used for manufacturing polyethylene terephthalate and growth of the global beverages market is projected to drive the demand for Monoethylene glycol over the forecast period.
Application Insights
The key applications of ethylene glycols include PET, polyester fibers, antifreeze, films, and other niche segments. Among these, application in fibers is expected to rise at the fastest rate with an estimated CAGR of 5.1% while antifreeze segment growth being slowest at a CAGR of 3.9% in terms of volume for the forecasted 2014 to 2020 period. In terms of revenue, the PET segment emerges with an estimated CAGR of 5.4% till 2020, also considering its dominance in the revenue section for the year 2013.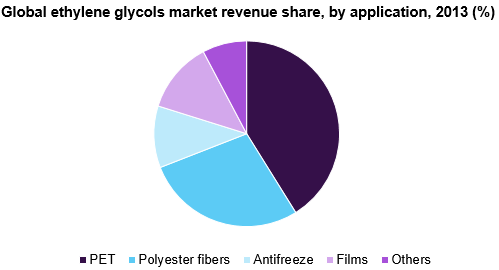 Growing demand for PET in the packaging industry, especially in regions, such as Latin America and Asia Pacific, is anticipated to trigger the growth of the ethylene glycol market. Moreover, growth from the textiles industry is also estimated to drive the ethylene glycol market in the future period. Constricted supply of raw materials coupled with volatile prices, on account of fluctuations in crude oil prices is anticipated to hinder the market growth over the forecast period.
Regional Insights
Asia Pacific was a dominant consumer of ethylene glycol in 2013 with a volume share of 66.46% and is expected to continue this trend with a CAGR of 4.9%, above the consolidated CAGR of 4.7%. This can be attributed to the emerging textile and automotive industries in this region. RoW consumption accounted for the lowest volume share of only 6.94%.
In 2013, North America emerged as the second-largest market for ethylene glycol. The growth in this region can be attributed to increasing demand for PET-based products along with growing consumption from end-use industries such as paint & coatings, plastics, and cooling & heating equipment, etc.
Ethylene Glycol Market Share Insights
SABIC dominates with 28% of the market share. It is followed by DOW, Sinopec, and Shell. The ethylene glycols market is moderately fragmented. Manufacturers are focused on achieving higher participation in the value chain to gain a competitive edge.
Few other market players include Reliance Industries Ltd. - India, Huntsman Corporation- US, BASF- Germany, Kuwait Petroleum Corporation, AkzoNobel- Amsterdam, Clariant- Switzerland, Formosa Plastics Group- Taiwan, Exxon Mobil Corp., Ineos Oxide, Ultrapar Participacoes Sa, Lyondellbasell Industries and Honam Petrochemical Corporation.