Industry Insights
Europe & Asia Pacific rice noodles market size was estimated at USD 1.69 billion in 2014 and is expected to witness a significant growth over the next seven years owing to increasing consumer demand from emerging economies including China and India. Positive outlook towards the retail sector in countries such as India and China is expected to propel expansion of the market. Urbanization coupled with changing consumer habits owing to increasing working population has resulted in fueling demand for convenience food products.
Europe rice noodles market revenue, 2012 - 2022 (USD Million)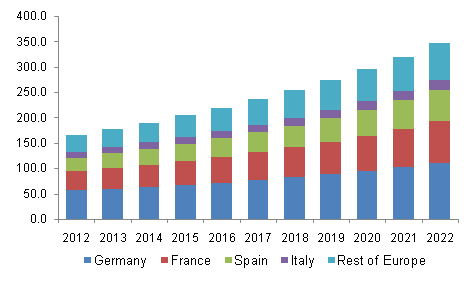 Manufacturers in Vietnam and Thailand are exploring new opportunities in Europe owing to growing consumer needs in the region which has resulted in the expansion of distribution channels and enhancement of the supply chain. These noodles are expected to witness wider consumer acceptance on account of it being a healthy substitute for other instant and plain noodles.
Growing focus on maintaining a healthy lifestyle is expected to remain a key factor influencing market development over the forecast period. Product penetration is expected to increase in urban and rural sectors of these regions owing to the availability of smaller packet sizes at lower prices. This provides a productive growth opportunity for the market players over the forecast period.
Regional Insights
Europe rice noodles market is expected to witness growth at a CAGR exceeding 7.0%from 2015 to 2022. Its ability to be a healthier substitute to fried noodles has resulted in promoting expansion over the past few years. Rising need for ethnic cuisine among consumers is expected to be one of the key drivers for propelling demand over the forecast period.
Asia Pacific market was estimated at USD 1.50 billion in 2014. The traditional noodles sector is expected to saturate, paving way for expansion of the rice noodles market. The presence of a large unorganized manufacturing sector may lead to the growth of small manufacturers in the Chinese market.
Country Insights
Expansion of the retail sector in India has resulted in expansion of distribution channels and partnerships among manufacturers and retailers. This in turn is expected to fuel demand for convenience food items over the next few years. In India, the market is expected to grow at a CAGR of 12.5% from 2015 to 2022.
Vietnam has been a major market for rice noodles owing to the presence of a large number of producers as well as consumers. Growing health concerns related to processed food and increasing demand for authentic cuisine within the convenience food category are critical factors for growth. Over the past couple of years, the government has undertaken strong initiatives to ensure that local manufacturers in Vietnam can enhance their distribution channels. This is a positive sign for the overall market in Vietnam.
In France, the rice noodles market is expected to grow at a CAGR of 8.3% from 2015 to 2022. Germany and France have witnessed a significant rise in demand on account of growing trend for consuming ethnic cuisine coupled with increasing exposure to Asian cuisine. This has led to a rise in the number of noodle retail shops in these two countries over the past few years. Easy to prepare instant rice noodles has specifically witnessed a significant increase in demand owing to growing trend among younger population to have healthier convenience food products rather than the ones which contain high amounts of salt.
Competitive Insights
Rice noodles market is highly fragmented in nature owing to the presence of numerous manufacturers with regional concentration. Manufacturers have wide distribution channels which include wholesalers, primary distributors, secondary distributors, and retailers. Companies including Acecook Vietnam and Nissin Foods dominated the industry through their extensive retail channels and wide distribution networks. The distribution channel plays an important role in this industry, as development of the product depends upon product visibility and positioning.
Companies including President Rice Products Public Company Limited and Trialia Foods Australia sell their products under private label brands. Private label brands have increased over the past few years and will continue to grow on account of increasing consumer need for convenience food products.
Rice noodle manufacturers are majorly concentrated in Asia Pacific and these manufacturers are focussing on the European market by widening their distribution channels and improving their market penetration. Companies including Tat Hui Foods Pte Ltd., Thuan Phong Co., Ltd., and Acecook Vietnam have increased their exports to the European markets on account of rising consumer demand.