Market Size and Trends
The global explosives & pyrotechnics market size was 18,188.7 kilo tons in 2015 of which the pyrotechnics market size was 8,116.5 kilotons. The industry is expected to grow significantly over the forecast period on account of increasing use of the product in construction and mining activities. Rising number of projects for infrastructure development in Asia Pacific is expected to drive the demand for explosives as a blasting agent.
Explosives are made up using a broad range of chemicals some of which include nitrates, amines, and peroxides. These compounds are used in combination with each other, and an explosive reaction occurs depending on its composition, or sensitivity. Explosives are used in numerous applications including metal mining, coal mining, military, and construction.
Increasing government spending for infrastructure development in Asia Pacific and the Middle East on account of increasing domestic output is expected to play a major role in amplifying construction activities in these regions. In 2013, Asia Pacific contributed to approximately 44% of the total global construction spending, an increase of 4% from the previous year. Also, the development of new construction and building projects in Asia is likely to boost market growth.
Global explosives market volume, by application, 2015
Positive outlook towards the mining sector in Chile, and Peru, and owing to government policies to open opportunities for investments by foreign players, to improve the economic conditions, is expected to drive demand subsequently.
The presence of stringent regulations is expected to hinder the growth of the industry over the forecast period. Also, volatile raw material costs, complexity, and safety of manufacturing processes add to the expense of the final product, which is expected to have an adverse effect on the growth of the market over the forecast period.
Application Insights
Mining was the largest application accounting for 75.5% of the global volume in 2015, as they help in clearing rocks for excavation. Mineral extraction is especially prevalent in the countries of the Asia Pacific region such as China, India, and Australia. Also, upcoming projects for increasing iron ore output in Brazil, Africa, and Russia are expected to impact demand positively.
Mining companies including BHP Billiton, Vale, and Rio Tinto have invested in regions with the high abundance of minerals such as copper (Chile), silver (Peru), steel (China), and platinum (South Africa). Liberalization policy opted by the governments of Chile, Peru, and China in the early 1980s, 1990s, and 2000s, respectively, have attracted foreign players to increase expenditure on the extraction and production of minerals at a domestic level.
Global pyrotechnic market volume, by application, 2013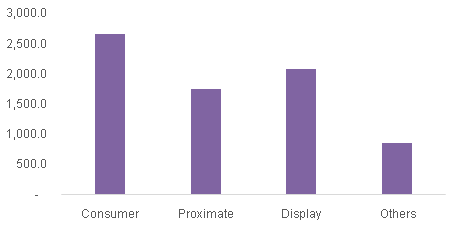 Proximate pyrotechnics are expected to witness significant gains over the forecast period on account of its increasing usage in carnivals and other events. An increasing number of events including sports events such as IPL, BPL, T20, NBA, and other entertainment & religious events is expected to propel demand over the forecast period. The industry is estimated to reach USD 3,505.5 million by 2024.
Explosives are used for long-range explosions in military applications. Increasing spending on military & defense is expected to drive the demand for explosives over the forecast period. Increasing defense budget by countries of Middle East is projected to augment demand. Moreover, political unrest in the region will drive the demand for pyrotechnics. On the basis of revenue, the segment is expected to witness growth at a CAGR of 5.7% over the forecast period.
Product Insights
Pyrotechnics are projected to be the fastest-growing segment of the industry owing to the rising demand for fireworks in numerous festivals including weddings and Christmas. The growth of the tourism industry, where hoteliers are hosting shows that include fireworks is expected to drive the industry over the forecast period.
Blasting agents accounted for 36.7% of the global demand in 2015, and are anticipated to grow on account of their extensive use in construction, mining and military applications. The growth of these end0use industries is likely to propel the demand for blasting agents.
Regional Insights
Asia Pacific was the largest regional market accounting for 49% of the volume in 2015. The presence of numerous prominent mining companies in Australia, and China owing to the presence of coal, and gold reserves is expected to play a crucial role in increasing demand for explosives. Also, the prevalence of numerous religious festivals in the region, particularly China and India, will propel demand for consumer pyrotechnics.
U.S. explosives market volume, by product, 2013 - 2024 (Kilo Tons)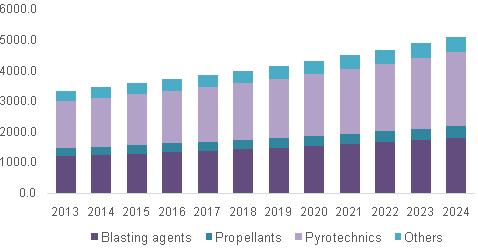 The U.S. explosives market size was 3,590.9 kilo tons in 2015. Mexico is expected to lead the North America regional market owing to government initiatives for infrastructure development. In April 2014, the government of Mexico announced the National Infrastructure Plan (2014-18) with an investment of USD 587 billion. In North America, the market is expected to reach 6,406.8 kilotons by 2024.
Explosives & Pyrotechnics Market Share Insight
The global industry is fragmented in nature owing to the presence of numerous manufacturers with a global as well as regional presence. Orica Mining Services, Sasol Limited, Austin Powder Company, Chemring Group, ENAEX, Maxam Corp., Incitec Pivot, AECI Group, Pyro Company Fireworks, ePC Group, Alliant Techsystems, AEL Mining Services and Titanobel SAS. These companies manufacture products catering to different applications such as military, mining, and construction.
Other key companies in the industry include Hanwha Corp., Solar Industries India, LSB Industries, Zambelli Fireworks, Melrose Pyrotechnics, Angelfire Pyrotechnics, Skyburst, Howard & Sons, Entertainment Fire-works, Supreme Fireworks UK, Celebration Fireworks, Impact Pyro, and Societe Nationale Des Poudres Et Explosifs (SNPE) are some of the manufacturers of explosives and pyrotechnics.
Explosives and Pyrotechnics Report Scope
Attribute

Details

Customization Offer (15% free)*

Additional Cost

Base year

2015

NA

NA

Historic

2013 - 2015

Extended historic data (2012 to 2015)

Free

Forecast

2016 - 2024

Extended Forecast data (2024 - 2027)

Free

Report details

Market size, company market share, competitive landscape, growth factors, trends

Contact us for specific market information not available in this report

Quotation to be shared post feasibility

Market representation

USD Million and

Kilo Tons

NA

NA

Geographic coverage

Global & Regional (by country)

Information on up to three additional countries

Free

Company profiles

All major market players

Profiles of 10 additional companies

Free
* 15% free customization - The 15% report customization is equivalent to work done by one research analyst for 5 working days.
Market segments covered in the report
Grand View Research has segmented the global explosives & pyrotechnics market on the basis of product, application, and region:
Global Explosives Product Outlook (Volume, Kilo Tons; Revenue, USD Million; 2013 - 2024)

Blasting agents
Propellants
Pyrotechnics
Others

Global Explosives Application Outlook (Volume, Kilo Tons; Revenue, USD Million; 2013 - 2024)

Mining
Construction
Military
Others

Global Pyrotechnics Application Outlook (Volume, Kilo Tons; Revenue, USD Million; 2013 - 2024)

Proximate pyrotechnics
Consumer pyrotechnics
Display pyrotechnics
Others

Global Explosives Regional Outlook (Volume, Kilo Tons; Revenue, USD Million; 2013 - 2024)

North America
Europe
Asia Pacific
Latin America
Middle East & Africa (MEA)