Industry Insights
Global fatty alcohols market demand was 2,257.7 kilo tons in 2013. Growing demand for biodegradable and sustainable products on account of reducing petrochemical dependence is expected to remain a key driving factor for global fatty alcohols industry. Volatile price of petrochemical derived products on account of supply-demand imbalances raise concerns for the global chemical industry which has prompted this shift towards bio-based chemicals.industries. Increasing concerns regarding the effect of petrochemicals on the environment have prompted the use of bio-based, sustainable chemicals. To reduce reliance on petrochemicals and to decrease carbon footprint, industry has shifted their focus towards development of biodegradable products and base chemicals through bio-based raw materials.
Global fatty alcohols market volume by product, 2012 - 2022 (Kilo Tons)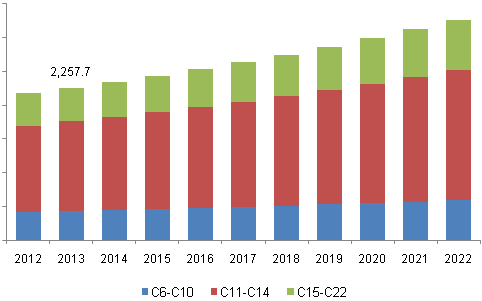 Regulations from agencies such as REACH regarding the environmental hazards associated with petrochemical-based products are expected to support the trend. Fatty alcohols are biodegradable in nature and cater to the same application as petrochemicals and are a cost effective alternative to petrochemicals. Increasing the supply of sustainable raw materials in the form of oilseed is expected to impact positively production. This, in turn, is expected to provide wide horizons for downstream applications and thus increase market penetration. Major sources include soybean oil, sunflower oil, safflower oil, rapeseed oil, tall oil, palm oil, and beef tallow. Global increase in hygiene product demand coupled with increasing consumer awareness is expected to drive personal care industry over the next six years. The shift in consumer preference towards bio-ingredient based products demand due to grow awareness regarding potential toxicity caused by petrochemical products is expected to drive personal care products demand. These factors are in turn responsible for driving fatty alcohols demand in personal care industry.
Product Insights
C11-C14 fatty alcohols emerged as the leading product segment and accounted for over 58% of the overall market in 2014. Rising demand, especially in Asia Pacific is expected to drive the product segment market over the forecast period. C11-C14 fatty alcohols are used for sodium laureth ether sulphate (SLES), a key foaming agent found in body wash and shampoo formulations. C15-C22 fatty alcohols are expected to witness the highest growth over the next seven years. Increasing application scope of the particular product segment is anticipated to be the major driving factor for the market over the forecast period.
Application Insights
Soaps & detergents were the largest fatty alcohols market application and accounted for over 50% of total demand in 2013. Rising population in Asia Pacific is anticipated to augment soaps & detergents demand over the forecast period. The soap & detergent industry is characterized by various differentiated products that cater to various consumer needs and is anticipated to grow over the next seven years. This, in turn, is anticipated to drive the fatty alcohols market in near future. Personal care is anticipated to be the fastest growing application segment for fatty alcohols over the forecast period on account of rising personal care products demand especially in Asia Pacific over the foreseeable future. Rising awareness towards personal hygiene and care is anticipated to drive the fatty alcohol market over the foreseeable future.
Regional Insights
Asia Pacific fatty alcohols market and accounted for over 30% of the global volume in 2014. Increasing soaps & detergents demand on account of population growth and increased disposable income in the region is expected to drive demand in this region. Apart from being the largest, Asia Pacific is expected to be the fastest growing regional market. European fatty alcohols market is expected to lose share to high growth regions such as Asia Pacific and Central & South America. The uncertain economic situation in the region coupled with declining growth in major downstream industries is expected to have an adverse impact the market. North America fatty alcohols market is anticipated to witness average growth over the forecast period owing to increasing bio-based product demand on account of increasing consumer awareness along with stringent regulations is expected to fuel demand in the region.
Competitive Insights
BASF SE, Croda International, Eastman Chemical Company, Ecogreen Oleochemical and Emery Oleochemicals dominated global fatty alcohols market share in 2014. Increased availability of raw materials such as soy, rapeseed, and corn in China, Malaysia, and Indonesia and has forced numerous chemical manufacturers to shift base from Europe and North America to invest in Asia Pacific.