Industry Insights
The global palm oil market size was estimated at USD 57.56 billion in 2014. Several government initiatives concerning blending of conventional fuel with that of bio-based, as well as rapidly growing usage of products as bio-based diesel have been gaining global acceptance over recent years. Consumers globally are aware of bio-based cosmetics, lubricants, and surfactants, which has also prompted the market.
Multiple government schemes such as RSPO, POIG and more are observed to have a positive impact on market at a global level. Markets in North America and Europe have high demand for bio-diesel applications, whereas Asia Pacific is increasingly growing in terms of consumption for edible oil and cosmetics applications.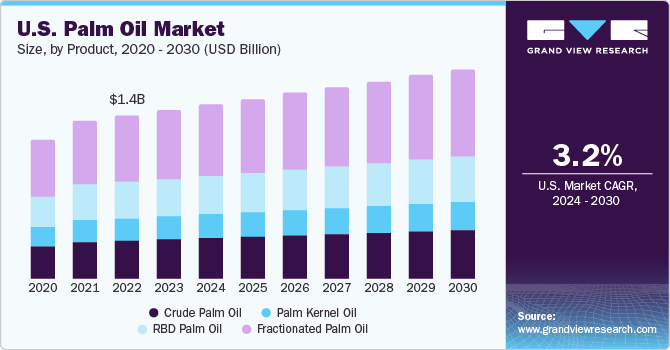 Several multinationals in this field are continuously investing in their R&D department to improvise their product portfolio thereby catering a wider application base and sustain in the market. Technological improvisation coupled with high foreign investments in the field for sustainable ways of production is estimated to create ample opportunities for industry participants across the globe.
Besides several favorable factors, stringent environmental regulations governing production, on the other hand, is anticipated to hamper the global market growth. A higher production cost owing to the adoption of sustainable production methods is presumed to be another market restraint and is anticipated to ward off new market entrants.
The global market is characterized by stringent government regulations mandating companies to conform with sustainability in production and extraction. Transitioning consumer preferences regarding carbon-emitting fuels and sources are leading to higher demand in biodiesel applications
Product Insights
Crude palm is a widely used as an edible oil with a market volume share of 77%, is likely to remain an integral part of consumer diets, despite ban on its inclusion in dairy products in certain countries. Raw red oil is one of the most widely consumed products across the world and is likely to remain a dominant segment. Malaysia & Indonesia are key suppliers of the product, exporting it to numerous countries.
This is widely used as a substitute for expensive vegetable oils such as coconut, sunflower, and groundout. Increasing population, slow income growth and the backdrop of declining arable land across developed nations has prompted its plantations to meet burgeoning regional food needs, which is likely to remain a significant factor behind the segment's growth.
Kernel products are still widely utilized to make soaps, cosmetics, and detergents in end-use industries. It has specialized applications in confectionery fats and other divisions under bakery sector. However, recent ban on the products and derivatives in dairy industry has hampered growth in the segment.
The product is also widely utilized in bakery sector for diverse applications. Other derivates of the product such as cake or expeller products are also widely utilized for a wide array of applications including animal feed and more. Growing consumption of meat & poultry products in emerging economies such as China, India, and others has driven the demand for nutritional animal feed, at a low cost, which has boosted kernel consumption in its production.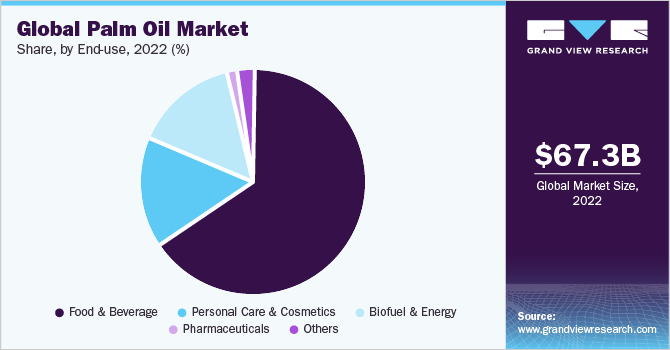 Several associations have implemented strategies and plans to increase correlation among the various international organizations to increase in animal feed industry. Consumers are also increasingly consuming meat owing to rising consumer disposable income in emerging economies, leading to an increase in demand for more hygienic and nutritious feed to produce high-quality meat products.
Advanced technological innovation has led to the development of super palmolein, which is obtained via further fractionation of the same to derive a product that can withstand lower temperatures before solidifying or clouding. These products blend perfectly with vegetable oils and are therefore in high demand globally.
Application Insights
Edible oil is one of the dominant application scopes which is growing at a CAGR of 10.2% globally. Rising prices have impacted food consumption in several developing economies across the globe. Decreasing arable land and rising price of oilseeds has also generated food-security concerns. The product is thus being used to address the growing food needs of consumers in several emerging economies, especially in the face of dwindling natural reserves and the competition from other industries for vegetable oils.
There has been a shift in trend towards trans-free fats, owing to western influence on the cultures of emerging economies that contributed to the popularity in transitioning consumer diets & lifestyles. Rapid technological advancements in the field have also spurred product demand. Growing affluence, continued gap in prices of soy and palm, as well as the influx of tourists, are other factors influencing the segment growth.
Lubricants contribution substantially towards fuel efficiency and vehicle performance improvement, which has led to increasing consumption in several sectors across Asia Pacific. The region is also becoming a hub for major auto-makers to shift their production bases to countries such as India, Thailand, Indonesia, and Vietnam to tap lucrative opportunities in consumer segments and lower labour costs.
Strong consumer confidence coupled with high fashion & beauty awareness, further boosted by media exposure and western influences have a positive impact on the cosmetics industry on a global level. Despite the mild slowdown in the economy, the rising standards of living largely contributes to cosmetics growth. Retailers have also begun offering numerous deals to attract customers and increase value addition to the industry.
Regional Insights
The U.S. and Canada have relatively low per capita consumption owing to the dominance of domestic soybean and corn oils under the edible market. Consequently, the issue of sustainable sourcing has not been a high priority for companies in North America, and there is still a relatively low level of awareness of the impacts of its production among consumers. The region is thus expected to grow at a slower pace as compared to developing regions such as Asia Pacific and CSA.
In Europe, high consumer income and growing influence of social media have driven the demand for high-end cosmetics and personal care products. Men are also rapidly adapting to new trends in the consumer cosmetics market, by utilizing products such a beard and hair grooming products. Such trends have encouraged cosmetic companies to develop specific products with unique features targeting these demographics.
Asia Pacific is home to several major emerging markets, including India, Vietnam, Thailand, Malaysia and Indonesia, most of which are significant producers and exporters. Most of these countries are also committed to a high level of sustainability, with innovations in achieving higher vital efficiency and maximizing growth in the production and market. Accelerated replanting and mechanization of several harvesting and processing techniques is another factor contributing to the industry growth
Transitioning demographics in the Middle East and Africa, which includes the rise of working population, has increased the spending on goods pertaining to health and well-being. Clean label & natural products are also being consumed to a significant extent as consumers realize the benefits of such products, as compared to others containing artificial additives. This trend is particularly eminent among the white-collar employees, non-residential foreign returnees, and expatriates working in the region. These factors have driven the shift in trend towards sustainable and organic sources in edible and other applications.
Palm Oil Market Share Insights
This industry is characterized by highly integrated supply chain and rising demand for the product for extensive application portfolio including cosmetics, bio-diesel, lubricants and more. Key market participants include Cargill Inc., United Palm Oil Industry Public Company Limited, Wilmar International and Golden Agri-Resources among others.
The key industry participants are increasingly focusing on strategically placing their products across diverse regions based on consumer preferences and particular product type demand. Multinationals are also taking keen interest in expanding their product portfolio to be able to cater to a broader market. Export taxes are imposed on refined products to foster growth in downstream industries.