Industry Insights
Global palm oil market was valued at USD 61,089.7 million in 2014. Growing demand from diverse end-use industries is expected to remain a key driving factor for the global market. Governments and related agencies across various nations have taken initiatives to curb consumption of trans-fat in recent years. Regulations concerning conventional fuel blending with bio-based fuel and growing palm oil usage as bio-diesel has been gaining acceptance over the recent years. Environmental concerns and shifting customer preferences towards bio-based cosmetics, lubricants and surfactants have also prompted palm oil demand. All of the aforementioned factors are expected to contribute towards the development of global palm oil market.
Global palm oil market volume by product, 2012-2022 (Million Tons)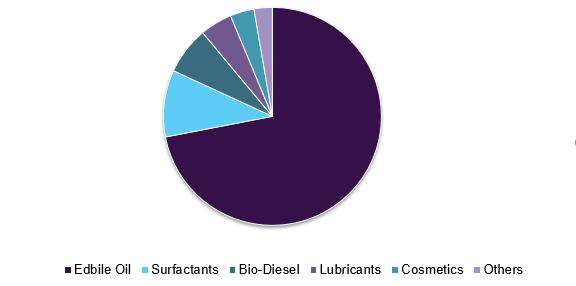 Technologies and R&D initiatives to develop sustainable ways of production offer ample opportunities for the industry participants. Processing operations to produce high-value products such as oleochemicals promise ample growth opportunities for palm oil industry participants in the near future.
Product Insights
Crude palm oil demand dominated the overall market in 2014 followed by kernel oil and cake. Growing applications such as edible oil, surfactants, biodiesel, cosmetics and lubricants are presumed to drive demand over the forecast period. Palm kernel cakes are majorly used in animal feed industry. Growing animal feed demand in regions such as North America and Asia Pacific are projected to aid the demand for this derivative product. The surge in demand in the cosmetics industry is also expected to be beneficial for the overall market.
Application Insights
Edible oil dominated the global market followed by surfactants, lubricants, and biodiesel. Health concerns regarding trans-fat consumption have shifted consumer preferences away from animal fats and vegetable oils containing high trans-fat towards low trans-fat. Growing energy needs have shifted consumer preferences towards bio-based fuel. Stringent environmental regulations have encouraged consumption of bio-based surfactants and lubricants. Such a trend is expected to aid the industry growth and development. Potential value as a platform chemical along with the above-mentioned factors is expected to drive the overall palm oil market.
Regional Insights
Asia Pacific palm oil market dominated the overall demand in 2014, ahead of Europe and the Middle East & Africa. Asia Pacific and the Middle East & Africa are projected to experience brisk growth in areas such as food applications and other industrial uses. Central & South America and various African countries are expected to witness growing production capabilities as companies are eyeing these markets due to their favourable climatic conditions and available arable land. Malaysia and Indonesia palm oil industry currently dominate the global production scenario. They are also the major global exporters, covering a massive chunk of the global trade. Latest industry trends depict growing consumption in these palm producing countries. Such a trend is projected to create a supply demand imbalance for the developed regional markets, which depend entirely on imports to meet their domestic demand.
Competitive Insights
The industry displays consolidated nature with few companies dominating the global market revenue. Industry participants are taking such strong steps to increase their product line and gain a competitive foothold in the briskly growing regional markets such as Asia Pacific.This industry is characterized by a fairly high threat of new entrants though environmental regulations pose as a major barrier to entry. Cargill Inc., United Palm Oil Industry Public Company Limited, Wilmar International Limited, Sime Darby, Golden Agri Resources Limited, Godrej Agrovet Limited, PT Astra Agro Lestari Tbk, IOI Corp., London Sumatra, Kulim Bhd, Musim Mas Group, Alami Group and ADM dominated global palm oil market share in 2014.