Industry Insights
Innovations and new trends in floor designs and construction solutions have extensively driven the flooring market. The market is highly competitive with numerous players offering an array of flooring solutions across residential, commercial, industrial and other application segments. The floor covering industry is being inundated by new technology developments and styling trends. In recent times, end users have been deviating from traditional flooring solutions to more cost effective and eco-friendly flooring materials such as cork, linoleum, bamboo, glass, Polyester (P.E.T) Berber, rubber and reclaimed hardwood. Additionally, surging demand in the construction industry along with changing consumer lifestyles and growing demand for insulation are expected to be the key market drivers. Availability of innovative construction solutions that are durable and require low maintenance is expected to impact the market favorably. However, a major determinant for the success of flooring solutions is consumer awareness and willingness of using the product. Besides, perceived complexity with regards to installation of flooring solutions, they are viewed as expensive and luxurious, which could pose a challenge to the market. Increasing concern over environmental impact is expected to significantly affect the textile flooring market. For instance, carpets are treated with toxic chemicals to repel moisture and soil and for mothproofing, which may cause several health issues.
Product Insights
The product segment is broadly categorized in to four types including soft coverings, resilient flooring, non-resilient flooring and seamless flooring. Soft coverings are also known as textile coverings, and mainly comprises rugs and carpets. This segment dominated the market, and accounted for over 50% of the overall market share in 2013.
Global flooring market, by product, (Billion Square Feet), 2012 - 2020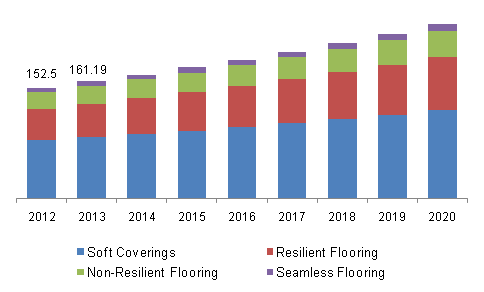 These coverings provide several benefits including noise-reducing effect, dust-binding characteristics and also are known to be good insulators providing warmth, comfort as well as pleasing aesthetics. Resilient flooring is a mixture of color, binders and fillers. Types of resilient flooring include cork, wood, rubber, vinyl, asphalt and linoleum; these are waterproof, cost effective, durable and low maintenance in nature. Non-resilient flooring encompasses ceramic tile, clay tile, concrete tile, terrazzo stone and brick. These floors generally hold up under many conditions, and require only mopping and dusting.
Application Insights
Flooring solutions are used for residential, commercial, and industrial applications. Owing to growing demand across the construction industry and increased home improvement and renovation projects, the market for flooring products in residential applications is expected to witness growth over the forecast period. In addition, rise in demand for flooring solutions across the residential segment could be attributed to changing consumer lifestyle and increased consumer disposable income. Commercial applications include healthcare, hospitality and leisure, corporate, education, retail, sports and other sectors. Increasing demand in the construction industry is expected to be the key driving force for the market over the next six years. Industrial applications include automotive industry, manufacturing plants, aviation hangars, refineries, etc.
Regional Insights
Asia Pacific is expected to witness significant market growth on account of developing infrastructure facilities and surging real-estate industry. Further, the region is expected to witness increased demand for residential and non-residential building spaces, which can be attributed to the population growth and urbanization. The region accounted for over 40% of the overall market share in 2013. Europe is also expected to witness substantial increase in market demand over the forecast period. This can be attributed to the availability of innovative construction solutions and easy installation techniques.
Competitive Insights
Raw material suppliers, manufacturers and distributors play a key role in the industry value chain. Notable companies in the market include Mannington Mills Inc, Mohawk, Gerflor, Armstrong, and Shaw Floors. The market is significantly consolidated with intense competition; technology inovation is expected to be a focal point for market development over the next six years.