Industry Insights
Ceramic tiles are essentially a mixture of clays which have been shaped and fired at high temperature. The growth of construction activities around the world is expected to remain a key driving factor for the market over the next six years. Ceramic tiles are primarily used in suburban, restaurants, offices, malls and resorts as bathroom walls and kitchen floors and many more areas.
Global ceramic tiles market volumes by product, 2012-2020 (Million square meters)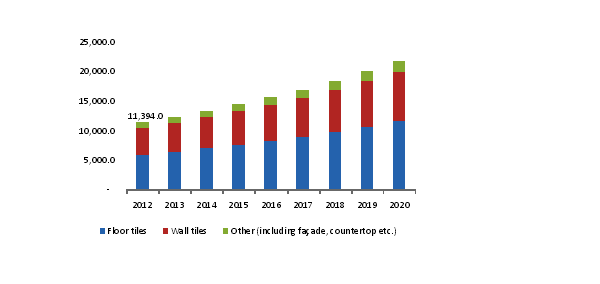 The growth and development of construction industry and infrastructure industry are expected to be the primary driver of this market during the forecast period owing to urbanization, higher per capita income, growth in population and economies. Some of the other drivers of this market include technological advancement, environmental regulation coupled with growing economies of Asia Pacific such as India, China, Brazil and Indonesia, and R&D initiatives to develop new products which are eco- friendly. Also, the shift towards replacing paints, marble floors, metal slabs, and other home decorative products with ceramic tiles is also expected to lift the market in next six years. Currently, usages of ceramic tiles have become core activities in construction and real estate industry because ceramic tiles are considered as status symbol and lifestyle product. Global consumption of ceramic tiles increased over the last few years, due to this ceramic tiles market witness entry of new players in the industry. This ultimately led to increasing in competition in the overall market.
Product Insights
The overall ceramic tiles market on the basis of the product type is segmented into three broad categories namely floor tiles, wall tiles and others types of ceramic tiles. Floor tiles emerged as the key ceramic tiles, used universally and accounted for over half of the total market in 2012. In addition, Floor tiles market is expected to be the fastest growing in terms of revenue, market share and CAGR throughout the forecast period. Wall tiles have the second largest market and account for high revenue. The ceramic tiles industry shows a high degree of forward integration owing to the involvement of the major company in its downstream activities. This forward integration provides companies a competitive advantage in term of excellent market demand and customer retention.
Application Insights
Residential replacement, commercial, new residential and other applications (facades, countertops) are the key application segments analyzed and estimated in this study. Residential replacement is expected to dominate the overall market in terms of share and CAGR throughout the forecast period, majorly as they can be used as substitutes for marbles and paints. Applications in new residential buildings are expected to show substantial growth due to boom in construction and infrastructure industry in emerging markets of China, India, and Brazil.
Regional Insights
Asia-Pacific held the largest share in the market in 2013 and accounted more than half of total consumption.The trend is expected to continue during the forecast period due to increasingly constructional activities in countries such as China, Brazil, and India. Owing to this, the key ceramic companies are shifting their production centers in Asia Pacific. China is expected to be major factors for driving growth in Asia Pacific region. Asia Pacific is followed by Europe and Central and South America, which are accounted for approximately one-fourth of the total market in 2013. North America market is expected to remain sluggish owing to the presence of stringent environmental laws. These stringent regulations are forcing companies to re-locate their production centers in developing countries coupled with lower cost of manufacturing and sustain in the global market. However, companies are expected to invest heavily in the R&D activities to develop new environmental friendly production process to reduce greenhouse gas emissions.

Competitive Insights
The global ceramic tiles market is dominated by few participants that include Atlas Concorde, Porcelanosa Group, Crossville Inc., Gruppo Ceramiche Ricchetti, Mohawk Industries and Florida Tile. However, some other companies such as China Ceramics Co. Ltd, Saloni Ceramica, Mohawk Industries, Asia Pacific Building Products, and VEISA Ceramics play an important role in emerging markets such as India and China.