Industry Insights
The global flywheel energy storage market size was USD 224.0 million in 2015. Flywheel energy storage system is used to store power in the form of kinetic energy. It is considered to be a renewable and eco-friendly source of power, as compared to batteries, which release harmful chemicals while in use.
U.S. Flywheel Energy Storage Market Revenue, By Application, 2013 - 2024 (USD Thousand)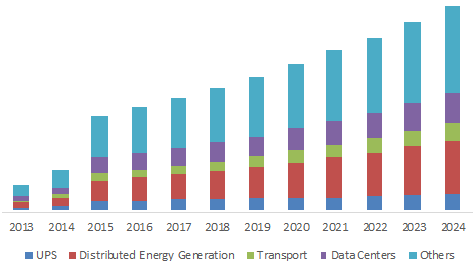 Growing demand for uninterrupted power supply from the commercial sector is expected to drive the market. Awareness regarding the losses incurred due to power failures has prompted the installations of energy storage systems such as a flywheel. According to a report, the U.S. alone experiences losses of over USD 50 billion due to power interruptions, annually.
Other factors such as growing automobile and energy storage markets are expected to drive the product demand further. The fact that flywheel systems do not degrade with time, are compact, and can last for up to 20 years make them an ideal substitute to other storage devices such as lead acid and Li-ion batteries.
Application Analysis
Distributed energy generation accounted for the largest share among all applications, in 2015. Distributed energy generation is a process in which power is generated at the place of consumption. Advantages such as increased efficiency and reduction of transmission losses have made distributed energy generation more popular than centrally generated power. In 2015, this segment accounted for 21% of all applications of flywheel energy storage systems. Due to growing demand from commercial workstations, this segment is projected to grow at the highest CAGR of 11.6% over the forecast period.
The data centers segment held the second largest share of 16% in 2015. This segment is important since data centers are used to store huge amounts of data centrally, which can be easily retrieved by the authorized people. Uninterrupted and continuous power supply, which are some of the prerequisites of business, make the UPS an important application segment of flywheel energy storage systems. This segment is projected to grow at a steady CAGR of 5.9% from 2016 to 2024.
Regional Insights
North America accounted for the largest share of 78% in the market in 2015. This region is dominated by the U.S., which houses some of the major IT and automobile companies in the world. These require continuous and glitch-free power supply, thus, increasing demand for energy storage systems such as a flywheel. The data centers segment held the largest share in this region, courtesy growing demand from commercial sectors.
Europe, which held a share of 9% in 2015, is projected to be the fastest-growing region in this market, over the forecast period. Growing demand from countries such as Germany and the UK have resulted in boosting the market in this region. Asia Pacific is considered to be one of the fastest emerging regions in the world, is projected to grow at a CAGR of 9% over the forecast period. The market in this region is led by Japan and South Korea. Growing demand from these countries has provided the necessary boost to the market in this region. The region is more prone to frequent power cuts, making the flywheel systems even more critical. Similarly, MEA and CSA are also expected to be important to the growth of this industry.
Competitor Insights
The market is highly consolidated with the presence of a few players around the world. Most of the manufacturers are based in the U.S. Some of the players in this industry include Active Power, Amber Kinetics, Inc., Beacon Power, LLC, Calnetix Technologies, LLC, Piller Group GmbH, Powerthru, Power Tree, Temporal Power, and Rotonix USA. These players have adopted certain development strategies such as expansions & investments, mergers & acquisitions, new product developments, and joint ventures & partnerships to enter new markets and expand their product portfolios.
For instance, in September 2016, Active Power introduced CleanSource 275XT UPS, a UPS system which increased the flywheel run time by 78%. This product was characterized by low maintenance, long lifespan, and high efficiency. This new product development strategy helped the company expand its product offerings.
In January 2016, Amber Kinetics, Inc. signed an agreement with Pacific Gas and Electric Company (PG&E). This was considered to be a landmark deal, as it involved a power discharge duration of four hours. This agreement strengthened Amber Kinetics, Inc.'s position in the industry.