Industry Insights
The global fumaric acid market size demand was 245.4 kilo tons in 2014. It is projected to expand at a CAGR of 6.1% from 2015 to 2022. Rising popularity of processed food and demand for ready-to-drink beverages is expected to remain a key factor driving the growth. Fumaric acid acts as an acidulant, preservative, flavor enhancer, and pH adjusting agent in food and beverages application.
Rising standard of living coupled with economic development particularly in Asia Pacific countries such as China and India is projected to fuel consumption of processed food and beverages, which in turn is expected to augment global market growth. Rising preference for nutritional diet consumer health consciousness are expected to positively influence the demand for processed food and beverages. This factor is expected to drive the demand for fumaric acid.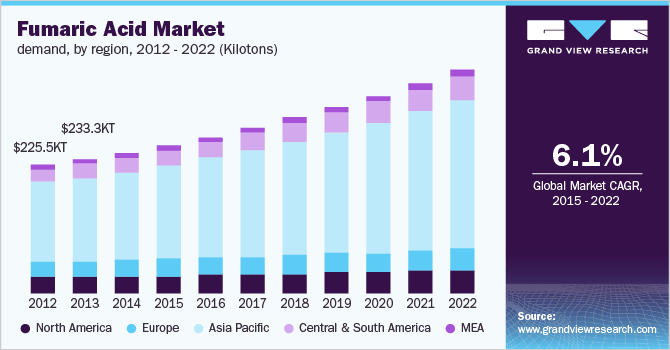 Introduction of wide variety flavors including exotic and ethnic flavors in food and beverages market is projected to drive the demand for fumaric acid. Increasing construction and remodeling activities in developing economies of Asia Pacific and Latin America is expected to drive the demand for Unsaturated Polyester Resin (UPR).
Fumaric acid is consumed in the production of UPR and alkyd resins. Demand for paints is expected to grow owing to increasing construction activities. Thus, rising construction activities are expected to augment UPR and paints demand which in turn is expected to drive growth of the fumaric acid market.
Global rise in automobile production is projected to impact the market positively. Fumaric acid based UPR is used in manufacturing body panel for heavy and light duty vehicles. Increasing application in pharmaceuticals is also expected to augment growth of the global market. Fumaric acid is also being touted as a potential substitute for synthetic organic acids such as citric acid and tartaric acid for applications in fruit syrups and snacks. This, in turn, is expected to create growth opportunities in near future.
Stringent government regulations owing to growing environmental concern to reduce carbon footprints into the atmosphere are expected to hinder global fumaric acid market growth. Increasing investments in research to develop bio-based fumaric acid is expected to provide key opportunities for industry participants.
Popularity of nutritional bars and cereals is also expected to provide lucrative opportunities to the industry participants. Fumaric acid can be used as an intermediate in the production of bio-based polymers and potentially replace maleic anhydride in various applications. Market participants have huge opportunities to capitalize owing to above-mentioned factor.
Application Insights
Food and beverage was the leading application segment over the past few years. Fumaric acid is used for preservation and flavor enhancement in food and beverages application. Increasing demand for convenience food is expected to continue driving the segment growth over the forecast period.
Introduction of energy drinks and bars is projected to further fuel the food and beverage application segment. Rosin paper sizes was the second largest application segment in 2014. This segment is projected to witness decline owing to increasing use of alkaline papermaking as a substitute. Unsaturated polyester resins are expected to exhibit moderate growth rate over the forecast period.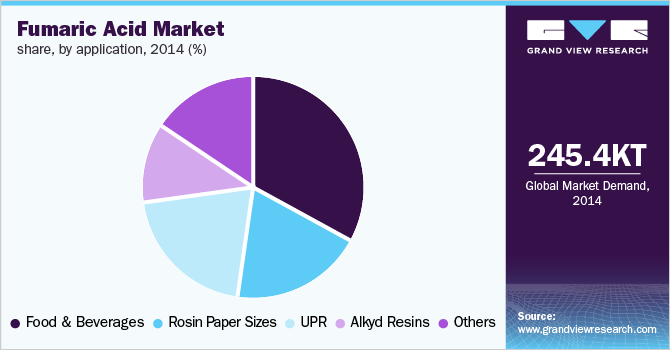 Increasing application of UPR in end-use industries such as aerospace, marine, and tank and pipes are expected to drive the market growth over the forecast period. Other application areas of fumaric acid include feed additives, pharmaceuticals, lubricating oil, plasticizers, and lacquers.
Stringent environmental regulations owing to environmental concerns particularly in key regions of Europe and North America are expected to hinder the demand for alkyd resins. However, increasing demand for paints used in construction of residential and commercial buildings are likely to boost the market grwoth over the forecast period.
Regional Insights
Asia Pacific was the leading regional market in terms of demand in 2014 and is expected to continue its dominance over the forecast period. High demand for convenience food coupled with an increase in per capita middle-class disposable income and population explosion is expected to drive the regional product demand. Growing construction and remodeling activities in Asia Pacific are also expected to further fuel the growth. Rising automotive industry in emerging economies of Asia Pacific such as Thailand and Indonesia are expected to drive the regional market.
North America was the second largest regional market and is expected to witness a decline in demand over the forecast period owing to stringent government regulations regarding the use of alkyd resins. Followed by North America, Europe is also expected to witness a decline in product demand owing to market saturation in end-use industries.
Fumaric Acid Market Share Insights
The market is moderately concentrated and dominated by a few large players such as Bartek Ingredients, Prinova LLC, Polynt S.P.A, and Fuso Chemicals. Other major industry players include Dastech International Inc., Thirumalai Chemicals, Xilong Chemical Company Ltd, Nippon Shokbai Co. Ltd, Tianjin Bohai Chemicals, The Chemical Company, Wego Chemicals & Mineral Corp., U.S. Chemicals LLC and Changzhou Yabang Chemical Co. Ltd. Industry participants are involved in extensive R&D and innovation to widen the scope of application and penetrate regional markets.
Key market participants are also focusing on capacity expansion and acquisitions owing to global increase in food and beverage consumption and growth of construction activity. Leading companies such as Bartek Ingredients, Polynt S.P.A, and Nippon, are present across the value chain manufacturing both maleic anhydride and fumaric acid.