Industry Insights
The global food additives market size was estimated at USD 37.91 billion in 2014. Growing consumption of food and beverages with high nutrition content and a better visual appeal is expected to drive market demand over the forecast period. The global food additives industry is expected to witness growth owing to changing consumer tastes and interests regarding the quality and nutritional value of the product. Growing consumer awareness about different kinds of tastes is also expected to play a crucial role in driving growth.
An additive is incorporated in a finished product to improve protection against harmful bacteria and other kinds of microbes to prolong shelf life. It also imparts characteristics such as flavor, color, and taste in foodstuff and increases its nutritional content.
Germany food additives market by product, 2012 - 2022 (USD Million)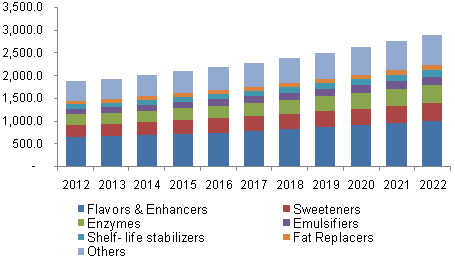 Growing demand for packaged products including ready-to-eat meals, appetizers, and frozen meals is expected to result in manufacturers increasing their production capacity and therefore augment demand. Rising consumer demand for an exotic taste and high-value nutritional products is influencing manufacturers to develop ingredients that would enhance the consumer experience.
Product Insights
Flavors & enhancers were leading product segment, generating revenues worth USD 11.99 billion in 2014. Growing consumer demand for low salt and sugar-free products owing to their health benefits is expected to drive growth.
The natural flavors segment is expected to grow at a CAGR of 5.2% from 2015 to 2022. Rising consumer awareness regarding the benefits of herbs and neem as natural flavors is promoting industry growth. Also, regulatory support aimed at improving the production output of naturally derived products is expected to increase its importance over the projected period.
Sweeteners are majorly used to provide a sweet taste in formulating F&B products. In addition, rising health concerns over diabetes, tooth decay, and diarrhea and increasing the importance of low-calorie products are expected to amplify the demand for sugar substitutes such as high-intensity sugars (HIS) and high fructose corn syrup (HFCS). The segment is expected to grow at a CAGR of 4.7% over the forecast period.
Regional Insights
Europe's food additives market accounted for over 30% of the global share in 2014 owing to the growing importance of functional ingredients for incorporating properties such as emulsification, flavor, and extension of shelf life. Increasing production of meat products, particularly beef in Russia is expected to promote the growth of additives in the near future
The Asia Pacific accounted for over 26% in 2014 and is expected to witness significant gains over the next five years. Government initiatives to promote production output in emerging economies including India and China are contributing towards growth, and this trend is expected to continue over the forecast period.
Indian market is expected to grow at a CAGR of 4.6% from 2015 to 2022. Rising awareness about a high nutritional diet and the increasing need to impart ethnic taste is playing a key role in accelerating demand.
The Middle East is likely to be a high potential market owing to growing domestic consumption coupled with government support to attract new investment. Rising consumption of red meat particularly, beef in Middle East countries such as Saudi Arabia, is expected to promote growth over the forecast period.
Food Additives Market Share Insights
Arthur Daniels Midland Company (ADM), Novozymes A/S, DuPont, and Ingredion dominated the global food additives market share in 2014. F&B manufacturers are increasingly incorporating additives such as enzymes, emulsifiers, and enhancers to increase shelf life and maintain emulsification and freezing characteristics in their product offerings.
The increasing importance of raw material is expected to force the suppliers to adopt integration across various stages of the value chain. In June 2015, ADM acquired California Gold Almonds' tree nut and seed processing assets to add to its processing capacity on the West Coast. In May 2015, the company also announced plans to establish a feed-premix plant in Zhangzhou, China to support the growing industry in the Midwest.
In September 2012, DuPont and AvidBiotics Corp. formed a partnership aimed at improving food safety by giving exclusive rights to DuPont to use AviBiotics antibacterial protein technology. In May 2015, Novozymes and Adisseo entered into a strategic partnership to develop and market probiotic products for poultry.