Industry Insights
The growing geriatric population intending to live independently is one of the major drivers of the geriatric care services market. The global geriatric care services market is expected to reach USD 1,012.02 billion by 2022, growing at a CAGR of 6.1% over the forecast period. The U.S. population is "graying" at a rapid rate. According to data published by the United Nations in 2014, it has been estimated that by the year 2022, approximately 35% of the population would be above 60 years of age.
Global Geriatric Care Services Market, by product, 2014 - 2022 (USD Billion)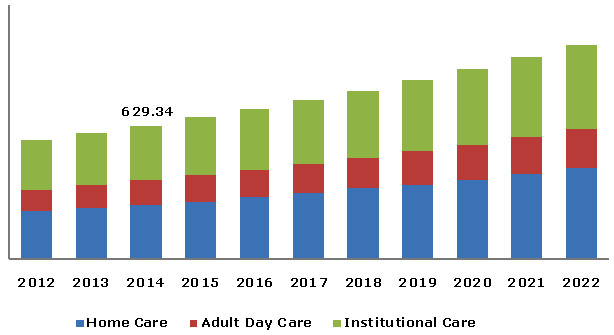 The presence of various long-term care services providers coupled with favorable reimbursement policies is few factors expected to boost the growth of the geriatric care services market. Furthermore, an increasing oldest old population who are prone to various medical conditions such as neurological, orthopedic, cardiovascular & respiratory disorders coupled with increasing technological advancement such as the development of specialty robots capable of assisting elderly in carrying out day to day operations are expected to drive the geriatric care services market growth.
Product Insights
Home care, adult day care, and institutional care services are the key product segments of the geriatric care services market. Home care services include home health care services and non-medical home care services. Adult daycare services are further bifurcated into healthcare and non-medical healthcare services. Institutional care services include nursing homes (palliative care & hospice care), hospital-based services, assisted living, and independent senior living. In 2014, the institutional care services market accounted for nearly half of the revenue. However, the home care services market is expected to witness lucrative growth over the forecast period. Growing demand for home care services among older olds, the prevalence of chronic diseases, patients recovering from surgery is likely to boost market growth during the forecast period. Moreover, advantages associated with home care services such as the desire to stay at home, independent caretaking, and overall fewer care services expenditure are further expected to positively reinforce market growth. Lower availability of alternative options such as assisted living, residential living, hospice, etc. especially in developing areas are expected to limit consumer preferences.

Regional Insights
North America dominated the overall market in terms of revenue share in 2014, at over 40%. Key factors attributing to its large share include the constant development of reimbursement policies coupled with the presence of wide varieties of long-term care centers throughout the U.S. Europe on account of the presence of a large geriatric population, especially in the Western regions is expected to follow North America throughout the forecast period. However, Asia Pacific is anticipated to be the fastest-growing region over the forecast period. Changing family structure in countries especially China is expected to heighten the need for an outside care provider, thereby, driving the market growth. Moreover, the growing geriatric population with long-term medical conditions, growing disposable income, and rising awareness regarding these healthcare facilities are few factors attributing to the region's rapid growth. An increasing number of geriatric care services providers and favorable government initiatives in these sectors such as the provision of accessible & affordable social care services to the older generations are expected to increase market penetration rates over the forecast period.
Competitive Insights
Key players operating in the global geriatric care services market include Brookdale Senior Living, Kindred Healthcare Inc., Extendicare, Inc., Senior Care Centers of America, and Genesis Healthcare Corp. The market is fragmented in nature and is headed towards consolidation. Mergers and acquisitions are a key sustainability strategy adopted by market participants. Few notable instances include the merger between Genesis Healthcare and Skilled Healthcare Group, Inc., Senior Care Center of America, and The Adult Day Health Services Center of Family Matters, LLC., Kindred Healthcare, Inc., and Gentiva Health Services, Inc., and Brookdale Senior Livings and Emeritus corporation.