Industry Insights
The global commercial drone market size was estimated to be USD 552 million in 2014 and is expected to grow at a CAGR of 16.9% over the forecast period. Increased applications in agriculture and law enforcement sectors are expected to favorably impact the market over the forecast period. These are also called Unmanned Aerial Vehicles (UAVs) and include remotely piloted and unpiloted aerial vehicles. These UAVs find applications in various industrial verticals which include military, homeland security, agriculture, and retail. Demand is significantly higher for military applications, although commercial applications are gradually catching up.
U.S. commercial drone market, by application, 2012 - 2022 (USD Million)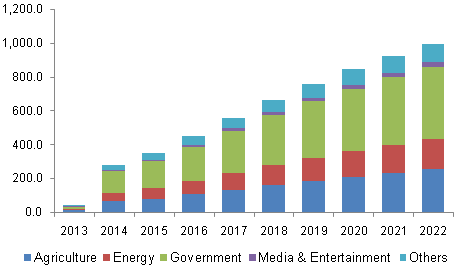 E-commerce and retailing industries have been working on using such UAVs in order to deliver products to customers in the shortest possible time. In July 2015, Amazon suggested the allocation of a separate airspace zone for the operation of these unmanned aerial aircraft in order to deliver goods to customers. However, such initiatives are held back by government regulations and are set to be successful once allowed to be rolled into the market. Governments across the globe are using such unmanned aerial vehicles in applications such as law enforcement, infrastructure, scientific research and R&D, environmental studies, and in disaster management activities.
Aviation regulatory bodies such as the Federal Aviation Administration (FAA) from the U.S. and the European Aviation Safety Agency (EASA) have banned the use of UAVs keeping in view the limitations in managing air traffic on such a huge scale and the safety of the citizens. Although the use of such UAVs has now been permitted for commercial purposes, there are still certain sectors like transport and logistics where they continue to be banned. A new set of rules for such UAVs proposed by the FAA would permit users to fly them during the day if they weigh up to 55 pounds, stay below 500 feet in the air, and fly less than 100 mph.
Application Insights
Agriculture is expected to emerge as the dominant application sector over the forecast period on account of several benefits attained such as yield increase due to crop monitoring. Tech giants such as Facebook, Inc. and Google, Inc. are planning to use solar-powered UAVs that hover around the atmosphere of the earth providing internet access to the remotest of places acting as flying internet access points or hotspots. In addition, Amazon has been working on Prime Air, a drone delivery system that promises goods delivered within 30 minutes after order placement.
Apart from its wide range of applications across the law enforcement and retail sector, UAVs are used in mapping, high altitude imaging, wild life patrolling, and forest fire monitoring. In September 2014, the FAA granted regulatory permissions to six film and television production companies such as Aerial HeliVideo Productions, Aerial MOB, and Astraeus to operate camera-equipped UAVs on film sets.
Other applications include imaging and data collection activities such as environmental monitoring and mapping, natural hazards research and monitoring, atmospheric monitoring, hyperspectral imaging, plume dispersion & tracking, soil moisture imaging, and aerosol source determinations.
Product Insights
As of 2014, the rotary blade type held a significant share of the overall commercial drones industry. It comprises single and multi-rotor variants that are used in a wide range of applications. Multi-rotor drones can have more than two and up to eight rotors and hence has simpler rotor mechanics required for flight control. With better flight control, such multi-rotor aerial vehicles can be extensively used in applications such as aerial photography and surveillance. In addition, these can also be used to deliver packages with the appropriate attachments.
Hybrid UAVs are the ones that operate on multiple sources of energy and can stay in flight for years at a stretch. These are mostly equipped with solar panels mounted on its wings that provide the fuel during the flight. Nano drones are miniature UAVs that are very portable and easy to carry. Such UAVs can be effectively used for security and aerial photography activities.
Regional Insights
North America dominates the global industry owing to high production and increasing applications in the commercial sectors. However, the Europe commercial drone market is expected to grow considerably in the next seven years owing to the relaxations in regulations and increasing applications in law enforcement and agricultural applications.
Favorable government initiatives and building retrofits are expected to be the key growth factors for the European market. Moreover, the demand for UAVs is expected to gain traction in Asia-Pacific. Australia, along with Asian countries such as Japan, has focused on the use of UAVs for agricultural purposes.
Competitive Insights
AeroVironment Inc., BAE Systems PLC, DJI, Draganfly, Elbit Systems Ltd., General Atomics, Israel Aerospace Industries, Lockheed Martin Corporation, Northrop Grumman, Parrot SA, Textron Inc., and The Boeing Company dominate commercial drone market share. Technology licensing and vertical integration are expected to be commonly adopted strategies of the industry participants. Increasing venture capitalists' funding, collaborations & partnerships with government agencies and technology giants have driven the scope for this industry.