Industry Insights
Global flat glass market is expected to witness growth on account of rising insulation demand from the construction sector. Furthermore, increasing awareness regarding the importance of tempered glass in the automotive industry among consumers in emerging regions owing to the lighter weight is anticipated to propel market growth over the forecast period. The increasing use of laminated and insulating glass in solar energy applications is expected to enhance further market credibility. Rising construction in terms of refurbishment as well as upcoming projects in various regions including North America, Europe, Asia Pacific and MEA coupled with growing awareness for durable building materials is expected to fuel flat glass demand. Increasing architectural and engineering trend toward rising use in building façades is anticipated to impact positively the market. Growing automobile industry particularly in Asia Pacific is anticipated to drive the market over the next seven years. The flat glass industry witnessed growth due to increased use of original equipment manufacturing in the flourishing automotive sector.
The rapidly emerging energy market is expected to be a lucrative application opportunity over the forecast period. Increasing use in photovoltaic modules, solar panels and e-glass owing to rising need for clean energy is anticipated to be a key factor driving market growth. Technological developments in terms of energy harnessing coupled with superior properties including recyclability and sustainability are expected to affect positively market growth. However, availability of raw material and price volatility may affect the supply demand scenario in the highly concentrated and saturated market. Rising R&D regarding the introduction of advanced, specialized and customized products in the market is expected to open novel avenues in the next seven years. The regulatory environment of the flat glass market is characterized by the implementation of BS Codes and other such stringent safety legislations. Many safety and strength check regulations are put into practice in various countries to ensure functionality for security concerns.
Global flat glass market volume by application, 2012-2022 (Kilo Tons)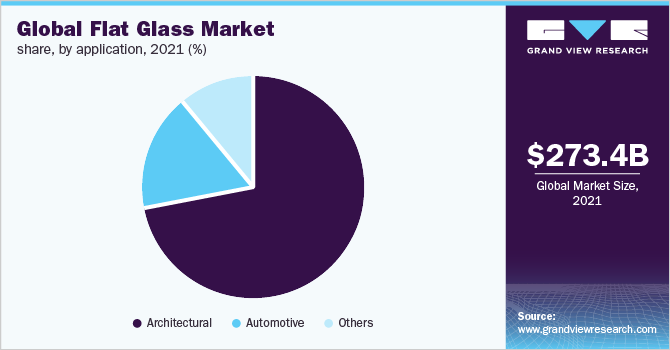 Application Insights
Construction was the largest application market and is expected to continue domination over the next seven years on account of increased expenditure on infrastructure development. Rapid urbanization coupled with growing disposable income of the middle class is likely to fuel demand in the architectural sector over the forecast period. Growing product quality awareness among consumers is anticipated to have a positive impact on the flat glass market over the forecast period. Furthermore, the market is estimated to witness considerable growth on account of increasing application scope in the automotive industry owing to low costs in Asia Pacific. Development of niche applications including use in food service, as a component of the microwave oven in the cooking and baking industry, in electronics and aerospace is likely to affect positively market growth over the forecast period.
Product Insights
Global flat glass market can be segmented in fabricated and non-fabricated depending on the type of product. Non-fabricated products include basic glass produced from the standard float process, whereas fabricated products consist of processed products such as tempered, laminated, insulating and others including mirrors and extra clear glass. Products accounted for over 30% of the global market in 2014. Increasing use in construction and automotive applications coupled with low cost were responsible for high demand. Growth in the global cell phone industry is likely to boost demand over the forecast period, which is also estimated to witness high growth on account of increasing applications in aerospace and food industry. Demand for laminated and insulating glass is expected to grow on account of rising energy concerns coupled with increasing focus on safety and security.
Regional Insights
China was the regional flat glass market, accounting for almost 50% of the share in 2014. Booming automobile manufacturing in the country coupled with rising electronics market were key factors responsible for high demand in the past few years. Furthermore, North America and Europe flat glass markets are relatively mature and are characterized by new product developments and growing preference towards laminated products.
Competitive Insights
Guardian Industries, AJJ Ltd., Cardinal, Independent Co. Ltd., OldCastle, NSG Group, Saint-Gobain, AGC and PPG Industries dominated flat glass market share in 2014. In March 2015, AGC began the supply of the sliding version of the light control glass. Furthermore, in April 2015, AGC acquired polish company NordGlass, which is well known for its automotive replacement products. In May 2015, Saint-Gobain acquired ZenPure, a filtration product specialist and in June the company restarted the gypsum business in Vietnam In April 2015, Guardian Glass expanded its science and technology center to increase its rate of product design and also focus on developing more advanced architectural products.