"Increasing use in the pharmaceutical industry expected to fuel demand for glucuronolactone"
The global glucuronolactone market size was USD 257.5 million in 2015 and is expected to witness significant growth in light of rising pharmaceutical sector. Glucuronolactone is a naturally occurring chemical substance in connective tissues such as cartilage of animal & human bodies, ligaments, and tendons. The product is also derived from plant gums and is known as a glucuronic acid lactone.
Increasing consumption of the product in pharmaceuticals & energy drinks as it possesses energizing properties will fuel industry expansion over the forecast period. Furthermore, high usage in food & drug poisoning, hepatocirrhosis, and hepatitis and adjuvant drugs for curing of rheumatoid arthritis will augment industry size over the forecast period. The product is used as a predecessor in the synthesis of vitamin C, which will spur industry expansion. When glucuronolactone enters the body, it is quickly converted and metabolized into other substances that are not toxic in nature.
U.S. glucuronolactone market revenue, by end-use, 2013 - 2024 (USD Million)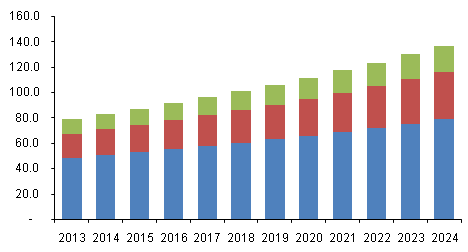 Rising food & beverage sector owing to rising income level along with growing urban residents is expected to propel growth. Furthermore, increasing demand from developing economies including China, India, Indonesia, South Africa, Saudi Arabia, Egypt, Israel, and the United Arab Emirates is expected to propel growth.
Growing demand for instant energy releasing products such as Red Bull, Monster, and Rockstar will drive the industry over the forecast period. Ongoing research & development coupled with innovation is expected to open new market avenues over the next eight years.
"High demand from the pharmaceutical industry is expected to fuel the market growth"
The pharmaceutical segment will show rapid growth at a CAGR of 7.0% from 2016 to 2024 as a result of rising concern regarding health disorders among consumers in India, China, the U.S., and Japan. Furthermore, increasing old age population coupled with deskbound working lifestyle in North America is expected to augment product demand over the next eight years.
Food & beverage was the dominant sector and accounted for 60.2% of the overall revenue in 2015 and is expected to witness growth owing to high usage as an active ingredient in energy drinks and used in health related foods. Glucuronolactone is well known for its detoxifying properties as a result of which it converts toxins into water-soluble glucuronide. Growing health conscious population in the urban region is expected to spur the growth over the forecast period.
"Increasing use of glucuronolactone based dietary supplements expected to help North America retain dominant position"
North America accounted for 41.4% of the overall market in 2015, and will witness a significant rise owing to the high adoption of glucuronolactone as nutritional supplements in the U.S.
Companies including Red Bull, Rockstar Inc., and Monster launched various glucuronolactone-containing drinks that have been very popular in the region, which will create immense potential over the forecast period. However, the majority of such drinks are sold in the form of supplements owing to restrictions related to the use of glucuronolactone in traditional beverages.
Europe is expected to witness substantial growth at a CAGR of 7.2% from 2016 to 2024 in light of the application of glucuronolactone in the prescription drugs for the treatment of hepatitis, collagen disease, and bone diseases in Germany and UK. Also, government support coupled with increasing investment in R&D is expected to play a significant role in the market growth.
"Red Bull was one of the world's largest consumer in 2015"
Key players in this market include Aceto Corporation, Anhui Fubore Pharmaceutical & Chemical Co., Ltd., Creative Compounds, LLC, Foodchem International Corporation, Hubei Yitai Pharmaceutical Co., Ltd., Merck Millipore Corporation, Shaoxing Marina Biotechnology Co., Ltd., Shouguang Zhonghe Biochemical Co. Ltd, and Suzhou Pharmaceutical Group Co., Ltd.
Key end-users in the market include Rockstar, Inc., Monster Energy, Red Bull GmbH, Living Essential Marketing, LLC, and Live.
Hubei Yitai Pharmaceutical Co., Ltd offers glucuronolactone used as a food additive, which is widely used in health foods and functional beverages. The product regulates immune function, anti-aging, moistening skin, improving oxygen to the brain, and helps in recovering from fatigue.
Red Bull Energy drink is one of the largest end-user, and it offers its products across more than 169 countries, with approximately 6 billion cans sold annually. Red Bull's core market includes the U.S. and Western Europe.