Industry Insights
The ground handling system market size was estimated at USD 97.82billion in 2014. Increasing globalization has significantly increased the global air traffic, which in turn has elevated the importance of ground support operations at airports. Air travel has gained prominence due to decreasing air fares, growing aircraft fleets, enhanced facilities, and the luxury that is associated with it. This has extended the growth in ground support services that play a key role in offering convenience of travel to passengers.
North America ground handling system market by service, 2012-2022, (USD Billion)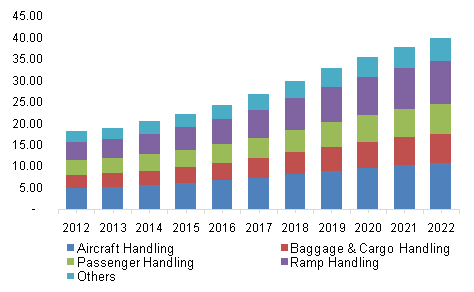 Airport operators and airline companies across the globe are increasingly using sophisticated technologies to streamline every aspect of GH operations. On account of frequent innovations in robotics, digital communications, and other innovative technologies, airports have a plethora of options to improve this aspect of airport operations which is under intense scrutiny.
Airport authorities across the globe are moving away from fuel-burning ground movements to electric propulsion wherever feasible. Various airline GH service providers are developing electric as well as biogas fuel-powered towing vehicles for aircraft for allowing engines to remain powered off until the aircraft is at the runway's head.
The industry incorporates considerable opportunities for future growth owing to increasing number of operational airports and flights across the globe. Rapid technological advancements and developments in the approach to use alternative fuel for handling equipment and vehicles are presumed to provide considerable opportunities for industry growth. However, optimization of operations during peak time is anticipated to challenge industry growth over the forecast period.
Equipment Insights
The industry can be classified on the basis of equipment into aircraft, baggage & cargo, and passenger handling. Aircraft support equipment is used to serve the aircraft on the ground before flights. They include air start units, refuelers, towbars, chocks, deicing, and anti-icing equipment, and lavatory and water support equipment. Baggage and cargo support equipment includes carts, tractors, loaders, trailers, and container loaders.
A number of factors, such as customer satisfaction, enhancement of aircraft turnaround time, improvement of airport's efficiency, modernization of airports, and an increase in air travel have driven the growth of baggage and cargo support equipment segment. Passenger support equipment includes passenger buses, towable stairs, ambulift, and other equipment.
Service Insights
On the basis of service, the industry can be segmented into aircraft support, baggage and cargo support, passenger support, ramp handling, and other support services. The ramp handling segment is one of the key segments as it delivers services such as safe passenger conveyance, the operation of necessary units for engine ignition, aircraft towing, parking assistance, and aircraft marshaling.
An airliner company may either tie-up with a third party company for handling the airliner related operations or choose to handle these services themselves. The third-party company can either be an airline company or a dedicated GH company. Other service segment includes terminal and flight-related operations, catering, queue management, check-in counter, and gate arrival and departure services.
Regional Insights
The market for GH equipment in Asia Pacific region was valued at over USD 8.29 billion in 2014 and is expected to witness considerable growth over the forecast period. Hong Kong, Mumbai, Malaysia, and Singapore are the key airports in the region, where the majority of business jet movements occur. These airports are presumed to expand gradually due to the growing traffic. Poised to witness significant growth over the forecast period, China and India are envisioned to witness an increase in domestic traveling, due to growth in urbanization and population.
North America is expected to emerge as a predominant region due to high adoption of air travel and growing air traffic in the region. The U.S. is a key regional market due to the presence of a significant number of airports. The Middle East and Latin America regions are anticipated to witness an increase in aviation activity in the form of modernization, expansion, and air travel.
Competitive Market Share Insights
Key companies include dnata, Havas, JBT AeroTech, SATS, and Swissport International. These players are focusing on the formation of long-term agreements and strategic alliances with other service providers as well as airport authorities to perform in-house ground handling. Other companies include AERO Specialties, Aircraft Service International Group (ASIG), IMAI Aero-Equipment, WeihaiGuangtai Airports Equipment, and Mallaghan Engineering.