Industry Insights
Increasing demand for minimally invasive interventions is expected to serve the global guidewires market as a high impact rendering driver. Research results suggest that minimally invasive surgeries are rapidly replacing open/invasive surgeries. Some advantages responsible for this shift include the presence of higher patient satisfaction levels owing to lesser incision wounds and a lesser number of post-surgery complications and mortality rates. In addition, these procedures involve shorter hospital stays and therefore, are economically more viable.
Global coronary and peripheral guidewires market, 2012 - 2020 (USD Million)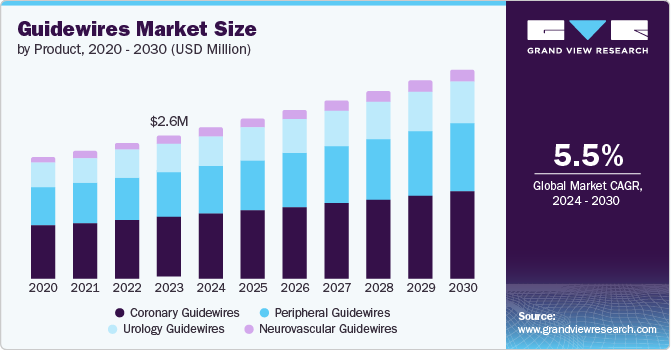 Growing global base of geriatric population and prevalence of pertinent medical conditions such as coronary and peripheral occlusions is also expected to drive the guidewires market during the forecast period. Cardiovascular diseases have become the most dominant cause of mortality and morbidity in the world during the last three decades. Rising prevalence of lifestyle habits such as a growing number of global smokers, rising incidences of obesity and dietary irregularities are responsible for the growth of cardiovascular disease prevalence in the world. The treatment of cardiovascular disorders has changed dramatically due to the introduction of new drug therapies and devices such as guidewires and stents.
Product Insights
The guidewires market on the basis of the product is segmented into four types namely, coronary, peripheral, neurovascular and urology guidewires. Coronary guidewires dominated the overall guidewires market in terms of share in 2013 on account of its high usage rates and the presence of large minimally invasive coronary procedure volumes. The global average selling price for one unit of coronary guidewires was USD 90.2 in 2013. Product prices in the coronary guidewires market are expected to decline throughout the forecast period majorly owing to the growing number of manufacturer initiatives aimed at curbing operational expenses and government initiatives to strengthen reimbursement policies.
Moreover, manufacturers are trying to produce cost effective products in an attempt to gain access and increase market penetration rates in emerging economies with limited patient purchasing capacities. Prices in North America are expected to remain the highest throughout the forecast period and are expected to remain approximately 20% higher than the global average selling prices. The second largest share of the guidewires market was accounted for by peripheral guidewires in 2013 on account of the presence of large prevalence levels of peripheral occlusions.
Regional Insights
Key regional segments of the guidewires market include North America, Europe, Asia-Pacific and RoW. The North American guidewires market was the largest in 2013 in terms of revenue. High prevalence of cardiovascular, neurovascular disorders, presence of sophisticated healthcare infrastructure and high patient awareness levels are some factors accounting for its large share. Asia-Pacific, on the other hand, is identified as the fastest growing region of the guidewires market. The presence of untapped opportunities coupled with rapidly improving economic conditions in emerging countries such as India and China is expected to drive the growth of guidewires market in this region.
Competitive Insights
Abbott Laboratories, Boston Scientific Corporation, and Terumo Corporation are some key players operating in the coronary guidewires market. Terumo Corporation owing to the presence of an extensive product portfolio and high market penetration rates in emerging economies such as India and China dominated the peripheral guidewires market in 2013. Key players of the urology guidewires market include Cook Medical, Boston Scientific Corporation, Bard Medical, and Terumo Corporation. Terumo is one of the fastest growing companies in this segment with its product "Glidewire" gaining popularity amongst healthcare practitioners. In addition, key players of the neurovascular guidewires market include ASAHI INTECC and Codman Neurovascular.