Industry Insights
The China hairbrush market size was valued at USD 3.69 billion in 2014 and is expected to grow significantly over the forecast period, owing to increasing health and hygiene awareness. Hairbrushes are generally used by individuals to avoid hair breakage and hair fall and for hair detangling, styling and smoothing. Reducing cost of synthetic products is anticipated to drive industry growth over the forecast period. Technology developments resulting in production of high tech products are expected to drive revenue growth.
They are widely available in various forms including cushion, paddle, facial hair, round, wet and vented, which are made up of synthetic, natural and hybrid bristles. Their body is usually made up of ceramic materials such as porcelain and tourmaline. Ceramic bodies increase effects of negative ions produced after using hair dryers and are responsible for distributing heat evenly.
Increasing popularity of infrared products may fuel industry demand; these brushes deliver infrared heat while brushing. A seven light infrared brush is ideally used for providing complete scalp massage and help increase blood circulation. They are ergonomically designed and have options to turn off infrared and massaging features.
China hairbrush market by application, 2012 - 2022 (USD Million)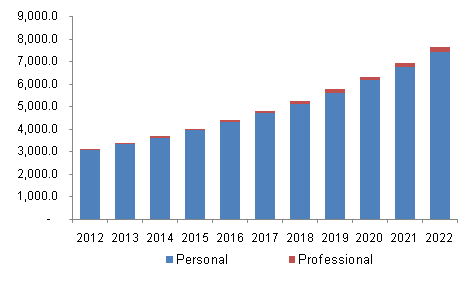 Vibrating massage brushes providing scalp massage are also expected to positively contribute to global demand over the forecast period. Folding products with attached mirror are anticipated to positively contribute to the hairbrush market owing to their compact design and added utility.
Application Insights
Personal brush is used by individuals for daily usage, whereas professional brushes are majorly used in hair salons. Increasing trend for hair care in individuals to portray individuality may drive application segments. Hair brushing helps stimulate blood capillaries resulting in increased blood circulation and transportation of oxygen and nutrients to the root, stem and bulb of hair. Additionally, it helps stimulate various hormones and oil producing glands thus keeping hair pores and scalp open for increased hair breathing. Hairbrushes are increasingly being used for grooming and styling purposes. Styling brushes are all purpose brushes that generally have around nine rows of straight bristle tufts.
Personal is key application segment in China hairbrush market owing to rising awareness about personal grooming and higher personal hygiene standards. Rising middle class population is also expected to boost personal segment demand over the forecast period. Brands such as Tangle Teezer and The Wet Brush are expected to gain penetration in personal segment owing to increase preference for foreign brand. Digital marketing and e-commerce is helping new entrant to increase their penetration and brand image.
Regional Insights
Regional analysis includes the U.S., UK. Germany and China. The regional trends vary based on the demographics and personal care preferences. The UK hairbrush market was valued around USD 673.5 million in 2014. Increase in the population has led to the increasing demand owing to urbanization and rise in awareness of hair grooming products usage.
Increasing trend of teenagers living with their parents in middle class population owing to the increasing loans, debts and rising housing prices has led to the low cost of living. This has resulted in the large disposable spending on fashion, entertainment, technology and cars.
China offers tremendous opportunities for industry participants focusing on female consumers. Half of the adult female population in china is employed and have consumption power resulting them as financial controllers. This has lead to the growth in the disposable income for skincare, apparel, fragrances and cosmetics for women as the female population is the prime audience of the marketers.
Competitive Insights
Key contributors to the hairbrush market include Babyliss, AirMotion Pro, Braun, Conair, Denman, Crave Naturals, Hershesons, Kent, L'Oreal, Revlon, Mason Pearson, Scalpmaster, Spornette, Vega, Trevor Sorbie, and Wet Brush.
Denman and Conair are estimated to be major players. Denman offers a wide range of general and styling brushes such as vent, thermoceramic, radial, head hugger, curling. Padded, soft styling etc. for personal and professional use.
Dirstibution is crucial success factor for industry participants. Market is highly fragmented and depends upon full-service/exclusive distributors and open-line channel for majority of their purchase owing to small scale nature. Open-line distribution channel serves customer through retail stores and e-commerce portal. Industry participants are increasingly investing in open-line channels owing to their wider reach and popularity.