Industry Insights
Global hemostasis and tissue sealing agents market size was valued at USD 3.3 billion in 2014. Hemostats and sealants are medical devices used to cease bleeding and hemorrhage caused by injuries and surgical procedures. The industry is expected to witness lucrative growth over the next seven years owing to, an increase in demand supported by rising surgery volumes.
Growth in geriatric population base and increasing prevalence of chronic conditions are other impact rendering drivers of this industry. As per the CDC statistics, over 45% of the American population suffers from at least one chronic condition requiring critical care.
Key growth drivers include the increasing prevalence of chronic conditions, advantages offered by the products, and rising volumes of global surgical procedures. Furthermore, growing global geriatric population base is expected to enhance the applicability of these products, fueling its growth.
Geriatric patients require critical care and are prone to injuries and wounds that take a lot of time to heal. With increasing demographic tilt towards an active lifestyle, the cases of routine injuries and wounds are on a rise, which is expected to affect growth over the forecast period. Chronic diseases ultimately lead to surgical procedures to be performed on the patient, which in turn boosts growth. Hernia fixation, diabetes, spinal injuries, ophthalmic injuries and replacements, urological disorders, and burns are few chronic conditions requiring these products.
Hemostasis devices and sealants are used to prevent blood loss in various conditions. Their preference over other wound closure methods had led to its increasing use in multiple conditions, especially in endoscopic procedures. From mild injuries to burns and neurosurgical management, all are catered to by the hemostasis and tissue sealing agents market.
Since 2006, post a study conducted and published by the National Centre for Biotechnology Information, hemostatic products have a wide range of applicability in the treatment of urology. Minimally invasive surgeries of urology are particularly making use of hemostatic solutions, thereby promoting its growth.
The highest demand for these products is witnessed in cardiovascular conditions followed by general surgeries. High application in cardiovascular disorders is attributed to better clinical results obtained by the use of sealants and hemostats as compared to other wound closure techniques.
North America hemostasis and tissue sealing agents market, by technology, 2012-2022, (USD Million)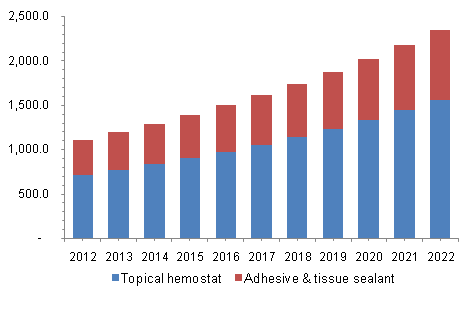 Product Insights
Key product segments analyzed in this study include topical hemostats and tissue sealants. The topical hemostats are further classified into mechanical, active, and flowable hemostats. Topical hemostats are generally used in adjunction with conventional treatment to provide minimal tissue reactivity, quick and easy absorbability of the hemostatic agent, non-antigenicity, and cost-efficiency.
Hemostasis involves the completion of coagulation, fibrinolysis, and platelet aggregation pathways by the activation of these factors. Hemostat consists of the hemostatic agents and their delivering system, which maybe a prefilled syringe or ready-to-use applicators.
Adhesive and sealants play a prominent role in controlling blood loss during surgeries. They function by binding with and sealing the damaged tissues. The binding leads to the development of a barrier over the injuries and surgical wound and helps promote coagulation.
The factors promoting their demand over sutures are faster procedure rate, minimal invasion, reduced post-surgical infections, and prevention of exudation of other body fluids. These are further sub-segmented on the basis of sealants used into synthetic, natural, and adhesion barrier products.
Regional Insights
North America held the largest share of the hemostasis and tissue sealing agents industry owing to growing prevalence of cardiovascular disorders, diabetes, and cancer within this region.
The major factor responsible for the large share is aggressive marketing of such devices in this region. Other factors fostering growth are the regular launch of new products, increasing applications of such devices in surgeries and other medical applications along with increasing demand for sealing agents that minimize post-operative complications and increase the speed of healing. Adhesives and sealants account for a large share of the North American market.
Asia Pacific is expected to be a lucrative market over the forecast period due to increased medical tourism and surgical procedures. It is anticipated to gain over 25.0% of the share by 2022. Europe hemostasis and tissue sealing agents market is expected to be driven due to the rise in geriatric population base, which is expected to ultimately lead to higher number of surgeries.
Competitive Market Share Insights
Key players include CryoLife, C. R. Bard, B. Braun, and Advance Medical Solutions Group. Pfizer is expected to gain share on the pretext of its acquisition of King Pharmaceuticals, which has been a major contributor to the hemostasis and tissue sealing agents market. Strategic trends expected to be followed by the players include tie-ups with hospitals and care centers, R&D in the field of formulation development, incorporation of bacteriostatic properties, and aggressive marketing plans for natural adhesives, especially fibrin sealants.
These players are also involved in mergers and acquisitions aimed at ensuring sustainability and expanding regional presence, For instance, in January 2015; B. Braun signed an agreement with Cohera Medical Inc. for the distribution of TissuGlu in regions of Germany, Portugal, and Spain. B. Braun is expected to promote the product through its various commercial channels in all the three regions of Europe.