Industry Insights
The global high temperature coatings market size was USD 3.27 billion in 2015. The industry is anticipated to witness moderate growth over the next eight years on account of increasing high temperature resistant coating demand across various end-use industries such as metal processing, cookware & bakeware, and building & construction.
A major benefit associated with these products includes protection against corrosion due to prolonged equipment usage in fire and high temperature environment. Fireproofing plays an essential part in the construction sector as it offers protection to structured steel and other parts of the building.
U.S. high temperature coatings market volume by product, 2014 - 2024 (Kilo Tons)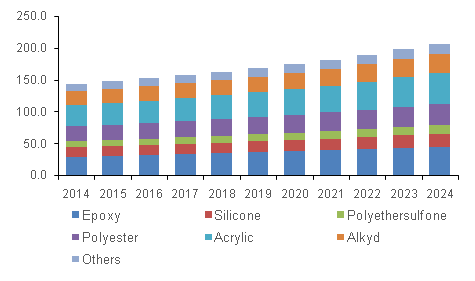 However, the lack of synergy among building codes in different countries is expected to hamper market penetration in the construction sector. Consistency in regulatory norms enables coating manufacturers to enhance their investments in R&D projects. Underwriter's Laboratory (UL) is a major regulatory agency that has issued guidelines and standards for conducting application testing of the coatings.
Other government and regulatory agencies such as ASTM, ANSI, ISO, and NFPA govern the testing and formulation of ingredients used in the coatings. Incidents of building collapse and occupational injuries due to fire have led to numerous revisions in the safety norms to integrate the flame retardant inorganic agents in coating materials. Silicone, phosphorus, and halogen-based products have gained significance owing to their enhanced resilience to high temperature environment.
Product Insights
Acrylic coatings emerged as the largest product segment and accounted for over 20% of total demand in 2015. High demand for heat resistant coating with decorative properties in building and transportation infrastructure has led to largest penetration of the acrylic based products in various industries. Another factor that contributes to its increased adoption in the industries includes low volatile organic compound (VOC) content in the product formulation.
Polyethersulfone (PES) is expected to emerge as fastest growing product segment over the next eight years. Increasing product demand can be attributed to its physical characteristics such as enhanced metal adhesion, transparency, and long-term thermal stability. These features have enabled the product usage in a broad range of applications including wood furniture, construction, automotive refinishes, and marine. Global PES high temperature coatings market value is estimated to exceed USD 470 million by 2024.
Epoxy coatings were the second major product segment owing to high durability and chemically resistant characteristics. The segment is expected to grow at a CAGR of over 4.0% from 2016 to 2024. Epoxy-based products find enhanced usage in corrosion resistant applications in automobiles, boats, steel pipes, and transmission pipelines that are exposed to high temperature environment. Another factor contributing to the surging demand of epoxy based coatings can be attributed to its compatibility with wide range of color formulation and solvent free ingredients.
Technology Insights
The waterborne technology was the leading technology segment in 2015. This segment accounted for over 75% share of the total demand in 2015. The shifting trend towards non-solvent based technologies has attributed to increased adoption of waterborne and powder based products in various industrial sectors.
In addition to low VOC content, surging demand for cost effective products with minimal environmental impact is expected to drive waterborne high temperature coatings demand over the next eight years.
Powder coatings are expected to emerge as fastest growing formulation technology by 2024. Stringent environmental regulations regarding solvent based products have urged coating manufacturers to shift towards powder-based products.
The segment is anticipated to reach a net demand exceeding 95 kilo tons by 2024. Major benefits associated with this technology include higher utilization rates and ease of application that are expected to drive powder coating demand over the forecast period.
End-Use Insights
Energy & power was the leading end-use segment accounting for over 16% of the total revenue in 2015. Equipment such as furnaces, heaters, towers, and ducts used in refinery and chemical plants are exposed to heat and high temperature environment. Growing concern towards equipment durability and downtime is expected to drive the demand for heat resistant coatings with enhanced color stability and corrosion resilience.
Metal processing segment emerged as second major end-use for high temperature coatings in 2015. Increased adoption of the product can be attributed to the surging demand for metal equipment in the industrial and commercial sector that can withstand rusting due to external weather.
Metal piping, heavy equipment, and industrial machinery find usage for various applications in forestry, agriculture, manufacturing, and waste treatment facilities. Growing concern towards equipment corrosion and degradation is expected to drive product demand over the forecast period.
The U.S. high temperature coatings demand in automotive sector was valued at USD 59.8 million in 2015 and is anticipated to grow at a CAGR of 3.6% from 2016 to 2024. The coating acts as a thermal barrier on engine components and protects the metal substrates against corrosion thereby minimizing frequent maintenance requirements.
Growing concern towards the stability of automotive components in racing and sports activities has urged automobile manufacturers to use heat resistant coatings that offer enhanced adhesion and thermal resistance in wide temperature ranges.
Regional Insights
Asia Pacific high temperature coatings market led the global industry and accounted for over 35% of total volume in 2015. Significant growth in construction and automotive sectors particularly in China, India, and Japan is expected to drive product demand in the region. Europe high temperature coatings accounted for over 30% of global market in 2015.
However, sluggish growth observed in various end-use sectors such as oil & gas, construction, and aerospace in the EU-27 countries is expected to hamper market penetration in the region and subsequently, lose its share in the global industry over the next eight years.
North America high temperature coatings market is anticipated to grow at a moderate CAGR of 4.0% from 2015 to 2024. Wide product adoption in major end-use industries including electronics, automobile, energy, and construction sectors have contributed significantly to the industrial growth in this region. Renewal of reforms to incorporate thermally efficient materials and environment-friendly materials are expected to play a major role in steering product demand in the region.
Competitive Insights
The global high temperature coatings market is moderately fragmented with the presence of a large number of multinational corporations such as BASF, PPG Industries, Sherwin-Williams, Axalta Coating Systems, Jotun AS, and Akzo Nobel NV. Key strategies adopted by these industry players includes long-term partnership with raw material suppliers to achieve economies of scale and subsequently offer products at a lower price than competitors.
Other companies operating in the global industry include Valspar Corporation, Carboline Company, General Magnaplate Corporation, Hempel AS, Chemco International, Whitford Corporation, Weilburger Coatings GmbH, Belzona International Ltd. and Aremco Products Inc.