Excellent insulating property makes silicone a preferred material for use in electronics, automotive and construction industry
The global silicone market size was 2,393.8 kilo tons in 2015. Gaining popularity of the product for providing excellent insulation properties and low thermal reactivity in applications including automotive, construction and electronics is expected to have a positive impact.
Positive outlook towards the electronics industry in China, Japan, South Korea, Vietnam, and Singapore in light of new product launches and high usage of digital technology is expected to promote the use of silicone products. Furthermore, rising awareness towards electroactive polymers in numerous applications including electromagnetic interference (EMI), artificial muscles and energy devices is expected to increase the usage of elastomers in the form of conductive rubber over the forecast period. Silicone is a polymer consisting of iterative units of siloxane, which is a chain of silicon and oxygen atoms. These type of polymers are chemically bonded through the carbon and hydrogen atoms.
Germany silicone market volume, by product, 2013-2024 (Kilo Tons)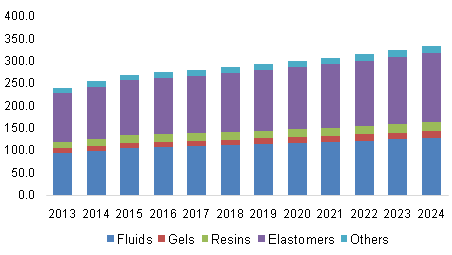 Rising expenditure towards infrastructure improvement in emerging markets including China, India, Mexico, and Thailand is expected to play a crucial role in increasing the use of silicone in the form of gaskets, sealants and waterproofing materials in residential and commercial applications. However, growing demand for other engineering polymers including EPDM, PVC and PPS in construction sectors in light of superior mechanical properties is expected to shrink the silicone industry size over the forecast period.
The high cost associated with silicone production owing to massive expenditure in vulcanization and property improvement is expected to have an adverse impact on the industry. Furthermore, increasing usage of other polymers including fluoropolymers, polyesters, and conventional polyethylene products in construction, automotive and electronics sectors is expected to pose a high substitutional threat to the market over the next eight years.
Silicone elastomer was the largest product segment in 2015
Silicone elastomers accounted for 41.9% of total volume in 2015 in 2015. The segment is expected to foresee significant gains in automotive and electronics on account of providing superior features including excellent steam resistance, low smoke emission, and good electrically conductive materials. The majority of manufacturers incorporate fillers including carbon fibers and nanomaterials during elastomer formulation for improving mechanical properties such as tensile strength.
Silicone fluids are capable of providing excellent thermos-oxidative resistance and performing operations within a range of -60OC to +300OC. Furthermore, these products possess excellent shear stability, low volatility & surface tension and induce maximum water repellency. The product segment is expected to foresee volume growth at a CAGR of 4.2% from 2016 to 2024.
Demand for gels was 108.2 kilo tons in 2015, and these products find use in cosmeceuticals for preventing scars in freshly healed wounds and also reduce the prominence of immature scars. Furthermore, some of the silicone-based gels are also used in potting and encapsulation of electronic equipment including LEDs and solar devices.
High adoption rate of silicone products in electronics sector likely to propel growth
Construction was the largest application segment, accounting for 34.4% of the total volume in 2015. Silicones are used in construction of residential, commercial and infrastructural projects on account of exhibiting properties including excellent waterproofing and good moisture resistance.
Electrical & electronics is expected to witness the fastest growth at a CAGR of 6.0% from a period of 2016 to 2024, in terms of volume. The product finds applications in the form of fluids, greases, oil compounds, varnishes, and rubbers for protecting insulators from salt air damage, moisture-proofing of boards, modification of semiconductor encapsulating materials, and safeguarding the ends of heating element wires.
Asia Pacific is expected to dominate on account of favorable outlook towards electronics sector in China, Japan and South Korea
Asia Pacific was the largest market, accounting for 45.6% of the global volume in 2015. Increasing domestic sales of consumer electronics and digital smartphones in high potential markets including China, India, Thailand, Indonesia, and Malaysia is expected to enhance the demand for silicones. Increasing application scope of the polymer in electronics is expected to further propel growth of the market over the forecast period.
Europe and North America are expected to witness volume growth at a CAGR of 3.6% and 2.8%, respectively. Improving automotive sector in the U.S., Germany, UK, France and Spain on account of new product launches by Volkswagen and GM is expected to increase the market size over the forecast period. Moreover, increasing adoption of lightweight in automobiles to improve overall efficiency of a vehicle is expected to result in driving the requirement of silicone products over the forecast period.
Dow Corning, Momentive, Wacker and Shin-Etsu are top 3 market players
The industry was dominated by four companies, accounting for over 70% of global volume in 2015. Dow Corning, Momentive, Wacker, and Shin-Etsu are leading manufacturers at a global level, as a result of their strong foothold in the industry coupled with substantial infrastructure for R&D. Product innovation and the establishment of a strategic partnership with buyers located in automotive, construction and electronics sector are likely to be critical success factors over the projected period.