Industry Insights
The home audio equipment market is expected to witness significant growth on account of technologically advanced features incorporated in devices with the rising popularity of audio technologies. Some of the technologies associated with the shift include HTiB (Home Theater in-a-Box), Blu-ray players, speaker bars, A/V receivers, and wireless speakers.
Global home audio equipment market by product, 2012 - 2020 (USD Billion)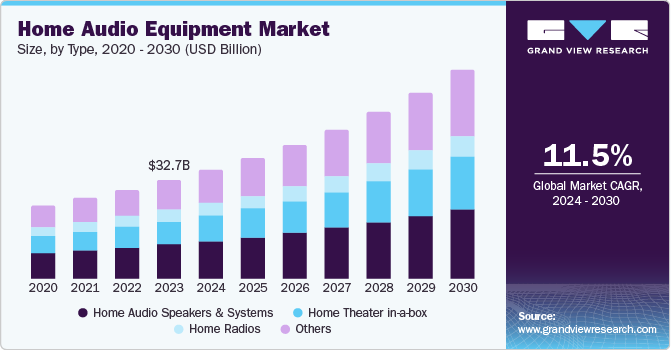 The emergence of realistic home audio equipment is expected to be a major driving force for the home audio equipment market. Growing consumer demand for high-performance home theater experience owing to increased disposable income is expected to drive home audio equipment demand over the next six years. Reduced manufacturer focus on built-in sound quality in television sets, is expected to amplify the need for external audio solutions thus benefiting market growth.
Rise in unit sales of flat-panel HD TVs as a result of falling prices is expected to widen the consumer base through the forecast period. The development of networked speakers and dedicated speaker docks is expected to spur increased consumer spending on audio equipment to enhance audio quality. Suppliers and manufacturers of these equipment have been striving to expand market penetration by making systems user-friendly and visually less intrusive. A rise in demand for portable audio equipment that has the capability to stream high-quality audio content from the internet and integrate USB drives. Therefore, advancement in digital technology with changing media options from conventional to modern systems is expected to contribute towards home audio equipment market growth.
Product Insights
The home audio equipment market categorization on the basis of product includes home radios, audio systems, HTiB and other home audio accessories such as headphones, set-top boxes, subwoofers, speakers as well as microphones. HTiB comprises surround sound speakers, multi-channel amplifier, and Blu-ray player or DVD. It further includes multiple channel HTiBs such as 5.1, 6.1, 7.1, and 9.1 channels.
The home audio systems segment includes mini disc players, CD/DVD players, cassette deck, rack system, MP3 players, and compact audio systems. Wireless systems are expected to witness strong demand driven by growing customer inclination for appealing designs, high-quality sound, and unrestricted mobility. The emergence of numerous Bluetooth products is expected to boost the wireless speaker market throughout the forecast period. In addition, wireless Blu-ray home theater systems with on-demand content and multi-room home audio system are poised to witness robust growth over the forecast period.
Regional Insights
North America and Europe represent the key regional markets. Manufacturers located in China, South Korea, and Japan are the major source of video and audio products supplied in the U.S. Asia Pacific is expected to exhibit high growth on account of growing urbanization trends and individuals' acceptance of innovative technology developments. Streaming and device networking represents the two emerging trends for the Asia-Pacific home audio equipment market.
Competitive Insights
The market includes many key and niche players including Sony Corporation, Sharp Corporation, Pioneer Corporation, Onkyo, Nakamichi Corporation, Sanyo Electric Co., Bose Corporation, Panasonic, Dolby Laboratories Inc., and Akai Electric Co. Owing to prominence in all product areas, major market players such as Sony and Bose Corporation are focused on strengthening the wireless connectivity to improve their business performance. Companies operating in the home audio equipment market focus on establishing new product development initiatives. Product features poised to influence growth in the marketplace include customizable options, aesthetics, innovative designs, digital connectivity features, and price.