Industry Insights
The global hormone replacement therapy market size was valued at USD 15.1 billion in 2014 and is expected to grow at a CAGR of 8.2% over the next seven years. Rising incidences of hormonal imbalance disorders and increasing geriatric and the neonatal population suffering from these diseases are expected to promote growth.
Growing demand of HRT is driven by the presence of routinely monitored formulations, technological advancement in the field of drug delivery systems, and increasing awareness amongst patients.
Menopausal females form the largest section affecting the market and hence, rising female population between the age group of 45 to 59 and increasing range of the menopausal window are expected to propel growth.
North America hormone replacement therapy market share, by product, 2012-2022 (USD Million)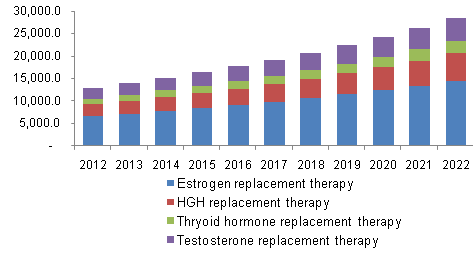 According to statistics provided by the American Congress of Obstetricians and Gynecologists, around 6,000 women reach menopause on a daily basis. This number is equivalent to about two million women annually in the U.S. alone.
The testosterone replacement therapy is majorly opted by geriatric male patients suffering from hypogonadism. Certain impact rendering drivers include aggressive direct selling campaigns by the company to individuals desiring a quality life, increasing product availability, and development of new gel-based formulations.
For growth hormone replacement therapy, Novo Nordisk held over 30.0% of the revenue share followed by Pfizer. In an attempt to ensure market dominance, Pfizer is currently working on a new formulation along with OPKO. The product is expected to treat Idiopathic Short Stature, Prader-Willi syndrome, and prematurely born babies.
The product is anticipated to complete Phase III trials by the end of 2016 and if results are promising, Pfizer would start marketing campaigns by 2017.
Product Insights
The product segment includes therapies for human growth hormone, estrogen, testosterone, and thyroid hormones. Estrogen-based products are inclusive of combination drug therapies along with a single dose of estrogen or progestin.
Estrogen forms the largest market and contributed over 50.0% of the revenue in 2014. Estrogen-based products have been studied to generate the largest number of prescriptions. Drugs such as Premarin, Menest, and Combipatch are the major contributors to the revenue. According to the reports published by Pfizer, Premarin independently recorded a sale of 1,076 million in 2014.
Human growth hormone therapy is predicted to be the fastest growing segment owing to increasing number of premature births globally. The WHO conducted a survey, wherein they concluded that globally about 15 million children are born premature and nearly 85.0% of these infants are not fully developed.
Route of Administration Insights
On the basis of the route of administration, the hormone replacement therapy market is segmented into oral tablets, parenteral, transdermal patches, and others. Parenteral hormone replacement therapy forms the largest segment and is expected to witness lucrative growth over the forecast period.
However, in the case of testosterone drugs, the oral route of administration is most commonly preferred. The others segment is inclusive of products such as implants, vaginal creams, vaginal rings, and vaginal tablets.
Market players are in a continuous process of developing efficient drug delivery systems. For instance, Novartis, Pfizer, and Eli Lily have launched pen-based versions to promote accurate dosing and prevent the occurrence of any side effects due to over dosing.
Type of Disease Insights
Key segments analyzed include menopause, male hypogonadism, hypothyroidism, growth hormone deficiency, and others. Menopause-based hormone replacement is expected to be the fastest growing over the next seven years. The presence of various branded and generic drugs and increasing awareness among women are anticipated to be the vital impact rendering drivers.
The incidence rate of hypogonadism is on the rise owing to changing lifestyle demographics. The occurrence of hypogonadism is encouraged in individuals suffering from metabolic disorders, obesity, hypertension, osteoporosis, and diabetes.
Regional Insights
North America, particularly the U.S. dominated the industry revenue contribution in 2014 and held about 35% of the share globally. Increasing cases of hypogonadism, hypothyroidism, and other growth hormone deficiencies along with rising population of newborns and menopausal women are the key drivers of the region.
The Asia-Pacific is expected to witness the fastest growth over the forecast period. Increasing awareness levels and rising focus of healthcare providers on eradication of hormonal deficiencies are expected to boost growth within the region. Similar trends are expected to be observed in developing countries such as South Africa.
Competitive Market Share Insights
The major players include companies such as Pfizer, Abbott Laboratories, Novo Nordisk, Novartis, Merck Serono, Bayer Healthcare, Eli Lilly, Mylan Laboratories, Roche, and Genentech.
Collaborations and mergers over the next seven years to share technology and costs for innovation in the field are expected to be observed. For instance, Pfizer completed the merger of Wyeth in December 2014, overtaking products such as Prempro and Premarin, which are the popular selling drugs.
Analyst Perspective
The study had been segmented into different treatment options currently available. These therapies/treatments have been individually studied on the basis of the incidence rate of diseases, product availability, market penetration, pricing and reimbursement, government awareness programs, and other such parameters.
These parameters were triangulated using models such as commodity flow and QFD to help convert the data into commercially viable information. For instance, the revenues, prices, and regional presence of products obtained from company annual reports and investor presentations were studied to conclude on the global market.
In order to provide a comprehensive and up-to-date representation of the industry, a combination of secondary and primary research is conducted. Meticulously data mined and primary responses obtained from key industry participants help in validating the analysis.
The final study provides a 360o view of the industry making it suitable for purchase, by company players, investors, new entrants, and consultants. Furthermore, we can also provide customization to meet the specific needs of the clients.