Industry Insights
The global household refrigerators and freezers market is increasing at a significant rate owing the increasing demand for refrigerated food products, changing consumer lifestyle, and growing import & export activity in food and beverage sector.
The growing dietary food prevalence and high demand for refrigerated products has made a significant impact on the food consumption patterns. This evolution is expected to open new growth avenues over the forecast period. Additionally, the growing energy consumption regulation in order to meet the energy conservation standards is enabling vendors to manufacture products in-line with the new rules & regulations. This has led the manufacturers to undergo significant changes in their production model to comply with the regulatory standards.
Rising demand for cost-effective and energy-efficient products is expected to drive the market growth
Manufacturing of energy efficient refrigerators and freezers is the key factor for propelling the industry growth. Moreover, the growing awareness about energy consumption is enabling consumers to adopt energy-efficient products. According to the United Nations Environment Programme (UNEP), a worldwide shift towards energy-efficient equipment and appliances such as refrigerators, air conditioners, and freezers is expected to reduce global electricity consumption by more than 10% and reduce CO2 emissions by approximately 1.25 billion tons per year.
Global Household Refrigerators & Freezers Market By Product, 2014 - 2025 (USD Million)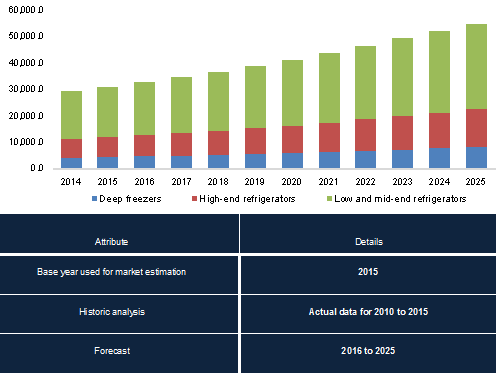 Another factor contributing to the expansion of the refrigerators market is the increase in the import of energy efficient household refrigerators and freezers in developed economies such as U.S., Germany, and UK. Moreover, manufacturers are achieving growth by expanding their profit margins by cutting production and operation costs. Targeting international markets for sale of these products is considered to be one of the major strategy adopted by manufacturers to improve sales figures and increase its geographic footprint.
High-end refrigerators and freezers are expected to grow at a faster pace
Rapid urbanization, growing environmental concerns, and presence of large untapped market is expected to boost the demand for high-end product segment. The high-end segment accounted for over 15% revenue share in 2015. To boost the sales of such high-end appliances, manufacturers are reducing the prices and are launching new models with advanced design and features. For instance, Whirlpool India has launched a new multi-door refrigerator to boost its high-end segment sales with kitchen manufacturers as the primary sales channel.
The Asia Pacific region is expected to drive demand
Asia Pacific accounted for over 23% market share in 2015 and is anticipated to be the fastest-growing region owing to the presence of large number of home appliances manufacturers coupled with the changing consumer preferences. Refrigeration equipment in the region is anticipated to witness significant growth owing to increasing spending power and advancements in the regional home appliance sector.
Growing production of these devices on a large scale in countries such as China, Taiwan, and India is the prime factor driving the growth in Asia Pacific region. Rising number of households and growing trend of nuclear families is expected to drive the market demand in the Asia Pacific region over the next nine years.
In developing regions such as Asia Pacific and Middle East and Africa, the increasing utilities cost such as electricity consumptions have enforced governments to introduce subsidies coupled with new regulations on energy savings for kitchen appliances. These factors have positively impacted the market growth. North America is projected to be the largest and the fastest growing segment over the forecast period primarily due to the increasing consumption of convenience oriented food options.
Haier Group, Samsung Electronics and LG Corporation are the key shareholders
The key industry competitors include Samsung Electronics, LG Corporation, Haier Group, AB Electrolux, The Whirlpool Corporationamong others. The key manufacturers are focusing on expanding their product portfolio beyond their core competencies by enhancing their product and service offerings in order to strengthen its market position. Industry consolidation, mergers and acquisitions form a major strategic initiative adopted by the key industry players. Fluctuating consumer preferences from traditional to technologically advanced equipment is enabling prominent players to offer ground-breaking cooling equipment.