Industry Insights
The global human machine interface market size was valued at USD 2.95 billion in 2014. Growing adoption of industrial automation equipment in the manufacturing sector is expected to drive growth. Integration of analytics software with products is further anticipated to improve productivity and quality thereby spurring demand. However, high cost associated with installation is estimated to pose a challenge.
The industry has witnessed several technological advancements from Light Emitting Diode (LED) indicators to fully functional, touchscreen, and graphic oriented terminals. Integration of Bluetooth and Wi-Fi in these products has improved device mobility, which is also anticipated to catapult demand over the forecast period.
Europe human machine interface market share by product, 2012 - 2022 (USD Million)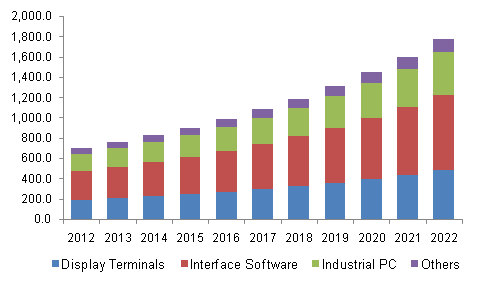 The surge in demand for high-resolution screens in order to analyze process efficiently offers significant growth opportunities. Furthermore, continuous updating and upgrade of computer processors are also estimated to substitute traditional systems, thereby increasing product demand. Advancement in broadband access technology is also expected to offer significant growth avenues over the next seven years.
Product Insights
Display terminals are used significantly in industrial automation system in addition to interface software. Technological advancements have led to change from traditional Cathode Ray Tube (CRT)-based video terminals to innovative TFT-based capacitive displays. In addition to the capacitive display, LED, and LCD-based UHD displays are also anticipated to provide avenues for industry growth. Availability of an array of display technologies is expected to surge demand over the next few years.
Interface software is primarily used in exchanging information across different components of a computer system. Improvements in application development process may considerably decrease application size and decrease computing speed.
Industrial PC was first manufactured and used in industry automation by IBM. Significant changes in computer processors may result in the substitution of the legacy computer processor. Increasing need for high storage space and processing power is also anticipated to increase growth over the next seven years.
Application Insights
HMI terminals are significantly used in the manufacturing industry for automation for improvement of overall plant management by improving communication between user & machine, providing warning & alarms, and cost reduction. Rapid industrialization in several emerging economies such as India and China is expected to be a key factor for future growth.
Key end-use industries with heavy demand include food & beverages, oil & gas, and packaging. Increasing shale oil extraction significantly in North America may increase the need for industrial automation, thereby offering avenues for growth.
In automobiles, usage of advanced technology has transformed the car dashboard layout to more flexible, dynamic, and adaptable design. Standalone systems may increase safety risks; however, integration of speech input/output system with HMIs may lower driver distraction while commanding vehicles, and may catalyze industry growth.
Use cases in the healthcare sector mainly include emotions analytics. The industry has witnessed growing application in unmanned vehicles & drones and cyber security in the military aerospace and defense sector.
Regional Insights
North America human machine interface market is expected to emerge as a dominant segment owing to early technology adoption. Further, the rise in a number of automation projects is expected to play a key role in driving the regional demand over the forecast period.
Asia Pacific human machine interface market is anticipated rapid growth owing to growing industrialization. Additionally, availability of raw materials and low-cost labor may also catalyze regional demand. Europe is estimated to exhibit steady growth over the forecast period.
Competitive Market Share Insights
Product developers emphasize on understanding new technological innovation in displays, and processor in order to develop better and efficient solutions specific to different applications. Additionally, mergers and acquisitions Key industry players also focus on mergers and acquisitions as a part of their core business strategy. Industries today face issues pertaining to the management of a large volume of operation database owing to which manufacturers focus on developing systems that aim to resolve this problem and thereby gain competitive advantage. Growing preference for digital panels over traditional systems is expected to drive market demand and fuel the need for innovation.
Key companies dominating the global human machine interface market share include ABB Ltd., Eaton Corp., Emerson Electric Corp., General Electric Co., Omron Corp., Honeywell International Inc., Siemens AG, and Rockwell Automation Inc.