Industry Insights
Global industrial protective clothing market size was 2,743.7 million square meters in 2014. Growing workplace hazards along with increasing worker safety concerns in various industrial sectors including chemical, oil & gas, manufacturing, and food processing are expected to remain a major factor driving industry growth in next seven years.
Increasing awareness towards worker's health and safety coupled with increasing industrial fatalities in emerging economies due to lack of protective gear is expected to drive growth over the forecast period. Technological innovations, along with changing consumer need for protective clothing which combines safety with fashion and attractiveness is further estimated to augment market expansion.
Safety standards by regulatory agencies, including Occupational Safety and Health Administration (OSHA), mainly in Europe and North America are a major market driver for industrial protective clothing. Conventions regarding worker health & safety issues and practices such as total quality management (TQM) have fueled industrial protective clothing demand making it mandatory for industries to comply with rules regarding workers' safety at the workplace.
Additionally, regulatory agencies in Asia Pacific and the Middle East are also enforcing stringent regulations to make it compulsory for industries to take care of their worker's safety on account of increasing hazards in these regions.
Upper management in most of the industrial firms is also becoming proactive regarding workers' safety at the respective workplace. The stringent regulatory framework in mature economies, including the U.S. and the UK, has been compelling companies to follow rules and guidelines to avoid any form of occupational hazard.
According to OSHA, the global prevalence of industrial protective clothing is expected to grow in industries such as pharmaceutical, research laboratories, and healthcare. Growing number of blue collar workforce across various production centric industries and R&D establishments is expected to drive demand in next seven years. However, unavailability of imprecise numerical safety data from industries acts as a major challenge for industry participants.
Growing importance of raw materials that offer features such as light weight, comfort, higher heat resistance, and wear & tear resistance are expected to urge companies to extensively invest in R&D. The initiatives are primarily aimed at achieving multi-functionality of protective clothing and increase its application scope. However, rising costs of crucial materials such as aramid fiber, carbon fiber, and silicates are expected to pose challenges to the market.
U.S. industrial protective clothing market revenue estimates and forecast, by product, 2012-2022 (USD Million)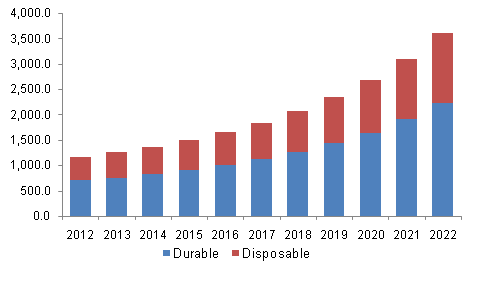 Product Insights
Durable clothing emerged as a leading product segment accounting for over 55% market volume share in 2014. Increasing occupational fatalities coupled with the requirement for high durable mechanical wear resistance and high utility protective gears in most of the core industries including oil & gas, refining, metal manufacturing and automotive is expected to steer segment growth.
Repetitive usage of these products coupled with rapid industrialization in emerging economies such as China, India, and Brazil is expected to drive durable protective clothing segment in foreseeable future.
Durable industrial protective clothing is majorly useful for adverse environment conditions including working areas having high temperature - pressure and radiations. The market is expected to experience high growth on account of increasing consumer preferences towards high durable clothing to perform and work under extreme conditions without any mishap.
Disposable industrial protective clothing is expected to generate revenue exceeding USD 1,300 million by 2022. Disposable clothing is used for protection from low to medium level hazards such as fluid handling in cleanroom or laboratories. The products under this category comply with all the environmental standards and can be easily disposed of.
An emerging trend of using disposable clothing along with durable clothing is expected to drive global industrial protective clothing market. Disposable clothing is used in support to durable clothing to enhance their durability. Special application areas of disposable industrial protective clothing include specialist laboratories, disaster response, disease control, hazardous waste management, sewage treatment, emergency services and drainage construction.
Application Insights
Chemical defending garments were the largest application segment accounting for over 30% of market volume share in 2014 and are expected to grow at a CAGR of over 14% from 2015 to 2022. These garments need to be highly durable, lightweight, breathable and comfortable for the shop-floor workers without affecting their regular functions.
Such specific requirements would further drive multi-functional industry specific protective apparel demand. Increasing regulations regarding worker safety coupled with significant growth chemical manufacturing industries particularly in BRIC nations is expected to remain a key driving factor for the segment growth over the forecast period.
Flame retardant apparel is anticipated to witness the highest growth over the forecast period on account of increasing demand for durable and breathable flame resistant clothing. Increasing focus on minimizing fire hazard in the industrial space is expected to drive flame retardant apparel demand over the forecast period.
Additional factors such as stringent fire safety regulations and guidelines are expected to mandate the use of fire retardant apparel across various industries. Mechanical protective clothing is expected to witness high growth rate after the flame retardant apparel and chemical defending garments but had a lower market size in 2014.
Increasing demand for protective gear during meat cutting, welding and glass cutting is expected to drive product demand in the long term. Increasing occupational hazards due to machine operations coupled with stringent regulations towards employee safety in mature economies is expected to drive growth over the forecast period.
Regional Insights
North America was the largest regional market and accounted for over 35% market revenue share in 2014 and is expected to exceed a net worth of USD 13,200 million by 2022. The region is characterized by rapid growth in segments such as thermal and fire retardant protective clothing.
This growth is attributed to various revisions in the industry standards by government agencies such as OSHA, National Fire Protection Association (NFPA) and ASTM. Increasing industry standards towards the safety of employees along with high demand from automotive and manufacturing sectors is anticipated to drive growth.
U.S. is a major consumer of technical textiles with many upcoming construction projects mainly oil & gas, power & water, and infrastructure. OSHA in April 2014 revised the OSHA 1910.269 regulation, which made it mandatory for people working near flames and electric arcs to wear flame retardant apparel that has an arc rating greater than or equal to available heat energy. This regulation is expected to further drive demand in the U.S.
Technological innovations coupled with changing consumer need for protective clothing that combines safety with fashion and attractiveness is further estimated to drive market growth over the forecast period. Improving product designs and specifications are expected to provide steer competitiveness in the industry.
Rising manufacturing and improving infrastructure in economies including China, Vietnam, Brazil, Turkey, Israel, UAE, and India is expected to steer demand in next seven years. Moreover, growth in oil & gas, mining, healthcare, aerospace and defense industries in aforementioned nations is anticipated to create new avenues industry participants over the next seven years on account of rising employee's safety standards.
Asia Pacific is expected to reach total revenue of over 1.1 billion by 2022. Asia Pacific is anticipated to witness the fastest growth in next seven years on account of rising infrastructure spending in emerging economies such as India and China. Growing end-use industries including oil & gas, healthcare, mining, aerospace, manufacturing, and chemicals in the region coupled with strict safety standards are anticipated to fuel industry growth.
Competitive Insights
Global industrial protective clothing market in 2014 experienced a significant rise in production and sales due to the high requirement in end-use industries including chemical, oil & gas processing, refineries, petrochemical, pharmaceutical and industrial waste handling. The industry is marked by high degree of integration at different levels of the value chain. Major industry participants include Royal Ten Cate NV, DuPont, Bulwark FR, Australian Defense Apparel, Teijin Ltd., Benette Safetywear Ltd., PBI Performance Products, Inc., and Lakeland Industries, Inc.
Various companies have invested in developing multi-utility apparel, so as to enhance their product portfolio and cater wide scope of industries. Honeywell International launched new fire retardant apparel that complies specifically with mining, oil & gas industry standards. W.L. Gore & Associates launched flame retardant technology that could be integrated into protective outerwear. Companies such as Ansell Ltd. and Kimberly-Clark have adopted mergers & acquisitions and capacity expansions to enhance their position in the global scenario.