Industry Insights
Global inhalation anesthesia market size was valued at USD 1.2 billion in 2014. Key growth factors include rapid increase in aging population suffering from chronic diseases such as cardiovascular, respiratory, cancer, neurological and other health ailments such as gastro, orthopedic and spinal problems.
Increasing prevalence of cataract is also a factor contributing towards the growth of the day care ambulatory surgeries industry. This is further expected to boost the usage rates of inhalation anesthesia over the forecast period. Growth in the in a number of emergency cases and accidents are also expected to positively reinforce inhalation anesthesia market growth.
U.S. inhalation anesthesia market, by product, 2012-2022, (USD Million)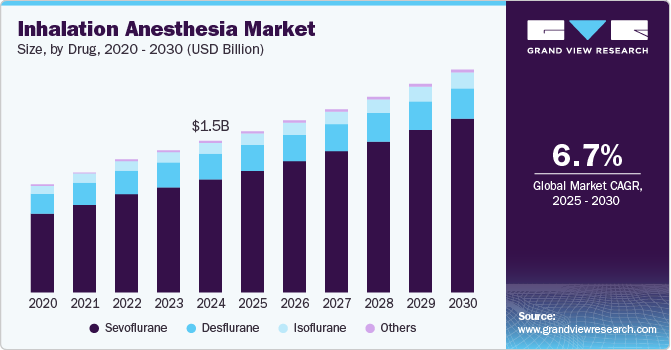 Anesthesia recycling is expected to play a significant role in shaping the dynamics of this industry. Growth in demand for recycling is accounted for by the intensifying regulations pertaining to the effect of these products on the environment.
Globally, these anesthetic gases contribute up to 1.0% of carbon dioxide thereby, causing greater environmental damage. A major concern in using these gases is that patient-use accounts for only 5.0%. The rest 95.0% is released into the atmosphere resulting in phenomenon like global warming.
To address the environmental impact of anesthetic gases, new technologies are being developed to scavenge the anesthetic gases from hospital vents and recycle them. Recycling systems are currently being developed by two companies namely Anesthesia reclamation LLC, and Deltasorb Technologies (Blue Zone Technology).
Anesthesia reclamation LLC has developed Anesthetic Recapture System, which is a cryogenic condensing system used to collect waste products from the operating rooms. Deltasorb has developed Blue Zone technology which uses absorption, condensation and decondensation and distillation procedure to effectively recycle the anesthetic agents and make them suitable for re-use.
In 2014, Blue zone technology was installed in 21 hospitals in Canada and is negotiating with various stake holders to increase the penetration of these systems in other regions with stringent environmental regulations like the U.S and Europe.
Product Insights
Product segments comprise sevoflurane, isoflurane, and desflurane. These are used for induction and maintenance of anesthesia for patients during surgical procedures. Globally, sevoflurane is widely used for anesthesia induction owing to, its therapeutic advantages and low cost.
Sevoflurane commands a share of over 70% in the inhalation anesthesia market. Desflurane and isoflurane are used based on patient requirements and the need for prolonged induction or maintenance of anesthesia. Sevoflurane market size is expected to exceed USD 1 billion by 2022.
Isoflurane is used limitedly for anesthesia induction majorly, on account of features such as longer induction time. The isoflurane market is expected to witness the lucrative growth of over 10.0% during the forecast period.
Regional Insights
North America inhalation anesthesia market was the largest in 2014, owing to the increasing prevalence of various diseases in geriatric population and presence of advanced healthcare facilities in the region. The demand for surgical procedures which includes inpatient surgery and ambulatory surgery is the highest in North America.
Asia Pacific is expected to be the fastest-growing region over the next seven years. Key factors contributing to its rapid growth include an increase in public and private healthcare expenditure, penetration of healthcare insurance to masses and increase in chronic disease prevalence.
The increase in medical tourism coupled with rapid penetration of insurance coverage will enable more people to opt for surgical procedures and is expected to significantly boost regional demand. Expansion of ambulatory health care centers is expected to cater to the growing population in Asia Pacific thus, positively impacting growth over the forecast period.
Company Market Share Insights
Global inhalation anesthesia market share is dominated primarily by players such as Abbvie and Baxter. In the next seven years, these players are expected to witness strong competition from generic manufacturers like Piramal Healthcare and Lunan Pharmaceuticals.
Baxter Healthcare is the only company with all the three products in its portfolio. Abbvie has sevoflurane and isoflurane in its portfolio. Piramal Healthcare presently has sevoflurane and isoflurane in its portfolio. Piramal Healthcare is expected to launch generic desflurane in 2016. The introduction of this generic version is expected to boost usage rates.