Industry Insights
Decreasing prices owing to technological proliferation is expected to be a key growth factor for the Infrared (IR) camera market. Increased commercialization owing to advancements in microbolometer technology is also expected to fuel market growth over the next few years. On account of increased adoption in industrial and commercial applications, they are used across numerous security & surveillance applications.
Global IR camera market by material, (USD Billion), 2012 – 2020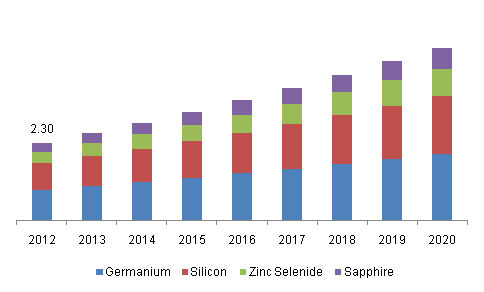 Recent technological advancements have led to miniaturization, which is expected to favorably impact market growth over the forecast period. These cameras are capable of viewing across a long-wave infrared region, and can also detect objects in total darkness. High investment, availability of cost-effective products due to mass production, and a range of diverse applications integrating this technology are expected to be the key market drivers. Further, the IR camera market is also expected to witness growth owing to the declining product prices.
Decreasing defense budgets in developed markets are expected to pose a challenge to market growth over the forecast period. Increasing adoption of high-resolution cameras and smartphones is expected to provide a sizeable sizable opportunity for market growth. Further, the IR camera plays a significant part in providing a night-vision option for automobiles. For instance, FLIR Systems provides camera cores for Rolls Royce, BMW, Audi, and Mercedes-Benz models through a partnership with Autoliv Electronics.
Material Insights
Germanium exhibits good mechanical properties and is non-hygroscopic due to which it emerged as a key segment in 2013. Furthermore, germanium is a good transmitter of infrared radiation, which is also expected to positively impact IR camera market growth over the forecast period. The zinc selenide segment is expected to grow at a rate greater than the global average over the forecast period. This may be attributed to the increased adoption of ZnSe lenses in medical imaging applications. ZnSe is a good choice for optics used in high power CO2 laser systems due to its high resistance to thermal shock and low absorption coefficient. Sapphire lenses are extremely hard, durable, and exhibit good transmission range covering UV to IR range. These lenses are suitable for high-pressure, high power applications, which are also expected to favorably impact market growth.
Application Insights
The global IR camera market has witnessed significant demand owing to increasing adoption of in several applications. The military & defense segment is expected to dominate the market over the next few years, due to high defense investments in the Middle East and Asia Pacific regions. Dependence on night vision goggles and related equipment, in order to improve situational awareness, is expected to positively impact IR camera market growth over the forecast period. IR camera applications for video surveillance and infrastructure cabling are also expected to drive market growth. Increased adoption in the commercial application segment is expected to extensively drive market growth. This can be attributed to the rise in the use of IR cameras across several applications including transportation systems, security & surveillance, and thermography.
Regional Insights
North America emerged as the leading regional segment in 2013. Technological advancements along with the presence of key industry players are expected to contribute to regional market growth. Asia-Pacific is expected to witness high growth over the next six years. Increased defense spending, particularly in India, Japan, and South Korea, is expected to favorably impact the regional market.
Competitive Insights
Security & surveillance accounts for a considerable percentage of the commercial applications, and a few key IR camera manufacturers such as Samsung Techwin (South Korea), FLIR Systems (U.S.), Axis Communications AB (Sweden) are increasingly focusing on this market. Technological advancements coupled with a rapid reduction in price are expected to be the key factors driving IR camera demand in the fast-growing commercial application segment. A few other market players include Fluke Corp, Seek Thermal Inc., Raytheon Company, and Testo AG.