"Industry Insights"
The global jojoba oil market size was USD 151.7 million in 2015 and is expected to witness growth over the forecast period primarily owing to its rising demand from the cosmetic and personal care industry. Its excellent abilities in providing skin protection and preventing aging have helped in increasing its penetration in various products such as skin creams, sunscreens, lotions, moisturizers, lipsticks, and balms.
The product has excellent medical abilities as a carrier for medicine preparation, a stabilizer for antibiotics, and as an appetite depressant. These capabilities are expected to result in increasing its penetration in the pharmaceutical sector. The growing trend of producing herbal medicines owing to the side effects of allopathic medicines is supposed to result in increasing penetration of the product in the pharmaceutical sector. This factor is expected to play a fundamental role in improving the market scenario of the product over the forecast period.
U.S. jojoba oil market volume, by application, 2013 - 2024 (Tons)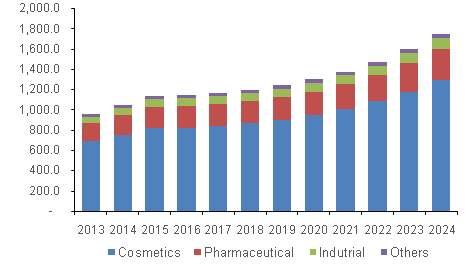 Its various abilities such as high viscosity index, compatibility with different additives, and miscibility in mineral oil base stocks have widened the application scope which includes foam control agents, electric insulators, plasticizers, factices, and adhesives. The product can act as a lubricant in various high temperature and pressure applications such as hydraulics. It also can be used as a transformer, grading, and cutting oil.
The market is still realizing its potential owing to the rising awareness of naturally derived products among consumers. The production of jojoba has increased over the past few years especially in Peru, Australia, Mexico, and Argentina on account of rising consumer demand and improvement in production capabilities.
"Application Insights"
Cosmetics was the largest segment of the global market accounting for 70.6% of the overall revenue in 2015, owing to its extraordinary properties to mimic the lubricant produced by human body. It has a great lasting moisturizing effect which has resulted in increasing its penetration in various skin care products such as lotions, exfoliates, and moisturizers. These properties are also essential in increasing product penetration in shampoos, conditioners, and other hair care products.
The pharmaceutical industry will show steady volume gain at a 4.2% CAGR from 2016 to 2024 as a result of the product being used in the production of penicillin and several skin ointments. Furthermore, it can be used to treat skin wounds, sores, and burns. These abilities are expected to influence the growth of the product in the pharmaceutical sector over the forecast period.
"Regional Insights"
North America accounted for 39.2% of the overall global volume which made it the largest market in 2015, and will experience significant rise owing to the growth of the cosmetic and personal care industry in the U.S. and Mexico. Increasing disposable income coupled with the growing population has resulted in an augmenting demand for better beauty products in emerging economies of China, India, and South East Asia.
The product is used extensively in Japan, owing to consumer inclination towards natural ingredients. The Japanese have always believed in natural organic products and therefore consumer demand for naturally derived organic products has increased over the past few years. Japanese oil massages use the product as it resembles the sebum in the human body.
"Competitive Insights"
Key players in the global market include Desert Whale Jojoba Company, Eco Oil Argentina SA, Purcell Jojoba International, Egyptian Natural Oil Co., The Jojoba Company and Inca Oil SA. The market is consolidated in nature owing to the presence of a limited number of producers. Competition in the European and American markets has increased as companies are investing heavily in the research and development. Several multinational companies are investing in emerging markets in order to expand their business presence and gain a competitive edge in the market. In February 2012, JH Partners completed the sale of Jurlique to Pola Orbis, a Japanese skincare company. From 2012, it operates as a subsidiary of Pola Orbis Holdings Inc.
There are several cosmetic manufacturers that use jojoba oil in their products including Ole Henriksen, Eve Taylor (London), U.S. International Trading, Hanbang Mein, Creative Nail Design(CND), Innocosma, Logocos Naturkosmetik AG, Skinfood Co. Ltd., Primavera Life, Crabtree & Evelyn and Jurlique International Pty. Ltd.
The key producers such as The Jojoba Company and Jojoba Israel are engaged in investing heavily in production to meet the required demands. These companies are integrated across the value chain as they are involved in cultivation, and the extraction of jojoba oil and its derivatives.