Industry Insights
The LED (Light-emitting diode) drivers market size was USD 4.27 billion in 2015. Advancements in the industry offering high performance and efficient Light-emitting Diode drivers is contributing towards market growth. LED drivers have become more innovative and offer increased flexibility for the lighting solutions. Several manufacturers such as On Semiconductors and NXP Semiconductors are offering advanced drivers for high efficiency lighting solutions. The increasing adoption of LEDs across several lighting applications, such as outdoor, automotive, retail, and healthcare is anticipated to fuel the demand across several lighting solutions.
Asia Pacific LED Driver Market Revenue by Supply Type, 2014 - 2024 (USD Million)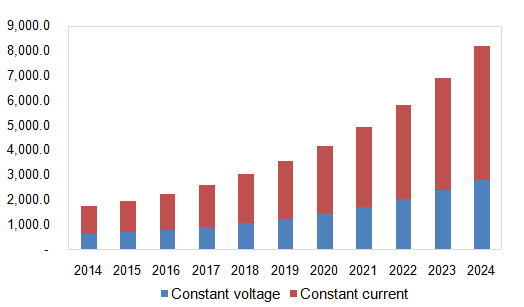 Moreover, outdoor LED lighting is rapidly gaining popularity for roadways, tunnels, traffic lights, garages, and parking lots. Outdoor lighting construction and maintenance costs have progressively increased the public lighting expenditure over the past decade. The concept of smart cities is prevailing and has created a suitable living environment that uses low investment and maintenance costs. High demand for efficient streetlight solutions and minimizing cost of the drivers have led the governments of several countries to adopt LED luminaries as they are environment-friendly, energy-efficient, and have a longer lifetime.
Light-emitting Diode Driver have become more advanced and offer increased flexibility for lighting solutions. The next-generation LEDs provide ease of use for the designers to design luminaries efficiently. For example, high voltage drivers are capable of suppling up to 17 LEDs in series, with constant currents between 350mA and 1,200mA. Such advancements are expected to boost the market demand over the future.
However, the absence of certain industry-defined standards to test the characteristics and behavior of such drivers has led the manufacturers to face several challenges in the industry. Solid State Lighting (SSL) lighting and driver manufacturers worldwide follow their own standards in manufacturing such a key component of lighting systems resulting in a lack of interoperability across its end-use applications hindering the market proliferation.
Supply Type Insights
The constant current supply type segment dominated the market with a revenue share of over 64% in 2015. It is anticipated to remain prevalent over the upcoming years owing to their high usage across the industry. For several applications, it is desirable to utilize constant current drivers as they offer more control and provide with the ability to design displays with almost no variations in brightness across the display. However, the constant voltage driver may result in a low efficiency with less overall number of lumens per watt.
Application Insights
The outdoor lighting offers significant growth opportunities to the industry. Low maintenance costs and the ability to deliver uniform lighting efficiently, make the value proposition and ROI for Solid-State Lighting (SSL) compelling. This has resulted in the conversion of most outdoor lighting businesses into LED outdoor lighting that requires advanced drivers.
The automotive lighting segment is witnessing a high adoption of LED solutions, fueling the industry growth. The technology significantly contributes to the avoidance of CO2 emissions and reduction of fuel consumption. Further, advanced features, such as enhanced night vision and head-up displays, active light bending for front lights, allow drivers to view around the corners of the vehicles.
Regional Insights
The Asia-Pacific accounted for over 45% in 2015, growing at a CAGR of over 17% from 2016 to 2024. Developing economies such as India and China are projected to drive the regional growth over the forecast period. The increasing demand LEDs across consumer electronics, such as smartphones, tablets, laptops, and TVs is expected to drive the demand for LED drivers over the forecast period. Moreover, a decline in the average selling price of the drivers along with the technological advancements, have resulted in high demand for across the lighting industry.
North America and Europe are also expected to witness a rise with the increasing adoption of LED lighting across high and low-end automotive segments. Countries, such as the U.S. and Canada, have witnessed an increased adoption of the technology for outdoor applications.
Competitive Market Share Insights
Key participants include Atmel Corporation, AC Electronics, Cree, Inc., Harvard Technology Ltd., General Electric Company, Koninklijke Philips N.V., Macroblock Inc., Lutron Electronics Co., Inc., Maxim Integrated Products, Inc., On Semiconductor Corporation, NXP Semiconductors N.V., Osram GmbH, STMicroelectronics, Texas Instruments, Inc. and ROHM Semiconductors. Manufacturers operating in the market are investing immensely on R&D and focusing on product differentiation with advanced technologies.