"LiDAR market was valued at USD 309.8 million in 2015"
The key product segments analyzed and reported in the study include airborne, terrestrial, and mobile & UAV LiDAR systems. Airborne systems accounted for the major share of the market, which is anticipated to increase in the years to come on account of the surging adoption of airborne mapping devices. Airborne systems have emerged as accurate and detailed devices of creating digital elevation models, thereby replacing photogrammetry. These systems deliver enhanced accuracy and larger area coverage as compared to their terrestrial counterparts. They deliver larger area mapping in comparatively shorter time intervals.
The vertical integration in the LiDAR market provides numerous advantages, including reduced manufacturing and delivery times, low costs due to access to competitive international labor markets, and direct sourcing of raw materials. It adds significant value to the supply chain operations by providing an array of vertically integrated services such as customization and component design.
Nova Workvision Digital Technology Co. Ltd. (China) provides outsourcing services to accumulate airborne and land-based images with high-resolution mapping products, such as Digital Surface Model (DSM), Digital Terrain Model (DTM), Digital Elevation Models (DEMs), and city modeling.
North America Lidar Market Revenue By Product Type, 2014 - 2024 (USD Million)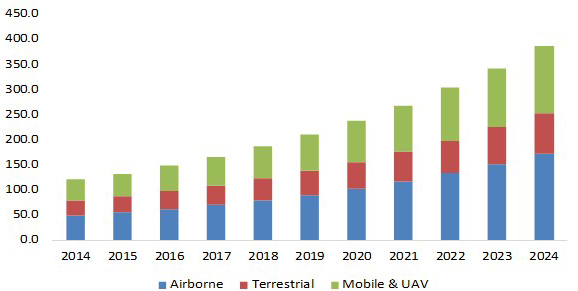 "The airborne systems market is expected to grow at a CAGR of over 13.6% from 2016 to 2024"
Airborne systems generate a 3D point cloud image model of the mapping landscape in focus. They have emerged as a detailed and accurate method of creating digital elevation models and are estimated to replace the customary photogrammetry mapping techniques.
The key drivers that are expected to positively impact the demand over the forecast period are the burgeoning population, increasing urbanization, large-scale engineering, infrastructure projects and improved project efficiency, government initiatives and mandates, and the demand for 3D imagery in consumer and commercial applications.
The mobile system specifically collects the geo-oriented time stamped 3D point cloud data and in order to collect panoramic imagery, it deploys optical sensors and LASER scanners. This panoramic imagery is utilized to collectively create a virtual reality in the 3D environment for the mapping and modeling operations. Mobile & UAV systems would witness growing opportunities from developing nations and are expected to drive the global market over the forecast period.
"The corridor mapping application segment accounted for over 37.99% of the global market in 2015"
Market segmentation, on the basis of applications, includes corridor mapping, engineering, environment, exploration, Advanced Driver Assistance Systems (ADAS), and other application arenas. The corridor mapping segment is anticipated to be one of the leading industry segments with over 37.99% of the overall industry share in 2015.
The mapping of a corridor at a lower altitude implies collecting dense and accurate data of corridors through the airborne or terrestrial means. A corridor may be a railway track, a highway passage, power line, and in pipeline inspection.
The LiDAR sensor bound to a helicopter is generally used for scanning corridors by flying at lower altitudes for collecting dense and accurate data of corridors. The high density of data facilitates the generation of the record of assets of the corridor. A corridor may be railway, highway, oil & gas, or pipeline. The data is beneficial for corridor planning and through the execution of work and, later, for monitoring possible areas of repair and deflections.
The ADAS application is expected to gain prominence by 2024 on account of the surging incorporation of LiDAR-based sensors in numerous automotive safety applications, such as Automated Emergency Braking (AEB) systems, particularly in the North American and European regions.
"The LiDAR laser scanning devices are anticipated to spectate the colossal growth opportunities"
The LiDAR industry is segmented on the basis of components into GPS component, laser scanners, navigation (IMU) device, and other complementary devices, which include data storage and processing devices and camera equipment. The laser scanner segment is expected to grow at a commendable pace. Laser scanners are an important part of the comprehensive LiDAR components portfolio. They scan the entire area utilizing various semiconductor laser beam sources as per the scanning and mapping requirements.
Many different types of laser scanners are well-suited for the terrestrial, airborne, and mobile & UAV platforms.
"Velodyne LiDAR, Inc. to dominate the automotive LiDAR solicitation arcade"
The key industry participants of the LiDAR market are Faro Technologies Inc., Leica Geosystems Holdings AG, Trimble Navigation Limited, Velodyne LiDAR, Inc., and RIEGL USA Inc.
The current market environment is witnessing an intense competition between the key players for achieving the market domination via the enhancement of quality and product differentiation, thereby enabling the growing market consolidation through strategic initiatives such as alliances, mergers, and acquisitions.