Industry Insights
The global liquid flavor market size was valued at USD 7.78 billion in 2014. Liquid flavors are increasingly being utilized to enhance taste and aroma in numerous products that include beverages, baked goods & confectionery, dairy & frozen foods, and processed foods.
Flavors such as organic flavor concentrates, natural plant and animal extracts, and artificial flavor liquids are largely used in food formulations to improve nutritional content and shelf-life along with other properties. Rising industrial output, increased economic activity and growing consumer disposable income in emerging markets of Asia and South America are expected to drive the global industry over the forecast period.
North America liquid flavor market size, by product, 2012-2022 (USD Million)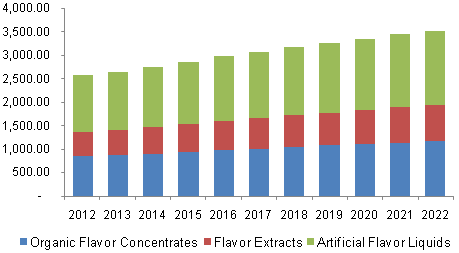 Regulatory policies play a vital role in shaping the industry development. Regulatory agencies such as the U.S. FDA, EPA, FSMA, and FEMA-GRAS 4778 constantly evolve, formulate, and establish policies associated with flavor usage to protect consumers as well as the environment from detrimental effects. Other certifications such as Halal and Kosher also apply to most liquid flavor, especially those derived from animal sources, to comply with religious and cultural beliefs.
The UK Food Law has also established the Food Standards Act in 1999 to regulate and restrict the addition of certain chemicals in food products. The Joint FAO/WHO Expert Committee on Food Additives (JEFCA) also regulates and assesses artificial compounds in synthetic flavor sources.
The global industry is characterized by scarcity and volatile supply of petrochemical feedstock coupled with stringent environmental regulations for manufacturing organic concentrates, flavor extracts, and other flavor liquids. Political turmoil in the Middle East regarding petrochemicals is further expected to affect supply and pricing dynamics of synthetic raw materials over the forecast period.
Increasing demand for convenience and processed foods, owing to evolving consumer lifestyles and shortening meal preparation times are also expected to complement industry growth. Rising consumer awareness regarding nutrition and consumption of 'natural' ingredients is also likely to foster liquid flavor demand in niche applications.
Product Insights
On the basis of product, the global industry has been segmented into organic flavor concentrates, flavor extracts, and artificial flavor liquids. Artificial flavor liquids were the leading segment and accounted for over 45.0% of the overall revenue in 2014.
Synthetic compounds and flavors processed in laboratories are largely used in to provide intense taste and aroma in baked goods, and confectionery & beverages. Artificial flavor liquids are largely used in e-cigarettes, carbonated beverages, alcoholic beverages, and processed foods to enhance both taste and smell components of the products. They are essentially used as substitutes for organic or natural extracts.
Flavor extracts are increasingly being used in beverages such as fruit juices, beer, energy drinks, and even flavored water. Consumers are actively choosing flavors that replicate fruits in terms of taste and smell thus driving the segment growth. Natural flavor extracts are expected to register the highest growth at a CAGR of 5.3% over the forecast period. Increasing health concerns and instances of poisoning associated with the intake of artificial chemicals is further expected to complement flavor extracts demand.
Application Insights
On the basis of application, the global liquid flavor industry has been segmented into beverages, bakery & confectionery, dairy and frozen foods, processed foods, and others such as pet food flavors, pharmaceuticals, and nutraceuticals as well as tobacco products.
Beverages were the leading application segment and accounted for around 60.0% share of the global revenue in 2014. Increasing consumption of flavored mineral water, soft drinks carbonated beverages, functional sports, and energy drinks, as well as alcoholic beverages, is expected to spur growth. However, increasing the importance of other applications is likely to erode market share for beverages over the forecast period.
Liquid flavor used in processed foods are the fastest-growing application owing to increasing consumer preference for convenience and ready-to-eat foods from developed and developing countries. The segment is anticipated to grow at a CAGR of 5.4% from 2015 to 2022.
Regional Insights
Regional markets analyzed in the report include North America, Europe, Asia Pacific, and the Middle East. North America was the leading region with liquid flavor market was valued at USD 2,763.2 million in 2014. The region is characterized by the sheer size of application markets and diverse food consumption patterns.
Immigration of Asian, Hispanic, European, and African communities to the region has been crucial for such diversity in cuisine and food preferences. Also, these factors are vital for flavors industry development as they find greater application scope.
Asia Pacific is expected to be the fastest-growing among all the regions at a CAGR of 6.2% over the forecast period. Rapid growth in population, presence of diverse cultures throughout the region, and changing food consumption patterns is a major driving factor for the market growth. Additionally, increasing acceptance for western foods is also expected to aid in liquid flavor industry development.
Competitive Insights
The global liquid flavor market share is dominated by multinational corporations such as Symrise AG, International Flavors and Fragrances, and BioSun Flavors and Food Ingredients. There is also a considerable presence of integrated players who are involved in supply and distribution of flavor products.
The industry is characterized by numerous product and technological innovations and increasing capacity expansions by companies such as Frutarom and Symrise to capture greater market share, particularly in high growth potential regions, such as Asia Pacific and Latin America.