Industry Insights
Growing volume of website content, increasing demand for cost efficiency in translation, and the vast amount of language knowledge needed exceeds the capacity of human translation, which in turn is expected to fuel the machine translation market. Globalization alleviates the need to address the linguistic diversity of web content and local audiences. The proliferation of content generated online, growing importance of businesses in emerging markets, and the need for enabling global collaboration among employees is expected to drive machine translation market growth over the forecast period.
Global Machine Translation market by application, 2012 - 2022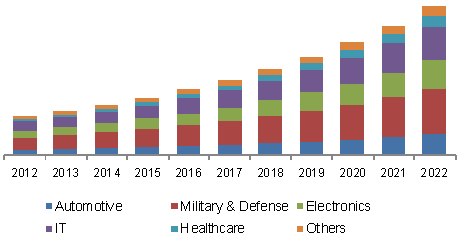 Machine translation costs are far lower than that of traditional human translation. It is also faster than human translation and commonly used for high-volume content that would otherwise take immense resources for translation, which is expected to propel the machine translation market. Availability of free translation engines (e.g. Microsoft Bing, Google Translate) and lack of translation accuracy may restrain market growth. Major challenges for the machine translation market are a lack of quality, need for specialist skills and post-editing, competition from free translation service providers, and difficulty in measurement & estimation of quality.
Application Insights
Customers in the electronics industry require efficient translation of documents in order to speed up publication processes and time to market. An electronics company requires publishing to be done in many languages to provide user manuals, press releases for product launches, commercial and marketing catalogs, product descriptions, web publishing, etc.
Machine translation providers develop customized engines for clients in the electronics industry that are well briefed with the industry's specific terminologies and technical descriptions. The machine translation market finds application in healthcare to supplement communication needs of physicians. Healthcare companies rely on translation services of patient brochures, leaflets, instructions for use, doctor manuals, websites and other crucial communication materials.
Technology Insights
RBMT is a machine translation systems based on information about the source and target languages that is derived from dictionaries and grammars which require human inputs for construction. The translation process is specified by human experts who establish a set of rules governing the process.
Statistical machine translation implements a model to analyze and generate text in the target language, whereas rule-based translation makes use of linguistic rules over the source language to generate text in the target language. Most of the present RBMT systems are being replaced by SMT, and the market has moved towards more SMT as major players such as SDL, Lionbridge, and other language service providers are offering pure SMT.
Regional Insights
Government initiatives and the presence of a large number of service providers has helped boost market growth in the U.S. Microsoft and Google, two of the largest technology providers based in the U.S., have made statistical machine translation technology popular with their free online engines. Globalization and need to address diverse cultural groups have led to the popularity of translation technology in Asia Pacific. The proliferation of smartphones and increasing penetration of internet are expected to drive machine translation market growth. Machine translation could offer an effective solution in eliminating language barriers across different regions.
Competitive Insights
Most MT platforms are text-based and provide instant translations between various languages in text form. Some others do offer the option of audio input/output and language keyboards. Machine translation as a service (MTSaaS) makes use of SMT and is accessible via the web. This allows users to customize their machine translation engine with their translation memories, also known as do-it-yourself machine translation.
Developing an integrated infrastructure is expected to be a critical success factor for gaining market share. As a result, strategic joint ventures, coupled with mergers and acquisitions have been among the key strategies adopted. Key machine translation software providers include Systran, SDL, Lionbridge, etc.