Industry Insights
The global mannitol market size was valued at USD 209.4 million in 2015. It is widely used to coat confectionery products such as candies and gums owing to its unique non-hygroscopic properties. Mannitol which is a type of polyols exhibits similar sweetening property as sugar but contains fewer calories. Increasing demand for sugar-free chewing gums due to changing dietary trends and food consumption patterns is expected to aid the market demand over the forecast period.
U.S mannitol market revenue by application, 2014 - 2024 (USD Million)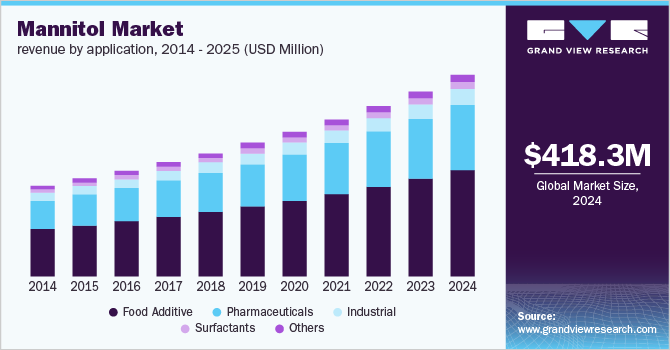 Growing population, dynamic lifestyle, and increase in some diseases across the different regions are anticipated to positively impact the market. This product is used as excipients in the pharmaceutical industry to formulate pharmaceutical products along with treating diseases related to kidney, brain, and heart. Moreover, it is also used as a bulking agent for tableting applications. Such a trend is anticipated to benefit the market growth for mannitol over the next eight years.
Mannitol is mostly preferred by manufacturers due to its good water solubility scope, low mold ability, lesser sensitivity towards humidity and good wetting characteristics. Growing confectionery & baked food products demand and health awareness among consumers in developing regions are presumed to aid the market shortly.
Moreover, due to its less calorie content, mannitol is increasingly gaining prominence among people suffering from diabetics.
Growing number of geriatric and traveling patients who do not have ready access to water are most in need of chewable tablets or gums. There is a cooling sensation felt in the mouth due to the inclusion of mannitol in it. Such a factor is presumed to positively affect the overall market growth in the future years.
Presently, it is produced via catalytic hydrogenation with the help of fructose syrup. Such method often poses difficulty in the extraction process, as sorbitol is also produced as a byproduct. Moreover, when fructose is chemically hydrogenated, only a smaller portion of mannitol can be derived from it, thus lowering the yield altogether.
Excessive consumption of the product causes laxative effect among human beings leading to diarrhea. Primarily, it is considered safe for use as food additive status E421. Currently, the prices are high due to its usage in various applications but are expected to show a downward trend owing to its laxative property over the next eight years.
Growing preference for sugar-free products among consumers due to health consciousness and changing lifestyles is also expected to benefit the market demand. R&D initiatives are being taken to introduce potential application without any side effects of mannitol which in turn is expected to create ample opportunities for the industry participants across healthcare applications.
Recent technological advancements are being made to produce mannitol with the help of cheaper raw materials. Innovations are under process for production with lactic acid bacteria which is expected to increase the yield coupled with high purity quality.
Application Insights
Major applications include food additives, pharmaceuticals, industrial, surfactants, and others. Other applications include surimi and cosmetics. Mannitol is used as an adulterant for drugs such as heroin, cocaine, and methamphetamines. Moreover, mannitol can be used as a compound with boric acid which helps in permitting better precision in a volumetric analysis for the acid and also helps in increasing the acid strength of the same.
Food additive application accounted for over 35% of the overall market and emerged as the leading segment in 2015. Surging demand for food grade application is majorly due to shifting consumer preferences to participate in diet and lifestyle management which has resulted in a higher demand mannitol market.
Regional Insights
Asia Pacific mannitol market led the global industry and accounted for over half of the overall market in 2015. Emerging countries such as China and India accounted a large share of the overall market. Growing health awareness among consumers has resulted in increased consumption in the regional market.
There is a wide prevalence of diabetes in China owing to its changing lifestyle and up gradation of socioeconomic status and is expected to witness a similar trend over the next eight years. However, there is an urgent need to address two diabetes types which consist of obesity and cardiovascular diseases. Such factors are presumed to assist the market demand over the next eight years.
Competitive Insights
The global mannitol market is concentrated in nature with large multinational corporations accounting for a major portion of the industry. Major industry participants include Cargill, Roquette, SPI Polyols Inc., Moga International Ltd., Singsino Group Ltd., EMD Millipore, Bright Moon Seaweed, Yuanrun Chemical, Hebei Huaxu Pharmaceutical Co., Ltd. and SPI Pharma. In 2016, Rouquette obtained ECiPACT certification under Good Manufacturing Practices (GMP) which approved the production of mannitol powder and mannitol solutions to cater all the pharmaceutical application needs.