Industry Insights
Global meat substitutes market was valued at USD 3,192.8 million in 2013. Rising health awareness and changes in dietary preferences towards vegan diet are projected to drive the meat substitutes market over the forecast period. Growing health concerns regarding meat consumption and several animal disease outbreaks in the recent years are critical factors capable of bolstering the global market.
Global meat substitutes market revenue, by raw material, 2012 - 2022 (USD Million)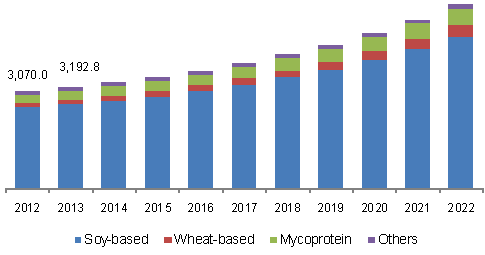 Rising living standards owing to increasing disposable income in the developing regions such as Asia Pacific and Latin America have fuelled meat substitute consumption. Such a trend is presumed to continue over the next seven years, thus aiding the regional meat substitutes market. Several animal disease outbreaks such as bird flu and swine flu in the recent past have led to shift towards a more vegan diet. This has resulted in higher meat substitute consumption, in turn augmenting the regional as well as global market. Growing health problems such as obesity and diabetes among people, especially the younger generation have led to shift towards vegan dietary habits.
Animal raring has a notable impact on the natural resources of the planet and is responsible for global warming to some extent. Though this factor has not been quantified, awareness regarding this factor is presumed to shift global food habits towards a more vegan diet, thereby aiding the meat substitutes market. Growing awareness regarding vegan diet benefits such as lower heart problems, improved cardiovascular health, lower cholesterol risk and reduced diabetes & obesity risk are expected to further compliment the global meat substitutes market. Higher meat substitute cost is anticipated to hamper the market growth, especially in the developing regions, owing to income disparity and low dietary awareness. Several problems concerning meat substitute consumption such as soy allergy and gluten intolerance are anticipated to impact the global market negatively. R&D initiatives to develop superior as well as novel meat substitutes offer ample opportunities to the market participants.
Raw Material Insights
Major raw material sources for meat substitutes are soy-based, wheat-based and mycoprotein. Among these raw material sources, soy based dominates the raw material scenario, followed by mycoprotein and wheat based sources. Soy based products dominate nearly four-fifth of the global consumption market. Growing soy production in regions such as North America and Latin America is presumed to impact positively the regional market. Americas dominate the global soy production with U.S., Brazil and Argentina catering to more than half of the global soy demand. Such a scenario is presumed to be beneficial for the regional meat substitutes market. Major wheat production is centered more towards Asia Pacific, Europe, and the Middle East regions. Though wheat based meat substitutes currently occupy a smaller market share, they are slated to play a critical role in fulfilling the burgeoning future meat substitutes demand regional markets. Emerging economies such as China and India are expected to witness the fastest growth in this market owing to the rising disposable income, increasing the standard of living and strong demand for convenience food.
Product Insights
Major meat substitutes are tofu, tempeh, seitan, quorn, TVP, other soy-based products and tofu-based products. Key sources for these products include soy-based, wheat-based, mycoprotein and others. Among the products, textured vegetable protein (TVP) dominates the consumption market followed tofu and tofu-based products. Other products occupy smaller fractions of the market. Changing food habits and patterns are presumed to bolster the regional as well as the global market. R&D initiatives to develop superior and cheaper meat substitutes offer ample opportunities for the industry participants. The high cost of meat substitutes results from the extensive R&D required to commercialize them. This high cost is anticipated to dampen market development.
Regional Insights
Europe led the global meat substitutes market over the recent past, ahead of North America and Asia Pacific. Growing soy production in U.S. is slated to aid the regional meat substitute market. Growing population in the emerging regions coupled with strong convenience food demand is slated to further augment the meat substitutes market over the next seven years. These emerging markets offer abundant opportunities for both the new as well as current participants. Different regions are characterized by the availability of raw materials such as Americas are characterized by soy production while regions such as Asia Pacific and Europe are characterized by wheat production. Such a scenario would play a critical role in augmenting the particular meat substitute raw material in that particular regional market.
Competitive Insights
Industry participants are investing in R&D initiatives and taking strong measures to develop superior products and expand their product portfolio. Such steps are being taken to penetrate the emerging meat substitutes markets and cater to their future demand. Companies such as Archer Daniels Midland developed TVP and currently dominate the meat substitutes market with nearly half the market share. Companies are engaging in partnerships and collaborations to strengthen their product offerings for the market. Technological knowhow, R&D capabilities and strong presence in the agro sector are some factors defining the industry collaborations and partnerships. Key industry participants include AMY's Kitchen Inc., Vbites Food Ltd., Beyond Meat, Morning Star Farms, Blue Chip Group, MGP Ingredients Inc., Cauldron Foods UK, Quorn Foods, Garden Protein International Inc. and Meatless B.V.