Market Size and Trends
The global medical holography market size was valued at USD 281.4 Million in 2015 and is expected to witness a CAGR of 31.0% during the forecast period. The industry is primarily driven by the rising adoption of holography products in biomedical research activities.
Increasing number of R&D activities conducted by prominent pharmaceutical and biotechnological companies are believed to be a consequence of the widening base of biomedical research initiatives. This subsequent increase in R&D efforts is presumed to present this vertical with lucrative growth opportunities in the future.
Medical holography market, by product, 2014 - 2025 (USD Million)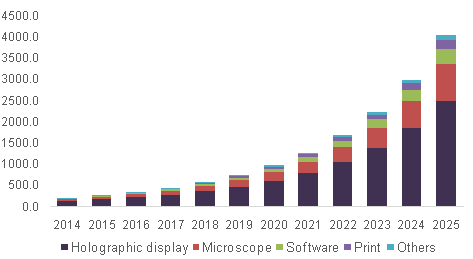 Moreover, rising clinical application of holography in orthopedics, cardiac electrophysiology, radiological & surgical procedures, and dentistry due to the high global prevalence of target disorders has triggered the growth of this sector. Emerging technological innovations, such as inclusion of advanced pico-like projectors and miniaturized light-emitting diodes, to deliver holographic images of high clarity, are anticipated to accelerate market demand over the forecast period.
The advent of holographic visualization and interaction technologies enable less-invasive disease procedures thus lending an improved safety profile. The aforementioned is consequently yielding better patient outcomes, which is anticipated to drive patient and physician preference for these products in the future.
Product Insights
In the product segment, holographic displays held the largest share in 2015. The dominant share can be attributed to the high penetration of holographic displays, which is a major component that enables the viewing of holograms. In addition, increasing advancements and modifications in holographic displays are presumed to be responsible for driving the adoption of these products by educationists, researchers, and physicians. The advancements include incorporation of electro-holographic, laser, and piston-based displays.
The aforementioned technological advancements provide several benefits in performing diagnostic procedures thus offering significant growth opportunities to the global medical holography market over the forecast period. These benefits include improved training, generation of real-time organ images, and precise coordination in diagnostic and interventional applications.
Application Insights
Medical education is anticipated to witness a lucrative growth rate during the forecast period due to the role of holographic technology in offering enhanced organ visibility and real-time imaging that enable better understanding of disease progression.
Medical holography application market, 2015 & 2025 (USD Million)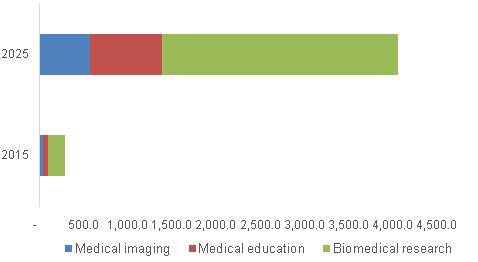 End-Use Insights
In the end-use segment, research laboratories held the largest share in 2015. The substantial share is attributed largely to the increasing adoption of holography products in research that primarily involves phase contrast imaging and dynamic live cell imaging. In addition, the holographic detection method is minimally invasive in nature, thus obviating cell deformation during examination procedures and consequently rendering it as one of the most preferred choices amongst researchers.
Regional Insights
North America held a substantial share of the market with over 38.0% in 2015. The share acquired by this region is attributable to the presence of majority of the prominent players, undertaking extensive research activities across this region.
The high disease burden in North America serves as a potential growth factor responsible for the high clinical urgency to incorporate medical holography products, which are increasingly becoming more accessible, to enable technologically sophisticated imaging.
In addition, high R&D investment is expected to increase the influx of medical holography products in biomedical research. The aforementioned factors are presumed to have garnered a sizeable share for the North America region.
U.S. Medical holography market share, by product, 2015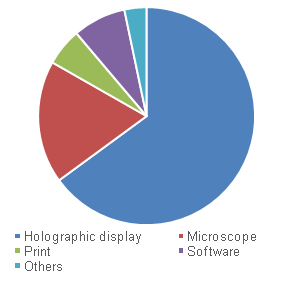 The Asia Pacific regional space is expected to grow at an exponential rate throughout the forecast period. This growth is mainly due to the rising healthcare spending and disposable income and high physician awareness levels pertaining to the benefits of these products including improved physician performance resulting in enhanced diagnosis and patient care.
In addition, heightening quality of healthcare infrastructure is further anticipated to present the market with lucrative growth opportunities across this region. For instance, in December 2015, Japan scientists developed touchable holograms, which are to be adopted in wide range of applications in the future, to enable improved demonstration of biological processes and procedures.
Market Share
Key participants include RealView Imaging Ltd., Zebra Imaging, Phase Holographic Imaging AB, Nanolive SA, Lyncee Tec, and zSpace, Inc. The aforementioned companies are increasingly undertaking new product development activities, extensive distribution enhancement strategies, as well as mergers & acquisitions.
This is consequently contributing toward significant sector growth. For instance, in November 2015, Zebra Imaging acquired Rattan, a software-consulting firm. This acquisition was carried out to accelerate the integration of advanced 3D light-field technology in their array of holographic display products.
Medical Holography Report Scope
| | | | |
| --- | --- | --- | --- |
| Attribute | Details | Customization Offer (15% free)* | Additional Cost |
| Base year | 2015 | NA | NA |
| Historic | 2014 - 2015 | Extended historic data (2012 to 2015) | Free |
| Forecast | 2016 - 2025 | Extended Forecast data (2025 – 2027) | Free |
| Report details | Market size, company market share, competitive Landscape, growth factors, trends | Contact us for specific market information not available in this report | Quotation to be shared post feasibility |
| Market representation | USD Million | NA | NA |
| Geographic coverage | Global & Regional (by country) | Information on up to three additional countries | Free |
| Company profiles | All major market players | Profiles of 10 additional companies | Free |
* 15% free customization - This is equivalent to work done by one research analyst for 5 working days
Market Segments Covered in the Report
This report forecasts revenue growth and provides an analysis on the industry trends in each of the sub-markets from 2014 to 2025. For the purpose of this study, Grand View Research has segmented the Medical Holography market on the basis of product, application, end-use, and region:
Global Medical Holography Product Outlook (Revenue, USD Million, 2014 - 2025)

Holographic Displays

Laser

Touchable

Piston

Semi-transparent

Microscope

Print

Software

Others

Global Medical Holography Application Outlook (Revenue, USD Million, 2014 - 2025)

Medical Imaging

Ophthalmology

Dentistry

Urology

Otology

Orthopedics

Others

Medical Education

Biomedical Research

Global Medical Holography End-use Outlook (Revenue, USD Million, 2014 - 2025)
Global Medical Holography Regional Outlook (Revenue, USD Million, 2014 - 2025)

North America

Europe

Asia Pacific

Latin America

Middle East and Africa