Increasing incidence of chronic disorders and proliferation of home healthcare services governed the growth of the market
The medical lifting sling market was valued at USD 432.1 million in 2015 and is expected to witness a CAGR of 11.2% over the forecast period. Increasing prevalence of chronic disorders requiring long term patient care is anticipated to boost the usage of medical lifting slings.
Geriatric population forms the target population for this market. This demographic is highly prone to age-related disorders, which in certain cases causes immobility in patients. Moreover, the advent of elderly care centers and long term care centers, exclusive for geriatric patients opens up avenues for market players.
Home healthcare is an economic option over hospitals, where post-operative recovery and long term care can be availed efficiently through hospices or professional home healthcare services. Proliferation of these services provides business opportunities to market participants to cross-sell the products other than traditional settings. The rapidly growing demand for home healthcare services is attributed to the growing workforce in this field, which is expected to serve this market as a driver. In addition, the U.S. Bureau of Labor Statistics predicts that the home healthcare employment segment is expected to grow at a rate of 55.0% from 2006 to 2016, making it the fastest growing occupation of the next decade.
Global Medical Lifting Sling Market, 2014 - 2024 (USD Million)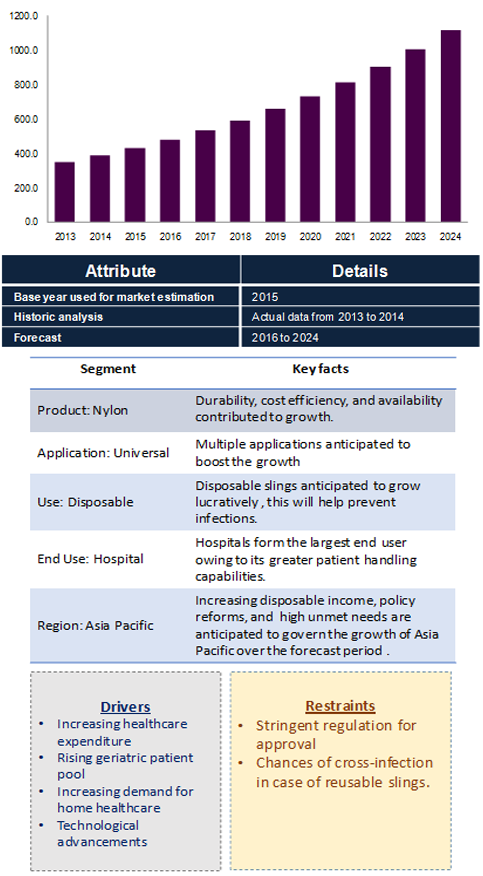 Technological advancements in medical lifting slings rendered the patient lifting process efficient due to fewer injuries and mishaps during the process. For instance, utilization of hydraulic technology in patient lifting increases the comfort level for patients and reduces the extra efforts required by the staff. Hence, technological advancements in this vertical are helping the market to grow swiftly.
Nylon-based slings are expected to be at the forefront over the forecast period.
Nylon-based slings dominated the product type segment in 2015. This segment is anticipated to witness lucrative growth over the forecast period due to the associated benefits, which include greater durability, reusability, and their availability in multiple shapes and sizes.
Transfer and universal slings are expected to gain market share over the forecast period
The preliminary usage, which is patient transfer, held a commanding share in this vertical and is expected to exhibit sturdy growth over the forecast period.
Followed by patient transfer, universal slings segment is anticipated to grow at a healthy rate in the coming seven to eight years. This is attributed to their varied utility and better adjustability.
Disposable medical lifting slings are expected to witness a high adoption rate to prevent infections
On the basis of their usage, the medical lifting slings are bifurcated into reusable and disposable. The reusable medical lifting slings held the largest share in 2015 however, disposable medical slings are anticipated to exhibit rapid growth over the forecast period.
Increasing rate of hospital-borne diseases and cross infections due to reusable products is the primary reason for professionals to switch to disposable products.
Home healthcare services segment is expected to witness promising growth in the medical lifting sling market
The end-users of these products are hospitals, home healthcare services, elderly care centers, and other settings, such as long-term care facilities and nursing centers. Hospitals formed the largest end-user for these products in 2015. The huge patient pool and a greater financing capability facilitate bulk purchasing of these products in hospitals.
On the contrary, the home healthcare segment is emerging as a promising end-user for these products. As compared to hospitals, home healthcare services offer an economic benefit. Increasing demand for these services in the developed as well as developing regions is anticipated to boost their usage in the care centers.
Europe and North America held a lucrative share in 2015 and Asia Pacific is anticipated to be at the forefront over the forecast period
Europe, owing to higher research expenses and initiatives provides advanced devices and private-public partnerships, and hence held the maximum share in this vertical. In addition, prevalent chronic diseases and the introduction of supportive reimbursement schemes are the vital factors governing the growth of the vertical in this region.
Asia Pacific is anticipated to witness a swift growth rate over the forecast period. Increasing per capita income and economic development and the presence of high unmet needs of the huge population pool in this region is expected to contribute toward significant growth.
New product development is the key strategic undertaking in the medical lifting sling market
Some of the key players in this space are Getinge Group (ArjoHuntleigh), Invacare Corporation, Hill-Rom, Joerns Healthcare LLC, Argo Medical, Inc., Prism Medical, DJO Global, V.Guldmann A/S, Spectra Care Group, and Drive Medical.
New product development, distribution channel enhancement, collaborations, and regional expansion are the key strategic undertakings influencing the industry dynamics. For instance, In September 2015, Hill-Rom announced that the company had acquired Welch Allyn, valued at USD 2.05 billion to improve its patient care quality.