Industry Insights
Global medical oxygen concentrators market is expected to witness lucrative growth over the forecast period owing to, factors such as rising prevalence of COPD and the introduction of novel portable concentrators which are lightweight and user-friendly. According to data published by the BRFSS, it has been estimated that in 2012, asthma incidences (cases per year) were nearly 21.1 million amongst the U.S. adults and approximately 15.3 million adults with COPD suffered from emphysema and chronic bronchitis. The incidence rate of COPD was reported to be the largest in California and Florida, calculated at 3.50% and 6.03%, respectively.
Medical oxygen concentrators market, by application, 2012 - 2022 (USD Million)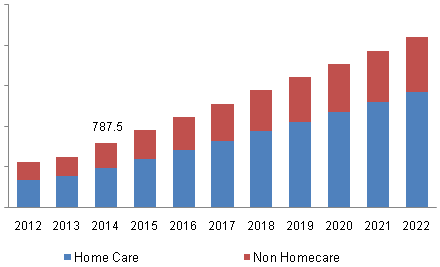 Furthermore, the presence of favorable government initiatives such as awareness campaigns such as Global Initiative for Chronic Obstructive Lung Disease aimed at educating and empowering patients and increasing government funding by agencies such as American Lung Association, European COPD coalition is expected to positively reinforce the growth of the medical oxygen concentrators market over the forecast period. The introduction of novel products in home healthcare services for oxygen-based therapies with devices featuring longer battery power and high deliverance capacity of the gas which provide oxygen to users in all circumstances is expected to boost the medical concentrators industry in the foreseeable future.
Product Insights
Key products analyzed include portable and fixed medical concentrators. In 2014, portable oxygen concentrators dominated the overall market in terms of revenue at over 50.0% owing to, increasing demand for lightweight and portable concentrators, which can be used at places such as shopping malls, airports, offices, and during the flights. Furthermore, growing geriatric population base, increasing younger population with unhealthy lifestyle habits such as increasing consumption cigarettes, marijuana, cigars & pipes, and rising air pollution levels leading to COPD are some factors expected to drive the portable oxygen concentrators market over the forecast period. However, fixed devices are expected to witness steady growth of nearly 10% over the forecast period as these have to be used at night when the patient is sleeping.
Application Insights
Homecare and nonhomecare services are two key application areas of the medical oxygen concentrators market. In 2014, home care services dominated the overall market in terms of revenue at over 50.0% owing to, the growing demand for home healthcare. Furthermore, rising demand for pure gas supply in the polluted environment and the introduction of technological advancements in the field of concentrators will attribute to the growth of the industry over the next seven years. Nonhome care services are mainly used in healthcare centers and hospitals. High patient volume in these facilities is a key growth driving factor associated with this application segment.
Technology Insights
Pulse dose technology registered high market penetration in 2014 on account of increasing incidences of COPD and other respiratory diseases. Growing demand for improved technologies, high mobility and ease in comfort are few factors which are responsible for further strengthening the demand for pulse dose technology over the recent past. The aforementioned trends are likely to positively reinforce market growth over the forecast period. The continuous flow technology market, on the other hand, accounted for the largest share in 2014.
Regional Insights
North America oxygen concentrators market-led global demand in 2014. The presence of developed home healthcare care services, increasing the prevalence of respiratory disorders and the presence of favorable reimbursement policies in the U.S. are amongst key factors attributing to its large share. Furthermore, the market is expected to be driven by the presence of high customer awareness and healthcare expenditure levels. Asia-Pacific is identified as the most lucrative regional market. The presence of untapped opportunities, constantly improving healthcare infrastructure, economic development, increasing concern for pure gas supplies and rising patient awareness levels are some factors accounting for the segment's rapid growth.
Competitive Insights
Key players operating in the market include Teleflex Incorporated, Inova Labs Inc., O2 Concepts, Philips Healthcare, DeVilbiss Healthcare, Nidek Medical, Invacare Corporation, Covidien Ltd., Inogen Inc., AirSep Corporation and Teijin Ltd. The market is marked by the presence of an extensive number of merger and acquisition exercises aimed at improving regional presence and widening product portfolio.