Industry Insights
The global medical robotic systems market size was valued at USD 7,470.7 million in 2014 and is expected to grow at a double digit CAGR over the forecast period. Increasing demand for accurate laparoscopic surgeries, growing need for surgical procedures in geriatric population, and rising cases of trauma injuries are the factors driving the growth of this market. Higher per capita healthcare spending and technological advancements in surgical medical equipment are projected to drive the further penetration of medical robotics in emerging economies.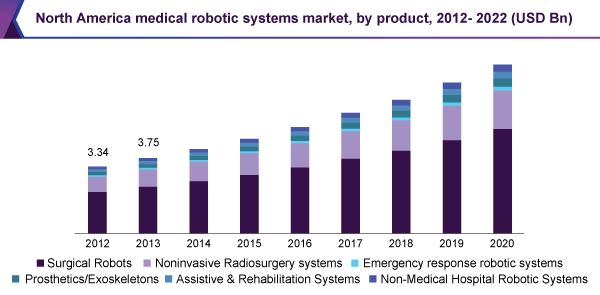 Medical robotics system is witnessing a change in trend over a couple of years due to technological upgradations in few areas such as HD surgical microscopic cameras, 3D-Imaging, motion sensors, data recorders & data analytic, robotic catheter control system (CCS), and remote navigation. The most frequently used da Vinci Surgical System developed by Intuitive Surgical Inc. uses computer enhanced system capable of laparoscopic surgery.
This continuous development of medical technologies indicates the rapidly advancing medical robotic systems. ProvenCare an insurance initiative by Geisinger Health System provides patients with guaranteed insurance cover after 90 days of follow-up admissions. This initiative will help to reduce surgical errors and complications along with reduction in the cost of surgery.
The future scope of robotic technology is to explore new functions for existing procedure, which is expected to drive the demand for medical robotics. The market is constantly witnessing a rising number of technology transfer collaborations with third-party suppliers to develop a new application for robotic systems.
According to the FDA, the use of robotics in the U.S. has increased from 25,000 to 450,000 per annum from 2005 to 2012. According to National Cancer Institute (NCI), it is estimated that in 2014, about 80% of surgical prostatectomies had been performed using medical robotics, as compared to only 1% of all the surgeries in the year 2001. Increasing penetration of technologically advanced robotics systems is expected to fuel demand over the period.
Product Insights
Medical robotic system is segmented into following products: Surgical robot, non-invasive radiosurgery systems, emergency response robotic systems, prosthetics, assistive & rehabilitation systems, and non-medical hospital robotics system. Surgical robots dominated the market in 2014 with 65% share owing to growing adoption rate of robotic systems in hospital and increase in demand for minimally invasive surgeries.
Further, the technological development that reduces the drawbacks of laparoscopic surgeries which includes Da Vinci Surgery with higher precision and delivering suitable outcomes is anticipated to drive the market growth over the period. The growing rate of surgical procedures is expected to fuel the demand for medical robotics from 2014 to 2022.
Growing acceptance of assistive & rehabilitation systems for Physiotherapy in treatment of stroke and neurological disorders related movement disability is expected to drive the growth. With increasing importance in therapy treatments, the number of patients being treated with medical robots is also increasing. The Nonmedical hospital product segment is expected to emerge as the fastest growing segment with a CAGR of 16.8% over the forecast. The centralization of establishments and growing healthcare IT market are the factors promoting growth in demand for medical robotic systems.
Application Insights
By application, the robotic system is segmented into four applications, which includes neurology, orthopedics, laparoscopy, and others. The neurology segment is anticipated to account for the fastest growth with a CAGR of 16.7% over the period owing to the global increase in neurological disorders such as Alzheimer and Depression. Technological developments of hardware and software of the NeuroMate system and in the field of robotic neurotechnologies with improved scope of ergonomics and neurology will account for high penetration of medical robotic system. Additionally, the advent of innovative technologies such as invention of RoboDoc by the ULCA Neurosurgery (a motile robot for routine monitoring of patients operated by the doctor himself without him moving around) will facilitate growth.
Laparoscopy accounted for the highest share in the application segment with a CAGR of 12.3% in 2014. Development of new systems with enhanced maneuverability & magnification, easier device handling, and upgraded device micromotions in the patient's body will result in the precision of surgical procedures. Also, these robotic systems have proven to be technically viable and are specially designed to meet the needs of surgeons. The market growth can be attributed to growing geriatric population, increasing demand for laparoscopic diagnostic, therapeutic procedures, and increasing number of unhealthy lifestyle habits such as fast food & alcohol. These factors are expected to drive the growth of targeted surgeries which in turn is expected to fuel the market growth between 2015 to 2022.
Orthopedics robotic systems are anticipated to be the second fastest segment by application over the forecast. This segment is expected to grow at a CAGR of 14.2% between 2015 and 2022. Significant developments in terms of software used for Total Hip Arthoplasty (THA), Total Knee Arthoplasty (TKA), and Anterior Cruciate Ligament Reconstruction (ACL) trigger the demand for minimally-invasive robot-assisted surgeries. Growing number of musculoskeletal conditions such as rheumatoid arthritis, low back pain, osteoarthritis, and osteoporosis is expected to gear the demand for robot-assisted surgeries during the period.
Regional Insights
North America dominated the medical robotic systems with 49.7% of the total share in 2014, whereas emerging economies such as Asia Pacific is anticipated to exhibit the fastest growth with CAGR of 15.6% over the forecast. Increasing geriatric population with weak bone density levels and injuries encountered during accidents are expected to positively reinforce market growth in the coming years.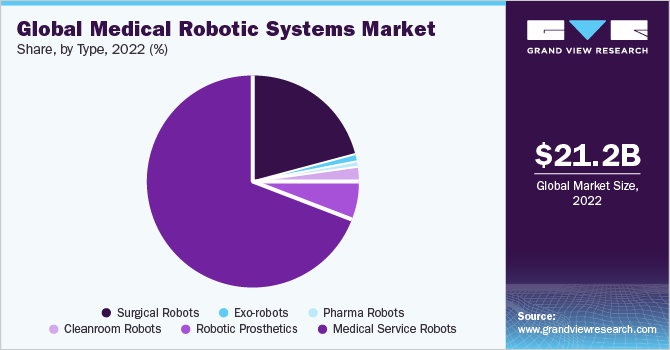 Asia Pacific is projected to grow at a rapid rate over the period due to the presence of emerging opportunities, improving healthcare infrastructure, and rising patient awareness. Growing penetration of minimally invasive surgeries is one of the significant growth drivers for this market. Introduction of new technologies, such as capsule robot system, developed software, and imaging systems, to minimize the complications in surgical interventions is expected to boost the market growth over the period. The major product segments, contributing to the growth of Asia Pacific includes products such as surgical robots and non-invasive radiosurgery systems.
Europe's medical robotics system market is anticipated to follow Asia Pacific market with a CAGR of 11.7% from 2015 to 2022. Rapidly advancing surgical procedures aided by technology have been increasingly replaced by robot-assisted surgeries and effective procedures that account for fewer health risks, speed-up patient recovery, and minimal scarring. The presence of such factors is expected to boost the market growth.
Medical Robotic Systems Market Share Insights
Some of the prominent players in the medical robotic systems industry include MAKO Surgical Corp, Reninshaw Plc., Varian, Accuray, Intuitive Surgical Inc, and Health robotics S.R.L. Market players are employing strategies to increase their market share by increasing penetration in untapped economies and thereby broadening their prospects for profitability. Furthermore, the major players are adding new products to maintain their competitive edge, thus contributing to this market.
Developed economies such as North America & Europe has a high entry barrier as compared to developing economies such as Asia Pacific. Due to lower entry barrier and lucrative market opportunity in Asia Pacific, this region is expected to witness faster growth between 2012 to 2022.
Segments Covered in the Report
This report forecasts revenue growth at global, regional, and country levels and provides an analysis on the latest industry trends in each of the sub-segments from 2012 to 2022. For the purpose of this study, Grand View Research has segmented the global medical robotic systems market report on the basis of product, application, and region:
Product Outlook (Revenue in USD Million, 2012 - 2022)

Surgical Robots

Orthopedic Surgical Robots

iBlock surgical system

Robodoc surgical system

Navio PFS surgical system

MAKO RIO surgical system

Stanmore Sculptor surgical system

Neurosurgical Robotic Systems

Pathfinder surgical system

NeuroMate surgical system

Renaissance surgical system

Laparoscopy Robotic Systems

FreeHand endoscope holder system

Da Vinci robotic surgery system

Telelap ALF-X surgical system

Steerable Robotic Catheters

Rehabilitation Robots

Noninvasive Radiosurgery Robots

TrueBeam STx radiosurgery system

CyberKnife robotic radiosurgery system

Gamma Knife Perfexion radiosurgery system

Hospital and Pharmacy Robots

Emergency response robotic systems

Application Outlook (Revenue in USD Million, 2012 - 2022)

Regional Outlook (Revenue, USD Million, 2012 - 2022)

North America

Europe

Asia Pacific

Latin America

MEA