Industry Insights
The global medical textiles market was valued at USD 13.94 billion in 2014 and is expected to witness strong growth over the forecast period. Higher percentage of geriatric population coupled with advancement in healthcare practices is projected to have a crucial impact on market growth. In addition, technological advancement and stringent government legislative framework mandating the use of medical textiles are going to remain key factors promoting growth.
ATEX Technologies, Inc. is an implantable textile component manufacturer engaged in production, fabrication, testing and characterization of various medical yarns. The company expanded capacity for its weaving, knitting, braiding, and fabrication process to meet the market demand. Bally Ribbon Mills produces biomedical textiles and fabrics including tapes & webbing for prosthetic and orthopedic medical applications. The company has devised a novel weaving method known as Quad Axial Isotropic Weaving, which modifies the 2-D woven goods structure. Vestagen's VESTEX fabric is an innovative product designed to improve the safety & hygiene of healthcare patients and professionals.
Medical textile manufacturers are focusing on application specific products in terms of biocompatibility, cost, and product approval to increase penetration and expand market presence on a global level. Biocompatibility of a medical textile refers to their ability to react or mingle with the blood and the human tissue. The implantable medical devices market is highly regulated by the U.S. FDA and European CE due to the presence high health risks associated with these devices. Rising prevalence of chronic diseases including coronary heart diseases, high cholesterol, and hypertension along with increasing concerns over life expectancy and health are expected to drive the demand for medical textiles market
Intensifying competitive scenario among manufacturing companies, lack of skilled labor in developing economies, restricted raw material supply and stringent regulatory framework are few bottlenecks limiting the growth of global medical textiles market over the forecast period. High initial investment for research and development along with the associated equipment installation cost is a major challenge for new players entering the market. In addition, lack of essential healthcare services in underdeveloped regions of the Middle East and Africa is expected to restrain market demand. Manufacturers based in developing countries of Asia Pacific are experiencing fierce competition from those in Germany, U.S., France, UK on account of fluctuating raw material supply and non-availability of skilled labor.
Europe medical textiles market revenue, by application, 2012 - 2022 (USD Million)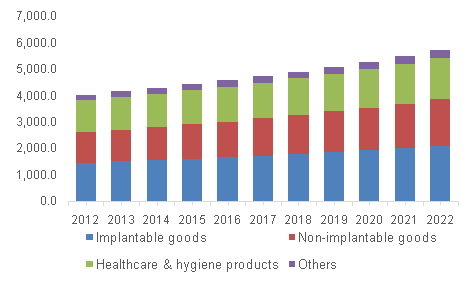 Application Insights
Implantable goods segment was over USD 4.50 billion in 2014. These products are expected to grow on account of an established, well-funded medical delivery system coupled with a sturdy framework of insurance approvals for orthopedic implants enabling secure and timely payments and robust product designs permitting less invasive surgeries in developed economies of North America and Europe. Robust healthcare industry in these regions is further expected to propel demand for implantable goods over the forecast period.
Healthcare & hygiene products and non-implantable goods application segments collectively accounted for a share of over 55.0% in 2014. Healthcare and hygiene products are rapidly gaining popularity in the developing regions including Asia Pacific, Latin America, and the Middle East. Rising healthcare infrastructure in these regions has resulted in increased uptake of surgical drapes, disposable bed sheets, surgical caps and gowns in hospitals. Increasing awareness regarding personal hygiene and health particularly among the low-income population is expected to drive demand for healthcare & hygiene products over the forecast period.
Non-implantable goods include bandages, pressure garments, dressings, plaster, prosthetic socks, protective eye pads, adhesive tapes and orthopedic belts. Rising awareness regarding new technology development for wound care, diabetic and aging population coupled with increased government funding is anticipated to propel non-implantable goods demand.
Raw Material Insights
Non-woven segment dominated the global medical textiles market, accounting for over 55.0% of global volume in 2014. This segment is projected to gain market share over the forecast period, due to high performance characteristics such as easy disposability, cost-effectiveness and reduced danger of cross-contamination. Non-woven is the most preferred textile used by the manufacturers worldwide, on account of high efficiency, easy sterilization, and economical manufacturing process. Nonwoven fabrics are used in a myriad of applications extending from wound dressings, adhesive tapes, cotton pads, disposable surgical clothing and bandages (simple, light support, orthopedic). These fabrics are used to replace or repair organs such as heart, kidney, liver, vascular grafts, nasal strips and find application in sterilizable packaging, disposable operating room clothing, and coverings.
Woven fabric is the second largest raw material segment and is expected to grow at a CAGR of over 4.0% from 2015 to 2022. These materials are increasingly being used in advanced medical devices on account of light weight and variable structural design properties which help in optimizing performance and functional requirements of orthopedic and cardiovascular applications. Woven fabrics offer wide range of geometries through the engineering processes, allowing manufacturing companies to innovate.
Knitted fabrics possess qualities such as excellent stretchability and high strength enabling manufacturers to benefit from the multitude of designs in absorbable and permanent materials to fulfill specific medical device requirements. These fabrics are used in implantable devices including hernia repair, surgical mesh, prolapse devices, reconstructive & cosmetic surgery mesh and other containment equipment.
Regional Insights
Europe accounted for over 30.0% of market volume in 2014. The market is developed in Europe due to the mature healthcare sector, growing consumer demand for improved healthcare facilities and increasing spending by the regional government promoting the production and consumption of medical textiles. European countries, including Germany, UK, and Sweden, are anticipated to witness a robust recovery in health care spending by 2022, along with revised policies to encourage industry growth and upsurge competition among providers. In Europe, economies under transition including Russia are expected to witness a decline in health care spending, on account of political tensions with Ukraine and their unfavorable effect on the Russian currency and economy.
Asia Pacific demand was estimated over USD 3.50 billion and is projected to witness a high CAGR of over 6.0% due to increasing penetration of disposable baby diapers and feminine hygiene products. Improving living standards of middle-class population coupled with the increased power of spending will ensure product affordability, thus encouraging the production and retail of baby wipes, disposable baby diapers, and feminine hygiene products.
North America is the second largest regional segment accounting for over 25.0% of the global market volume in 2014. The medical textile companies based in U.S. are endeavored to improve their existing products and produce new ones with innovative designs and materials. These products are intended to serve the cause of less invasive surgical procedures, accelerated healing and infection control. High hospital infection rates, rising concern regarding cardiovascular diseases, favorable regulatory framework are drivers likely to boost medical textiles demand in the U.S.
Competitive Market Share Insights
The global medical textiles market is dominated by a limited number of multinational companies that possess the caliber of bringing innovations to the market. Major participants including Freudenberg & Co. Kommanditgesellschaft, ATEX Technologies, Inc, Bally Ribbon Mills and Vestagen Technical Textiles, Inc. are engaged in significant R&D for new product development. These companies are entering into collaborations with small high-tech companies so as to attain unique selling points which these big giants can leverage in their global marketplaces. Thus, allowing small businesses to gain access to the global market as long as they are inclined to partner with one or more of these global market players.
In September 2015, Freudenberg started a pilot line for spunlaid manufacturing at its Kaiserslautern plant. The company invested USD 3.4 million for the pilot line. The spunlaid products are used in anti-allergy bedding encasings. In April 2015, Medical Grade Innovations partnered with North Sunflower Medical Center in Ruleville, Mississippi for reducing the spread of infection by installing four welloStations throughout its facilities. Biomedical Structures acquired Concordia Medical, a medical textile manufacturer specializing in non-woven BIOFEL technology, which is utilized in urological, dental, and cardiovascular applications.